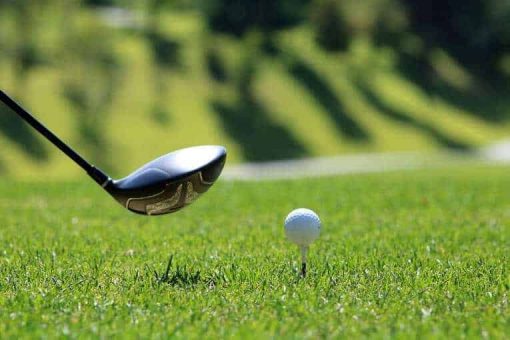 Even though golf is one of the favorite sports around the globe, playing it in winter is not very common. One of the reasons for this is the simple fact that golf, unlike almost every other sport, cannot be played indoors for the sheer requirement of space. Plenty of sports are played all throughout the year, but all of them meet the condition of a closed, warm stadium.
Of course, some of you don't have the least intention of going out into the snow to freeze half to death but have the desire to play. Worry not, there's a solution to that as well. You can always travel and visit some of the most beautiful winter golf destinations. Here are some of the most wonderful ones.
1. Canary Islands
The Canary Islands in Spain boast probably one the most golf-friendly climates in the world, all year round. If your preferences don't necessarily include snow and frost, maybe the better option would be going to the gorgeous Tenerife for example and enjoying the mild weather. If you are a beginner, have no fear – the courses are excellent, so find some golf lesson videos and enjoy the beauty.
2. Mallorca
Speaking of Spain, another fantastic golfing destination is Mallorca. With several great golf courses and its moderate climate, it is as lively as it is beautiful. You can enjoy its busy nightlife as well as golf, so if you're on a holiday and you want to play golf and unwind at the same time, this is the destination for you.
3. Kapalua, Maui
A beautiful, tame course of Kapalua, Maui, Hawaii, is as gorgeous as it is, so to say, user-friendly. Another great place for those of you who just want to relax, Kapalua is not necessarily what you would call a challenge, but it does have its perks. The natural beauties are almost too much to bear, and the greenery is a thing of wonder. It's a life-saver if you've had enough of the dirty snow and the grey sky of your winter-afflicted home.
4. Royal Isabella
If you're looking for a scary-looking, adrenaline-inducing, Puerto Rican courses situated on cliffs overlooking the sea, seek no further, as you've just found what you've been looking for. Possibly the most impressive course in Puerto Rico, Royal Isabella poses a real challenge, so it's not for the faint-hearted. Vegetation is magnificent and the scenery is breathtaking. If a bit more ferocious course is your cup of tea, book the trip now, you'll not regret it.
5. Barbados
Ah, beautiful Barbados, with its thieving monkeys. Sure, a monkey can snatch a ball or seven, but the beauty of the island and the fantastic golf course more than make up for it, wouldn't you say? The climate is more than pleasant, and the people there are charming, so (if you forget the monkeys for a moment) there are no downsides to it! Although be aware of the fact that you can use the two-star courses, Sandy Lane's Green Monkey and Royal Westmoreland, only if you are a guest in those properties, so plan in advance.
As you can see, even if you're not a fan of snow and cold weather, you can still enjoy golf in wintertime. However, do try playing in the cold, since it does offer plenty of perks. Whatever you decide, remember the most important thing – have fun!
Pin this to your favorite Pinterest boards and plan your next golf getaway!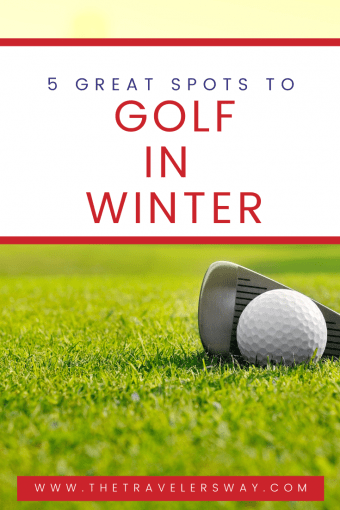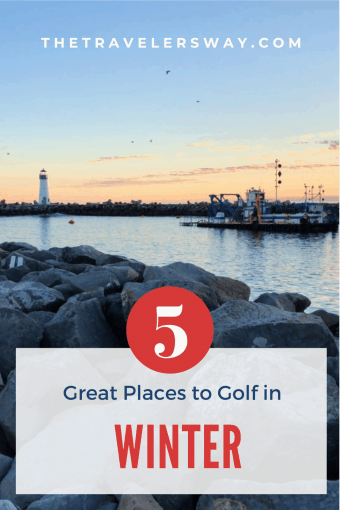 Photo credit: HeungSoon / Pixabay
Guest author bio: Emily Wilson is a business psychologist with a passion for traveling. She works as a consultant for Swing Eagle. Researching, exploring and writing are her favorite things to do. Besides that, she loves animals and music.
The Travelers Way occasionally accepts guest posts from fellow travel bloggers, friends within the travel industry, and as advertorial content.