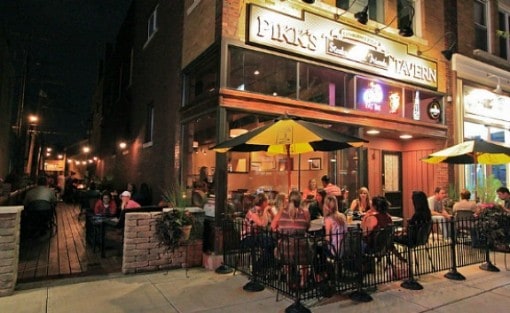 Walking about the campus of Valparaiso University recently, I proudly thought that this was the same campus that I walked as a student merely a few years before.  As sudden shock hit me and my pace slowed, those few years were, in fact, were 30 years ago! With new eyes I started looking at the things that had changed, not only on campus, but in the town of Valparaiso itself.
I was amazed at the development that had taken place in the downtown core.  The buildings were not different per se, structurally most of them were the same, but the contents of the buildings were greatly changed.  While a few of the businesses were familiar, most had been replaced with notable restaurants and eclectic shops.  By notable, I don't mean recognizable chain restaurants, but wonderful independent, local eateries.
With so many dining options, yet limited time,  it was hard to decide where to begin — but fear not, I would give it the old college try!
I began at the heart, the heart of Spain that is, at Restaurante don Quijote.  Serving authentic Spanish cuisine for over 25 years, don Quijote offers a warm and welcoming atmosphere with excellent service to match the food.  Decorated with wrought iron terraces it gives the impression of dining on a patio in Spain. Enjoy homemade Sangria and Limonada, a white wine version of sangria, served to your table in festive small and large pitchers.
Choosing classic Paella Marinera for Two as our entree was an excellent choice. The dish was  filled with crab legs, shrimp, scallops, mussels, calamari, fish and saffron rice. Since we were told that the traditional meal takes 45 minutes to prepare, we added an order of Chicken croquettes to our meal to start things off. Complimented by bread and a soft garlic butter spread and antipasti with chunks of tomato, green pepper and potatoes in a garlic vinaigrette, it was the perfect start to our meal.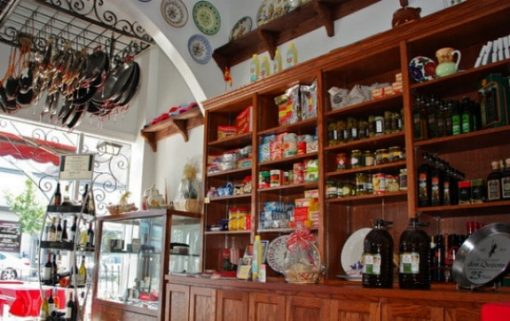 Eating as much as I possibly could, the Paella dish seemed to multiply in front of my eyes, the delicious array of house made desserts included flan, fresh lime pie, blueberry bread pudding and rice pudding was too tempting to pass up. A complimentary glass of port provided a slightly sweet and perfect end to a delicious meal.  Walking out I took some time to explore the products offered in the same storefront including cheese, cured meats, chorizo, rice, spice blends, olive oils and paella pans of all sizes.
I was a bit sentimental when I discovered that the 24-hour breakfast diner where as students we used to go after a night of — studying, shall we say, had been replaced by a themed restaurant, Industrial Revolution Eatery & Grille.  Built to honor "the foundation of the American work ethic and way of life", Industrial Revolution features industrial items re-purposed in decorative fashion.  Large wrenches serve as door handles and the ironwork arch of a bridge serves as a pergola for the beer garden.
Perhaps the most striking work is the larger than life statue that honors the iconic 1932 photograph of iron workers eating their lunch 800 feet of the ground during the construction of New York's Rockefeller Center.  Created in 1999 by Sicilian-born Sergio Furnari, the statue sat at Ground Zero as tribute to the men who built the towers and those assigned to clear the debris.  After a national tour, the statue is now on permanent display, perched on the rooftop of the restaurant.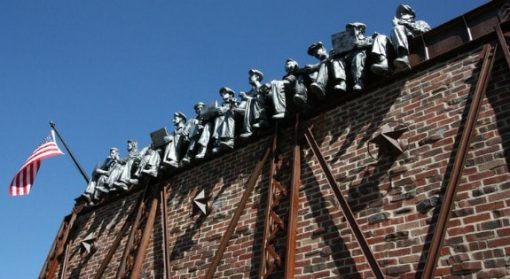 Inside, a model train makes a continuous route throug the restaurant while television sets play videos to salute industrial leaders.  Menu options are a variety of burgers, salads, brick oven pizzas and other entrees, all with inventive twists.
In my search for a breakfast spot, I found another downtown eatery known as Jimmy's Cafe.  A wonderful throwback to diners gone by, Jimmy's is small and plain and felt like a cross between two old television sitcoms – Mel's Diner and Cheers.  Packed with locals who all seemed to know each other, the waitress greeted each table with a pot of coffee and personal  inquiries as to the health of their mother or the condition of their aching back.  The breakfast items were homey and delicious while the service alone made me long to return.
I was happy to see that some things never change – and two Valparaiso institutions remained, Valpo Velvet Ice Cream and the Strongbow Inn.  The older of the two, Valpo Velvet Ice Cream, got its start in 1920 as an ice business.  While there have been many changes, one thing remains the same – the deliciously rich and creamy ice cream made since 1947.  The  seasonal Valpo Velvet Shoppe serves up a variety of ice cream and soda fountain treats as well as gourmet sandwiches, soups and salads.  As if eating in the whimsically painted building wasn't enough, sandwiches for "future leaders" are served on specially made tie-dyed psychedelic bread.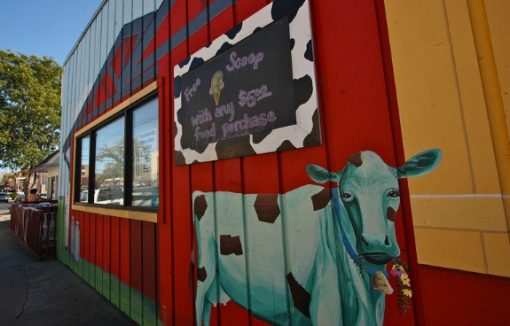 Nothing says comfort food like a homemade turkey dinner and that is what customers have received at the Strongbow Inn since 1940.  Originally serving up the turkey grown on the adjacent family farm, Strongbow's continues to serve a full traditional turkey meal complete with mashed potatoes and gravy, herb dressing, house made cranberry sauce and rolls.  Other menu options include their famous turkey pie,  hot and cold turkey sandwiches as well as other turkey dishes like Oscar and Dijon.  Not up for a fowl meal?  Strongbow's also offers beef and seafood entrees.
With 25 other eateries to explore in the downtown of Valparaiso, let alone the other Indiana Dunes communities, the culinary scene beckons. I know it won't take me 30 years to return.
NOTE:  A portion of the author's trip was sponsored by Indiana Dunes Tourism for the purpose of a review.  The  comments and opinions are those of the author.
Photo Credits: Courtesy Indiana Dunes Tourism, Christine Liv, photographer
Having been transplanted numerous times, I have learned to explore the sites around our new found hometown, uncovering hidden gems and attractions. When vacation time rolls around, I enjoy traveling with my family and the occasional weekend escape with my husband, coming home to share our travel experiences with others. You can follow me on Twitter @JAIngersoll. My top three destinations are Walt Disney World Resort, the Midwest and any beach I can walk along.