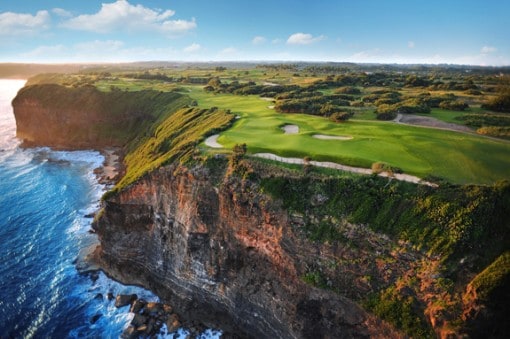 Looking for Caribbean class, culture and cuisine? As a former Spanish colony that's been an American territory since the late 19th century, Puerto Rico is becoming the definitive lavish locale for European, UK and US travelers who seek an authentic island getaway without sacrificing creature comforts.  From golfing to shopping, we've got the Que Rico guide to the Isle of Enchantment:
Where to Play
With over 20 golf courses, Puerto Rico is a golfer's glory. The newest golf course, opened in January 2012, is the 18-hole Royal Isabela along a rugged coastline (pictured above). If being green on the green is your game, Bahía Beach Resort and Golf Club, is an pristine 18-hole course designed for minimal environmental impact.  To play like the pros, The Trump International Golf Club in Rio Grande 36-hole course is the site of the legendary 2012 PGA tournament Puerto Rico Open.  It helps to have a car rental so you can try courses around the island.
For the culturist, Old San Juan has more museums per square foot than anywhere on Earth. The city is like a museum itself with numerous National Historic Sites to visit. Don't miss the Museum of Art and History with traditional Puerto Rican art, the Museum of the Americas of Latin American contemporary and folk art of Latin America or the Museo de Arte showcasing the history, art and architecture of the Caribbean.
Where to Dine
Puerto Rico's cuisine is a unique amalgamation of European, Afro-Caribbean and Latin American cultures. Fine dining experiences include Chef Willo Benet's Pikayo, Perla, which looks like the inside of an iridescent oyster shell, The Next Iron Chef Finalist Chef Mario Pagan's Laurel serving Nuevo Caribe cuisine, and Pamela's, a favorite of Actor Benicio del Toro.
Where to Spa
How does a Rainforest Facial, a Café con Leche scrub or a 24-karat gold shimmer oil massage sound? Utilizing the bountiful resources of native ingredients, The Ritz-Carlton's Spa in San Juan, St Regis' Remede Spa of Bahia Beach, and The Golden Door Spa at Waldorf Astoria El Conquistador Resort specializes in Puerto Rico pampering.
Where to Shop
Fashionistas seeking original haute couture should visit Nativa Boutique featuring local Puerto Rican designers. For boho chic island style, head to Valija Gitana. Other high-end retail therapy shops include: Oui Boutique, Lisa Capalli, Stella Nolasco and La Femme Boutique.
Where to Stay
The W Retreat & Spa on Vieques Island, is one of Puerto Rico's most lavish stays (depicted below). It's no wonder it was on Condé Nast Traveler's 2011 Hot List and Travel & Leisure's 2011 It List with breathtaking ocean vistas, modern-rustic décor, Chef Alain Ducasse's miX restaurant and chakra alignment at AWAY spa.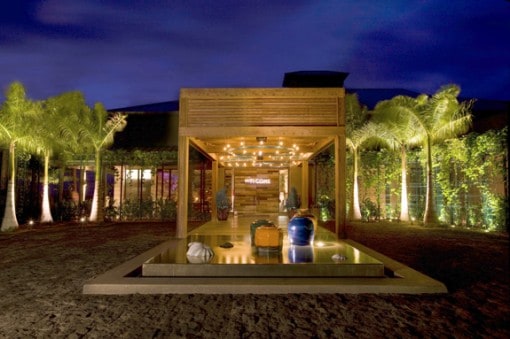 If you prefer a boutique San Juan stay, Hotel El Convento, originally a Carmelite convent built in the 1600's, is keen on service while still preserving it's historical charm.
Whatever your pleasure prescription may be, Puerto Rico is the Caribbean's newest destination for luminous luxury, island-style.  And be sure to keep an eye out for celebs as you're touring around the island, they often fly in on their private jets.
Photo of Royal Isabela golf course by Joann Dost, W Hotel Vieques photo courtesy of W Hotel.
Lanee Lee is a Los Angeles based writer who uses her craft to pursue her passions – travel, artisanal food/spirits and maximizing quality of life. Lanee has traveled extensively – always in search of those golden moments of bliss. When she's not gallivanting the globe, she enjoys learning cooking tips from her French boyfriend and emulating Grace Kelly style. You can follow her latest adventures: www.laneelee.com, @wanderlushdiary on twitter.