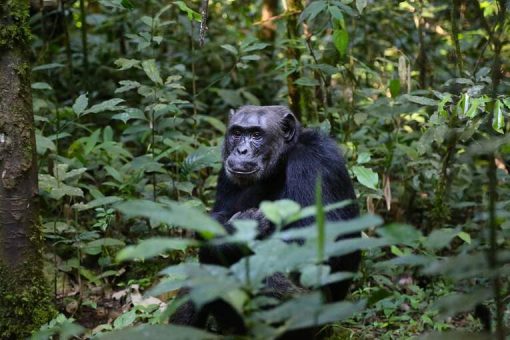 Although Uganda may seem like a myth, the Africa of legends, a place so far away, in reality she will happily hand you the bucket-list trip of a lifetime. There's a reason she is called the Pearl of Africa. The cities are lively and interesting, but it's Mother Nature that is the real draw in Uganda, Africa's most bio-diverse country.
Here are 8 wonderful nature experiences in Uganda for you to check out and plan a trip around.
1. Trek to See Mountain Gorillas Up Close
This is probably the #1 bucket-list item for anyone planning a visit to Uganda. Although the endangered mountain gorillas can be seen in several East African countries, Uganda is by far the easiest and safest place to have this life-altering experience. The Bwindi Impenetrable Forest is a land with an infinite panorama made up of dozens of shades of green punctuated by rocky peaks covered in some of the continent's oldest primeval forest. It has the largest number of gorilla families available to visitors. There is nothing on earth quite comparable to standing ten feet from an enormous old silverback while his babies approach and climb all over you as if you were their nanny. You will be awed, humbled and exhilarated.
2. Track Some Chimpanzees
Chimpanzees are our closest animal cousins and seeing them helps us know who we are. There are over 5000 chimps in Uganda, more than any other East African country, and some 1500 of them are found in Kibale National Forest, which they share with almost a dozen other species of primates. Kibale has been a research reserve for decades, which means many of its animals have become accustomed to human interaction. Imagine standing 30 feet from a family of chimps as they eat, play, swing in the trees and, generally indulge in their natural chimpiness. You can also expect to see Black-and-White Colobus monkeys, L'Hoest monkeys, Red-tailed monkeys, Bush Babies, Grey-cheeked Mangabey, Pottos, and dozens of bird species.
3. Feel the Power of Murchison Falls
As the glorious Nile, the longest river in the world, charges full-throttle over the Western Rift Escarpment, it creates Murchison Falls, the most powerful waterfall in the world. So great is the force of the water as it sends 300 cubic meters per second crashing through a tight-knit gorge and then down more than 140 feet that you can feel the earth trembling with its force as you hike to the top. Feel the power, enjoy the refreshing mist, spot the rainbows. Murchison Falls offers all these and more.
4. Gaze at Hippos in the Kazinga Boat Channel
The Kazinga Channel in Queen Elizabeth National Park runs for about 20 miles between Lake George and Lake Edward. It has one of the largest populations of hippos in the country along with a significant number of Nile crocodiles. Seeing them from the water is the best and safest way to get up close and personal. It's also a great trip for sighting other wildlife as they migrate down to the water's edge. Look for elephants, water buffalo, warthogs, monitor lizards, and many species of birds, such as kingfishers and fish eagles. Tip: The southern side of the channel seems to have more wildlife than the northern one. Ask your boatman which is which, and sit there for the best viewing.
5. Get Your Feet Wet at Bigodi Wetlands Sanctuary
This papyrus swamp with boardwalks traversing it is positively a riot with wildlife. It's owned by a community group, and you'll enjoy knowing that your entrance and guide fees go directly to help the folks of the village. You can expect to see half-a-dozen different kinds of monkeys in Bigodi, including Vervet monkeys, Baboons, Mantled Guereza, Grey-cheeked Mangabey and Chimpanzees in season. There are about 200 species of birds in the sanctuary, including Great Turaco, Hornbills, Eagles, and sunbirds. These are all close by the boardwalks and not at all difficult to spot.
6. Take a Safari in Lake Mburo, Murchison Falls, or Queen Elizabeth National Park
You can't go to East Africa and not take a safari, and this is where you can look for the Big Five and more. Expect lions, sometimes lazing in the fig trees, elephants, gazelles, antelope, waterbucks, even a leopard if you're lucky. Herds of buffalo, hundreds of zebras, slinking hyenas and high-stepping reedbucks roam while groups of Rothschild giraffes crane their long necks for the tenderest leaves at the tops of the trees.
7. Float on the Clear Waters of Lake Victoria
The largest lake in Africa, the source of the White Nile, Lake Victoria is really more of an inland sea, dotted with dozens of islands. The water is extremely clear, bountiful with delectable fish, like tilapia, Nile perch, Lake Victoria sardines, and catfish. This giant lake is quite likely the first thing you will see if you fly to Uganda. The approach to Entebbe airport flies directly over the length of the lake. The lake is bordered by three countries. Boat trips are available from cities and villages all along its coast.
8. See Rhinos in the Wild… on Foot.
Ziwa Rhino Sanctuary is supported by the Rhino Fund Uganda and is the only place in Uganda you can see rhinos in the wild. 70 sq. km. of land, protected by an electrified fence is home to 22 southern white rhinos, which are less aggressive and dangerous than black ones. You can actually go for a bush walk in the sanctuary with a well-trained guide and get as close as 35' from the rhinos. Your guides will know exactly what is safe for you to do and what is not. Watch these horned giants graze near a watering hole. Watch baby rhinos play or feed on mum. There are private accommodations within the sanctuary or make a day trip from Kampala.
What will be your Uganda adventure?
Photo credit: gerritbril / Pixabay
Author Bio:  Donna Meyer is a freelance travel writer and the creator of Nomad Women, a blog to inspire older women travelers to get out and see more of the world. When she is not traveling the world–and eating everything in sight–she lives in San Miguel de Allende, in central Mexico.