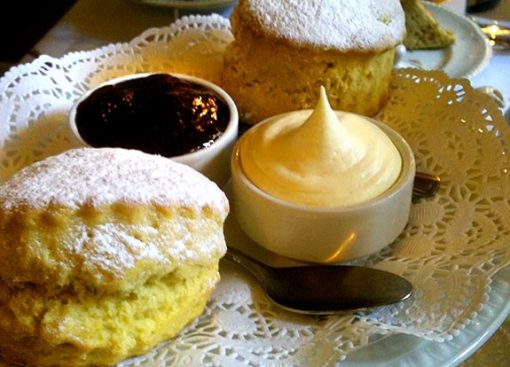 Abergavenny may be known as the Gateway to Wales as it is only six miles from England's border, but for me, it was my initiation into the underground world of frogging, purling, and lurping.
While relishing in one of the UK's most exquisite high teas at Angel Hotel (pictured above), I noticed a group nearby with their heads down, quietly intent on something in their laps.  Maybe it was a Bible study and they were praying; but they had wine, so I doubted it.  Curious enough to abandon my Jasmine tea and scones slathered with fresh strawberry jam and clotted cream, I snuck behind a plant to get a better look. To my surprise, I saw ten-inch needles feverishly clicking away at socks, scarves and sweaters.
Every Wednesday, the Knitting Out (pictured below) group convenes in style in Abergavenny's most luxurious hotel. Members are as colorful as the basket full of yarn balls at their side: young moms, retired professionals, the fashionable Ginerva, owner of Wool Croft, the town's trendy knit shop and even one brave man.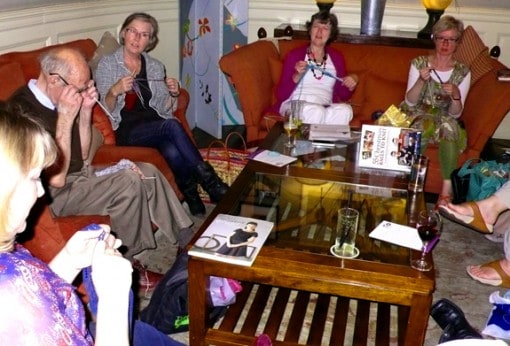 Seizing upon the captive crocheting audience, I sat down to learn a few stitches and pick up some local pointers on what to do when in Abergavenny.
Eats
The Hardwick – Travel for the three-hour culinary feasts? Look no farther than Chef Stephen Terry's The Hardwick. If you need any other validation to visit, The Hardwick has been awarded a Michelin Bib Gourmand many times since 2007 for good food at moderate prices (pictured below).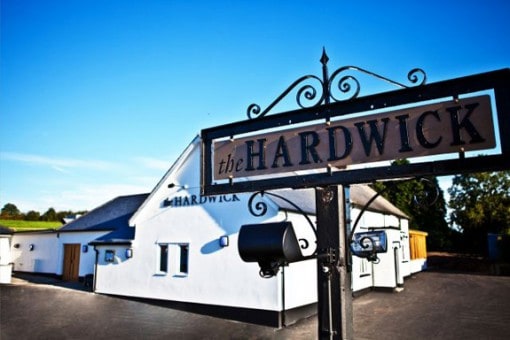 Walnut Tree Inn – Set in country farmhouse, Michelin starred Chef Shaun Hill, known as the "Granddaddy of Modern British Cuisine", is at the helm serving up inspired entrees at a reasonable price with a wine list that would make Robert Parker blush with excitement.
The Restaurant – I was lucky and landed a reservation on they night they were recreating the first dinner served in 1911 at Angel Hotel. Stunning execution with the taste to match the beautiful presentation. The Angel Hotel's Restaurant is an ideal pre-theater dinner or an elegant formal fine dining experience. Don't miss the award-winning high tea either!
Pub Picks
Hens & Chickens – As the locals proclaim, a visit to Chicks isn't complete without a pint of cask ale and a legendary beef sandwich with drippings (gravy of sorts).
The Crown at Pantygelli– A 15th century inn popular with the locals for an after work ale, a quick sandwich or a gourmet pub fare dinner. In the countryside with views of the Skirrid Mountain, it's an ideal spot for brunch, but make reservations or it might not happen. And if you're homesick, saddle up to the bar; it may be the only Welsh bar with a Bostonian barman.
The King's Arms – Live music scene, a dance floor and their own Tudor Brewery hand-crafted ales flowing freely. Need I say more? It's good times at The King's Arms so kick up your heels in lively Welsh fashion.
Outdoor Excursions
Holy Hike – An easy stroll to the top of Skirrid Fawr, also known as the Holy Mountain, this hike affords dramatic views (on a clear day) of the Malvern Hills of England as well as sublime vistas of Black Mountain, Sugarloaf Mountain and the town of Abergavenny. According to legend, the Holy Mountain split in two at the time of the Christ's crucifixion during a violent storm, which is the explanation behind the mountain's ravine.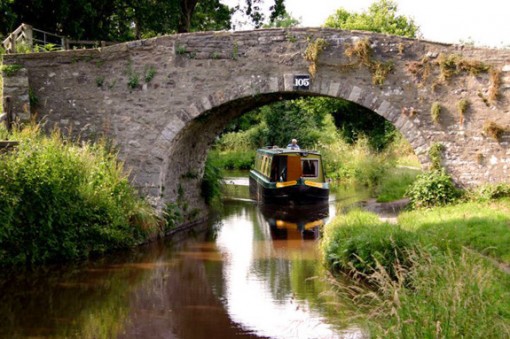 Canal Boating – Become an eco-savvy sailor when you explore the many tranquil canals running through the nearby Brecon Beacons National Park via Castle Narrowboats' electric boat (as depicted above). You are the captain, but a manual is provided on how to operate it. Available for day trips or overnights.
Retail Therapy
Vintage Vision – I always love to shop for vintage clothes when I travel abroad for the unusual treasures not found in US vintage shops. Vintage Vision has a well-curated collection of retro and vintage women clothes. Check their website for upcoming vintage fashion shows, themed-era events, and sewing workshops.
Market Hall – The Victorians of the 15th century built the Market Hall where the bustling retail market is held on Tuesdays, Fridays and Saturdays. Don't miss cattle market on Tuesday or the farmer's market with local Welsh produce and foodstuffs on the 4th Thursday of every month.
The Art Shop – A great place to find enlightened souvenirs, The Art Shop is both a gallery and an art supply shop housed in a renovated 16th Century building in the heart of the old market town of Abergavenny.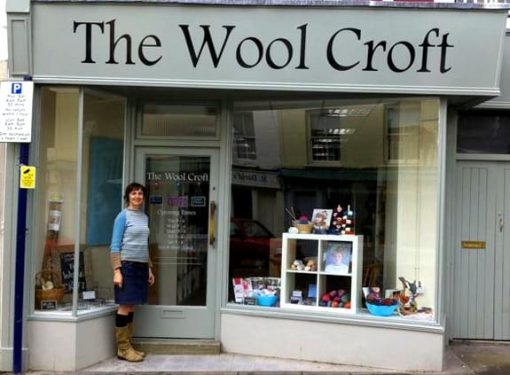 Wool's Croft – Even if you have no knitting knack, stop in to to say hello to owner Ginevra Croft (she looks a bit like Audrey Hepburn) and cop a feel of the natural Welsh wools which she sources from a farm nearby. Besides pedigree sheep, Ginerva is also passionate about Abergavenny, describing it as "a REAL town, not a manufactured tourist spot, with genuine character, independent shops, and a buzzing market."
Culture
Borough Theatre – As I was meandering the main street, I noticed a crowd dressed in Sunday best gathering outside. Later I found out it was for a performance at the well-attended Borough Theatre. The theatre is part of the town hall building, dating back to 1870. Internationally acclaimed artists, actors, and musicians grace the stage, the most famous being the Beatles who performed there in 1963.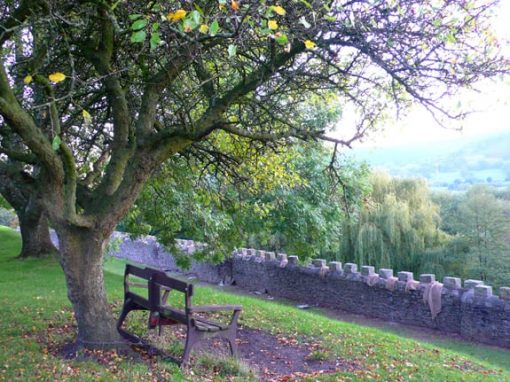 Abergavenny Castle – It just the bones of a castle now after the English Civil War, but it's a peaceful spot to bring a picnic and watch the sunset over the Usk River. If you're a history buff, the museum on site is worth a visit. It's amazing there is anything left at all after the incessant battles over the span of 600 years.
Stays
Abergavenny, originally a Roman settlement in 76 AD, is chock full with budget-friendly inn stays equivalent to our B&B's. Some of the Knitting Out groups picks are the Hardwick's Inn (mentioned in eats section), the Kings Arms and The Crown (mentioned in pub section).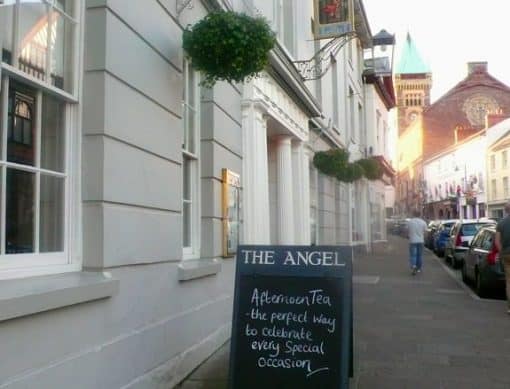 My stay of choice in Abergavenny is the Angel Hotel. When you're in hotels all the time, it's the little touches of elegance that stay with you. Being a stickler for hot coffee with real milk, Angel Hotel made an impression on me with the sign boldly proclaiming by the coffee/tea station in the room, "Hot milk will gladly be brought to your room on request". Of course the fine bed linens, clawfoot tub and plush décor was greatly appreciated as well.
Hot tip: If you visit Wales in September, and you're a locavore foodie, do not miss the Abergavveny Food Festival, September 15-16, 2012.
This trip was sponsored by Visit Wales, but the Knitting Out's advice was not.
Photos by author, except Hardwick courtesy of Visit Abergavenny, Canal boat by Castle Narrowboats, Wool Croft by Ginevra Croft.
Lanee Lee is a Los Angeles based writer who uses her craft to pursue her passions – travel, artisanal food/spirits and maximizing quality of life. Lanee has traveled extensively – always in search of those golden moments of bliss. When she's not gallivanting the globe, she enjoys learning cooking tips from her French boyfriend and emulating Grace Kelly style. You can follow her latest adventures: www.laneelee.com, @wanderlushdiary on twitter.