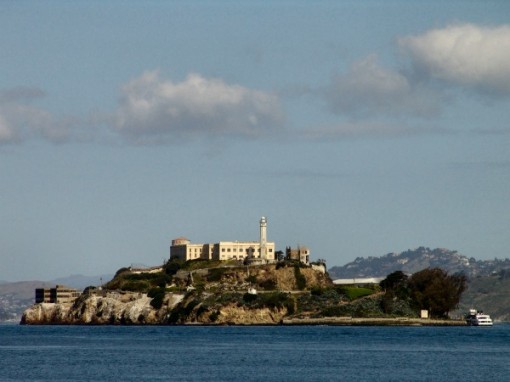 Is there any prison as famous as Alcatraz? Maybe it's the lonely location of the former jail, set on an island over a mile from shore in the San Francisco Bay. Maybe it's the memorable name, the famed stories of prison breaks, or the presence of Alcatraz in Hollywood films. For all of these reasons and many more, Alcatraz is not only famous, but well worth a visit. A trip to San Francisco will have its simple pleasures – from sampling Ghiradelli chocolate to exploring the vibrant dining scene – but perhaps what you will remember best is what you learned about the history of this mysterious island.
The History of Alcatraz
Alcatraz has a storied history. Prisoners were held here as far back as 1861, when Civil War prisoners were isolated from the mainland by the strong, cold currents of the San Francisco Bay. In the 1930s, the prison changed from being a military prison to a federal prison. During this time, Alcatraz had some of its most famous inmates, including mobster Al Capone and George 'Machine Gun' Kelly.
Perhaps more famous than any of the inmates is the 1962 prison break attempt by 3 clever inmates. Clint Eastwood played one of the inmates, Frank Morris, in the 1979 movie "Escape from Alcatraz" that depicted this elaborate escape attempt that included chiseling through a concrete wall with a spoon and constructing an inflatable raft from old rain jackets. This escape attempt is just one of the many fascinating stories you will learn about during a visit to Alcatraz.
Visiting Alcatraz

Alcatraz is run by the National Park Service and there is no entrance fee.  However, there is a fee for the ferry that will bring you from mainland San Francisco to the island, and you must plan your trip in advance.  Tickets to Alcatraz frequently sell out, especially around major holidays or during the summer months, so to be sure you get a spot to visit "The Rock" purchase your tickets in advance online.  Tickets go on sale 60 days in advance.
Your adventure to Alcatraz will begin at Pier 33 in San Francisco. From here you will board the Alcatraz Cruises ferry at the assigned time, and will sail the mile and a half  to Alcatraz. Beware that there is no food and drink on the island, so if you want a snack before exploring the island, be sure to have something to eat before your trip or pack your own snack. There is also a snack bar aboard the ferry. Another useful piece of advice is to bring warm layers of clothing. While the temperature might be warm in San Francisco, it can be breezy and cool both on the boat ride to Alcatraz, and on the island itself.
Once your boat docks on the island, Alcatraz is yours to explore. At the dock, groups are greeted by a National Parks Representative who provides an introduction to the island as well as let you know about any special events for the day.  Some visitors are surprised that a visit to Alcatraz is ultimately a self-guided experience, but that means you can take things at your own pace. Whenever you're ready to return to San Francisco, a boat departs Alcatraz about every half an hour.

Highlights of Alcatraz
Purchasing a ticket for Alcatraz Cruises also includes what some would say is the best part of a visit to Alcatraz: the cell house audio tour. You won't find live guides here, but instead you put on headphones and are transported back to the time when Alcatraz was an active jail. The recording is incredible – as you walk through the jail you will hear testimonials from prisoners and details down to the din of forks and knives on tin plates in the cafeteria. It is one thing to walk by cell after cell, to see where solitary confinement was held, where meals were offered – but it is a completely different thing to hear it all described through the words of inmates. The shifting voices, music, and background sounds all bring Alcatraz to life making it feel like an operating prison. The famous escape attempt is also covered in detail on the audio recording, and it is done so masterfully, it feels as if you are living history.
During my trip to Alcatraz, the audio tour was my favorite element. One thing stood out to me the most about the audio tour:  I remember being told that on New Years Eve, when the winds were right, the inmates could hear the jubilant "Happy New Year!" screams of everyone back on the mainland. They were so close to so much life – and yet so far away.
In addition to the cell house audio tour, other things to do on the island of Alcatraz include videos and exhibits or attending one of the free talks (topics change daily).
The Details:
Hours of operation vary by season, check the website. Alcatraz is only closed on Christmas, Thanksgiving, and New Years Day.
Ferries leave for Alcatraz starting at 9 am, and run approximately every half hour.
Round trip tickets on the ferry cost $26 per person, children under 4 are free. The audio guide is included in this price.
Photo Credit:  All via flickr,  Dennis Matheson (island photo); BriYYZ (exterior); Guido Sonsoni (cell house)
Jessica Colley is a freelance travel and food writer based in New York City. She proudly called Dublin home from 2008 – 2010 and writes frequently about the city and Ireland. Three of Jessica's favorite travel destinations are Ireland, Italy, and Berlin. Find her online at www.thegreatamericantraveldream.com and on Twitter @jessicacolley.