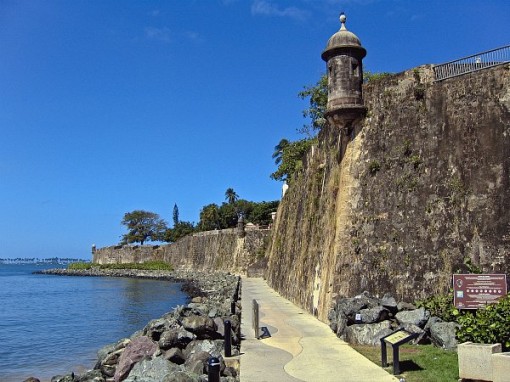 If you've been thinking about a beach vacation, consider a visit to the island of Puerto Rico. Puerto Rico is a commonwealth of the United States and one of the most popular destinations in the Caribbean.  English is spoken on the island, although you'll still hear lots of Spanish, and no passports or visas are required for US citizens.
When planning your visit to Puerto Rico, keep in mind that the island experiences a pleasant climate year-round; however the most popular time to visit is from mid-December through late-April when temperatures are most comfortable and there is little threat of hurricanes.
When you travel to Puerto Rico, chances are you'll pass through the colonial capital city of San Juan at least once or twice. The fortified city of Old San Juan boasts some of the best preserved colonial architecture in the Caribbean. With cobblestone streets and colorful buildings it's hands down one of the most beautiful Caribbean cities and a great place to sample a bit of the local culture and cuisine. Here are a few of my recommendations for travelers to Old San Juan.
Capilla del Cristo Chapel – Dating back to the mid- to late-1700's the Cristo Chapel is situated along the top of the ancient wall that runs along the southern end of Cristo Street. The simple structure is dedicated to the Christ of Miracles and took 23 years to build. It's steeped in legend and today the Cristo Chapel is one of the old city's most unique attractions.
San Juan Cemetery – This famous cemetery in Old San Juan is located on a cliff overlooking the ocean right next to El Morro Fort.  The cemetery is recognized for its elaborate above ground tombs and circular red-domed chapel dedicated to Mary Magdalen. Several well-known Puerto Ricans including Pedro Salinas, Jose Ferrer and Salvador Brau are buried here.
Paseo La Princesa – Paseo de la Princesa is a waterfront promenade located on the south side of Old San Juan near where the cruise ships dock. It's a great place to browse the local artisans, catch an outdoor chess match and sample some traditional Puerto Rican street foods.
La Bombonera – This popular restaurant has been an Old San Juan landmark for over 100 years and was recently featured on an episode of the Travel Channel's Bizarre Foods with Andrew Zimmern. La Bombonera is known for serving up Mallorcas, a type of Spanish pastry and famous local favorite, as well as a variety of traditional Puerto Rican dishes. (Address:  259 Calle San Francisco, Old San Juan)
La Placita – Also known as the Plaza del Mercado, this local marketplace offers a unique glimpse into daily life in San Juan. In addition to produce and household goods you'll find handicrafts such as wooden figures of saints, handmade mundillo lace and carnival masks. La Placita is located 20 minutes outside of Old San Juan and can be easily reached via taxi or public transportation.
Visitors to Puerto Rico who venture beyond the beaches and resort areas will be rewarded with unique attractions, delicious food and bustling markets. If you already have your flights to Miami, it's an easy add on to extend your stay or for a quick weekend getaway.
Photo credit:  Tomas Fano via flickr
NOTE:  This post is sponsored by Cheap Flights; the opinions expressed are those of the author.