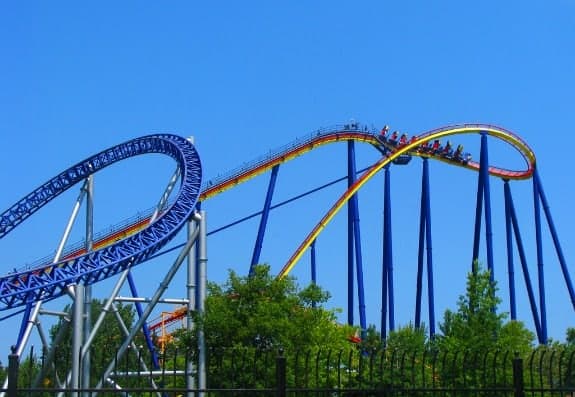 When they talk about Americans "super-sizing", they're not just referring to their fast food. Somehow everything in America seems to be done on a much larger scale, from supermarkets to cars, festivals to movie special effects. And the same is very much true of American theme parks. These incredible places are visited by millions of tourists and thrill-seekers every year, and brim with enough terrifying and imaginative attractions to fill a week-long holiday.
Here are some of the all-time great American theme parks, definitely worth a visit if you're in the area.
Cedar Point, Ohio
Known as the roller coaster capital of the world, and home to the Millennium Force (in photo above), which is called a Giga-Coaster, on account of its size, with speeds up to 93mph! New this year is Dinosaur Island, which is clearly modelled on Jurassic Park. Scores of remarkably lifelike animatronic dinosaurs roam the grounds, making for a scary yet educational interactive exhibit.
Knoebels, Pennsylvania
One for the nostalgia-buffs, with old-fashioned rides including wooden roller coasters, carousels and pirate ships. Knoebels is ideal for a family holiday, especially for those on a budget, since entrance and parking are free, and the rides are very inexpensive. The park also has facilities for camping, swimming and golf, so you could quite easily spend your entire holiday here.
Magic Kingdom, Florida
The Magic Kingdom calls itself "The Happiest Place on Earth", and certainly for the kids anyway, this may well be true. Meet the characters, enjoy the rides, buy the merchandise – it's all part of the experience. The Kingdom also encompasses the Epcot Centre and Hollywood Studios, so adults will get a kick out of it too.
Coney Island, New York
Coney Island holds a special place in American culture and holidays. The amusement park here was the largest in the USA during the first part of the twentieth century. It fell into decline over the years though, and many of the iconic buildings and rides have now been demolished. A new park has opened, and is worth a visit just to take a ride on the legendary Cyclone, one of the oldest roller coasters in the country, now restored from its faded glory.
Schlitterbahn, Texas
Don't let the name fool you, this park is as American as apple-pie. Widely-regarded as the best water park in the world, there's all manner of rides, slides and tubes to be enjoyed on a hot day, of which there are many in Texas. Rent a cabana for a bit of downtime, or take on the critically-acclaimed new ride The Falls, an epic journey in a rubber ring through rapids, waterfalls and waves.
Six Flags, California
Six Flags has more rollercoasters than any other park, eighteen to date, and many of them are record-breakers. With evocative names such as Viper, SlingShot, Ninja, and, very succinctly, Scream, you know you'll have an amazing time here. But there are also plenty of rides for all the family, and the eating options are extensive too.
Dollywood, Tennessee
One of the great joys of USA travel is finding the little oddities off the beaten track. If you'd like to try something a bit unusual, then this theme park created by the country legend Dolly Parton may fit the bill. While it may not offer the same level of thrills as some parks, it's well-regarded for friendliness and hygiene, making it a good bet for families. The park opened in 1986 and like its proprietor has never lost popularity. As you'd expect, concerts and other musical events are frequent, and it's set in the foothills of the gorgeous Great Smoky Mountains, so you can do some hiking and camping while you're here as well.
Photo credit:  Patrick McGarvey via flickr
Author Bio: Rob is a bona fide theme park nut and if it's bigger and better than all the rest then he's just gotta ride it.
The Travelers Way occasionally accepts guest posts from fellow travel bloggers, friends within the travel industry, and as advertorial content.