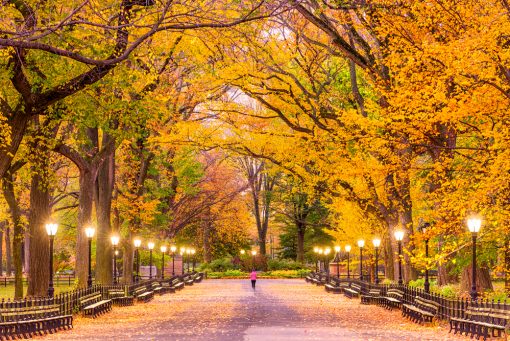 There's a lot to love about The Big Apple — great restaurants and food carts, beautiful museums, endless shopping, the bright lights of Times Square, and the music of Broadway. It truly is the city that never sleeps.
If you ever want to take a break from the hustle of the city, though, there are plenty of escapes, too! Here's a look at some of the best New York City spots for nature lovers, and some great spots for travel photography. Check them out when you're visiting New York City.
Riverside Park
Enjoy more than 400 acres of natural beauty in the heart of New York City at Riverside Park. Designed by Frederick Law Olmsted in the 1870s, the lush green space has everything a nature lover would want. Bike paths, skate parks, running trails, a playground, bird sanctuary, and so much more await in this magnificent spot above the Hudson River on the Upper West Side of Manhattan.
As one of only eight officially designated scenic landmarks in New York City, Riverside Park is widely considered Manhattan's most magnificent waterfront park and public marina. Visitors will discover a number of monuments, including the American Memorial to Six Million Jews of Europe. During the summer months, be sure to stop by for Shakespeare in Riverside Park.
Where to find it: 475 Riverside Drive, Ste 455, New York
Brooklyn Botanic Garden
Located in Mount Prospect Park in Brooklyn, the Brooklyn Botanic Garden is a 52-acre urban oasis, allowing visitors an opportunity to escape the concrete jungle and enter the natural world. Founded in 1910, the Brooklyn Botanic Garden offers conservatories, community greening programs, and educational opportunities for guests of all ages.
This living museum is gorgeous at any time of year and features world-class plant collections and specialty gardens including the fragrant Cranford Rose Garden and the serene Japanese Hill-and-Pond Garden. Don't miss the blossoming of the Brooklyn Botanic Garden's 200 cherry trees in the springtime! Planning a visit? You'll need a membership or ticket to enter the garden's many exhibits, events, and beautiful scenery.
Where to find it: 990 Washington Ave, Brooklyn
Inwood Hill Park
It's hard to believe that you could step into 196 acres of secluded woods in the middle of New York City, but that's the magic you'll find in Inwood Hill Park. As the name implies, it's located within the Inwood neighborhood and is situated 200 feet above the Hudson River, stretching from Dyckman Street to the northern tip of Manhattan island.
Along with dog runs, barbecue areas, and trails, you'll find athletic fields and fun events including the Native American and multicultural festival, "Drums Along the Hudson." Of course, the picturesque green spaces and untouched hills are also perfect for a quiet hike through Manhattan's last natural forest and salt marsh.
Where to find it: Payson Ave & Seaman Ave, New York
Carl Schurz Park Conservancy
One of the best New York City spots for nature lovers is Carl Schurz Park Conservancy in the Yorkville neighborhood of Manhattan. With a promenade that lines the Hudson River and plenty of space to stretch out and read, people-watch, or have a picnic, it's not hard to see why this place is so popular. You won't want to miss Gracie Mansion!
Visitors can tour the two-story building which has served as the official residence of New York City mayors since 1942. Once the country home of Archibald and Esther Gracie, the large, Federal style home was completed in 1799 and used to entertain guests. The Gracie Mansion has public, guided tours on Wednesdays, with special tea tours offered on Tuesdays and Thursdays.
Where to find it: East 86th Street &, East End Ave, New York
The High Line
Back in 1934, an elevated train line started running in New York City, but by the 1980s, service had stopped and the tracks were on the verge of being demolished. After a public petition saved it, The High Line was opened in 2009. Today, it's one of the most popular and distinctive parks in the city!
Perched nearly 10 meters high, visitors can enjoy unparalleled views of Manhattan's far west side as they grab a quick bite on a bench, take in a live performance, or just sit in the stillness of a moment of quietude. Seasonal blooms, trees, and patches of grass provide a relaxing backdrop of nature to the concrete jungle.
Where to find it: The two entrances to High Line Park are located Gansevoort Street and Washington Street as well as on 23rd Street between 10th Ave and 11th Ave, New York
Hallett Nature Sanctuary in Central Park
In the heart of bustling Central Park is the Hallett Nature Sanctuary. You won't even have to leave Manhattan to enjoy this blissful retreat, which is the smallest of Central Park's woodland landscapes. A perfect spot for naturalists, take in springtime's vibrant blooms or the fall foliage as you make your way through secluded trails and views of the Pond.
Best known for its bird sanctuary, you'll also find a variety of wildlife, including woodchucks, racoons, ducks, rabbits, and even turtles inside this four-acre nature preserve. Just outside the exit, be sure to find the hidden waterfall!
Where to find it: East Side of Central Park between 60th and 62nd.
Prospect Park
Head over to Brooklyn to visit Prospect Park, which was founded by the same designers who gave us Manhattan's Central Park. You'll find plazas, waterways, forests, wetlands, monuments, bridges, and more in this 585-acre retreat.
Year-round, it's one of the best New York City spots for nature lovers who enjoy bird watching. In the summer, crowds flock to the space for baseball, biking, picnics, and even special events such as weddings and birthday parties!
Where to find it: 95 Prospect Park West, Brooklyn
Roosevelt Island
Nestled between Manhattan Island, Queens, and Long Island, you'll find Roosevelt Island in New York City's East River. With several areas designated as car-free zones, you can leave your traffic worries behind. Instead, you can be fully immersed in nature in one of the parks, recreational fields, or along the waterfront promenade.
Once closed to the public, you can now take the Roosevelt Island Tramway over the East River. In addition to the parks and landmarks, the island is now home to a residential community — and rich history! Years ago, it was also the site of a smallpox hospital, asylum, and 19th-century lighthouse, which still stands today!
Where to find it: Catch the Roosevelt Island Tramway at E 59th St & 2nd Avenue, New York
New York is one of the busiest, most spectacular destinations in the world. There's no shortage of things to do (and eat!) on every corner. By visiting any of the best spots in New York City for nature lovers, you'll also be able to escape for some rest and relaxation. It's the best of both worlds!
Save to your favorite Pinterest Boards.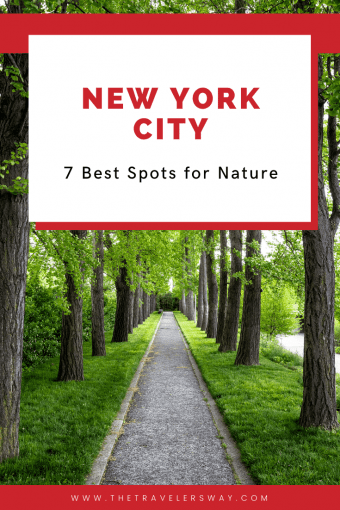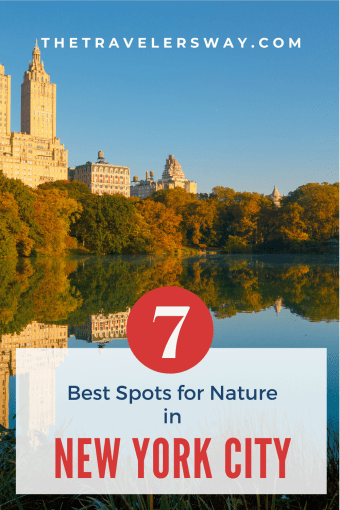 Author Bio: Jeanne is a mother of six (including toddler twins!), writer, and social sciences professor. Growing up, her family lived off and on in Japan, where she plans to relocate someday. Follow her adventures of traveling with obsessive-compulsive disorder (OCD) on The Anxious Travelers!
The Travelers Way occasionally accepts guest posts from fellow travel bloggers, friends within the travel industry, and as advertorial content.