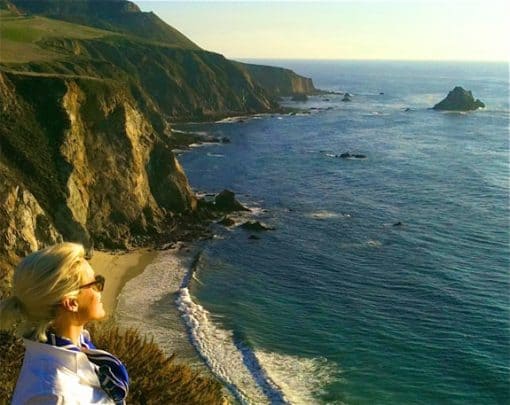 Artists have always had a nose for discovering beautiful places, which evolve into exclusive hideouts for the wealthy. And Big Sur is no different. Now it's the quintessential "Lifestyles of the Rich and Famous" Northern California getaway with celebrity sightings as common as sea lions and thousand dollar a night hotel stays.
Once upon a time though, Big Sur was a starving artist's haven, with artists from San Francisco moving there in the 1920-30s  because it was both creatively inspiring and inexpensive.  Henry Miller stumbled upon Big Sur claiming to have found his nirvana on earth.  He  lived in Big Sur for 18 years, writing the autobiographical novel Big Sur and the Oranges of Hieronymus Bosch. Miller, a proud atheist, is said to have described his love for the area claiming, "It was here in Big Sur I first learned to say Hallelujah!"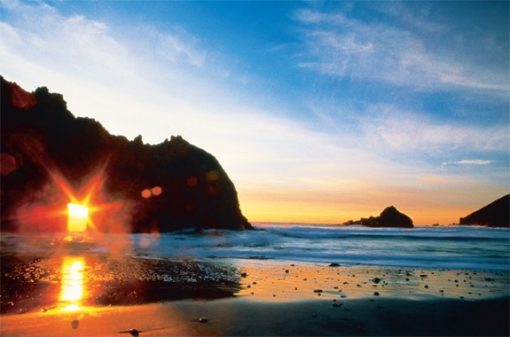 The artist migration continued in the 1950-60s, a time when Beat writer Jack Kerouac retreated to a remote cabin in Big Sur to detox.  His novel Big Sur is based on the experience. For an insider's view on Kerouac's Big Sur stay, watch the incredible documentary One Fast Move or I'm Gone: Kerouac's Big Sur.
We wanted to find a way to do Big Sur like the mid-century artists would have – maximum enlightenment, minimum expense. We scoured the Redwood Forests and traversed the coastlines of awe-inspiring Highway 1 to find some value luxury options for you.  They are listed here by category, within which the suggestions are in ascending order of price.
Where to Stay
Pfeiffer Big Sur State Park – If you don't want to pass out in a random spot in the Redwood Forests like Kerouac did on his first night in Big Sur,  a campsite may be best for you.  Named after Julia Pfeiffer Burns, a renowned pioneer woman in the Big Sur country of the early 1900's, campsites are available in this state park for $35 a night. Some are located on the Big Sur River. Firewood, nearby water spigots, bathrooms with showers and even wi-fi is available. Reservations can be made online, but book far in advance. Check Julia Pfeiffer Burns Park, just ten miles south from this park, for alternative camping sites. Make sure to visit Pfeiffer Beach before you go, as pictured above with sunset piercing through the rocks.
Big Sur River Inn – Travelers since the 1930's have been taking respite here. Cozy motel-style rooms, dining with views of Big Sur River, and the on site Heart Beat Gallery make Big Sur River Inn a memorable stay. Until March 2012, take advantage of their Winter Special:  lodging, dinner and breakfast for two starting at $160 a night.
Glen Oaks Cabins – This hipster hideaway, a 2011 addition to the Glen Oaks' main property, is simply sublime with for those who want to be amid the Redwood Forest but still glamp out with luxury amenities like heated bathroom floors, organic bedding and personal yoga mats.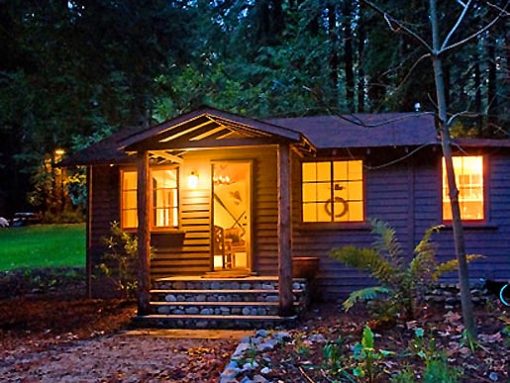 Worth the splurge: Stay in the Big Sur Cabin (in photo above), to fall asleep to the sounds of the Big Sur River after a soak in the outdoor claw-foot antique tub. Little Sur Cabins start at $200 per night, Big Sur Cabin, $350 a night.
Where to Play
Picture Perfect Photo Ops – With even a cell phone camera in hand, the sublime scenery at many Big Sur spots will make you look like a pro photographer. My recommendations are to take time on Highway 1's Bixby Creek Bridge or Hurricane Point.
Handsome Hikes – The best way to be moved by the majesties of Big Sur is on foot. Some must-do easy day hikes are McWay Waterfall Trail (.64 miles RT from Julia Burns Pfeiffer State Park) and Valley View Trail/Pfeiffer Falls (2.4 miles RT from Pfeiffer State Park).  Daily parking fee is $5. McWay Waterfall is pictured below.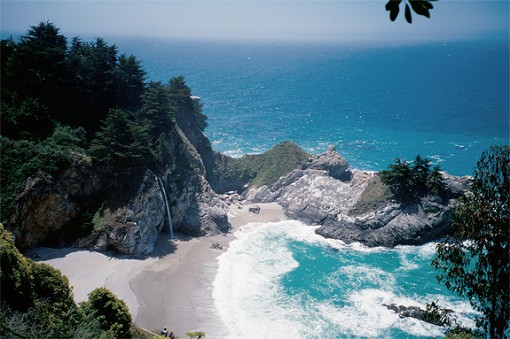 Henry Miller Memorial Library – Channel your inner-Beatnik and visit the Miller Library, which is not a library at all, but rather a museum for championing the author's work and a public performance space for artists, writers, musicians, and students. It is the former house of Miller's longtime friend and assistant Emil White. Check the website for upcoming concerts, workshops and exhibits.
Moonlight Soak – Esalen Institute, a East-meets-West spiritual retreat, has natural hot springs baths perched fifty feet above the Pacific with an experience so inspiring, you just might write your own Big Sur novel. The Esalen clothing-optional hot springs are open to the general public by reservation from 1 am – 3 am, $20 per person. You can only reserve on the day of the night you wish to bathe. For Esalen guests, the springs are avail anytime and one hour before and after a massage treatment for non-guests.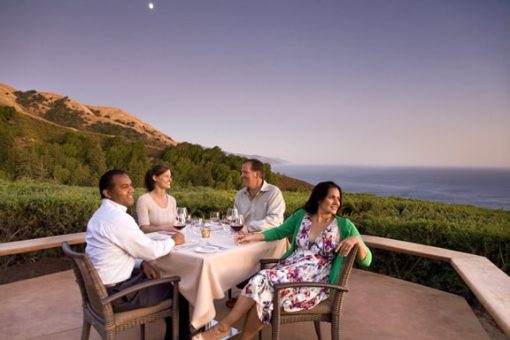 Ventana Inn & Spa – High on a mountain overlooking the ocean, the Joie de Vivre Big Sur property Ventana Inn & Spa is certainly worth a spa splurge (on Conde Nast Traveler's 2011 Top Hotels Readers' Choice list). Clothing-optional pools, Japanese hot baths and Big Sur-oriented treatments are part of the exquisite pampering. Try the Santa Lucia Wine Wrap (80 min, $165) or the Essence of Big Sur Herbal Massage (80 min, $195). To complete a fabulously posh day, order a glass of wine and enjoy the spectacular sunset vistas as pictured above.
Where to Dine
I can imagine Fernwood Tavern being a place you'd find Kerouac at home in – lively, earthy and local color galore. Enjoy a craft beer with pub faire while listening to live music beneath the towering Redwoods. Entrees, approximately $10.
In a quirky but cozy 1930s house, the Big Sur Bakery & Restaurant serves up locally grown produce with an artful gourmand touch. It opens at 8 am, and is highly recommended as a stop for their fresh baked goods, breads or 9-grain pancakes and stout coffee.  For lunch or dinner, try their wood-fired pizzas. Dinner entrees, $15-$25.
Nepenthe, never mind the website that looks like its from 1990, is worth the stop for historical (a major celebrity hot spot in the 1960s) and architectural inspiration, and of course to dine atop the cliffs of Big Sur. Their Ambrosia Burger is world famous.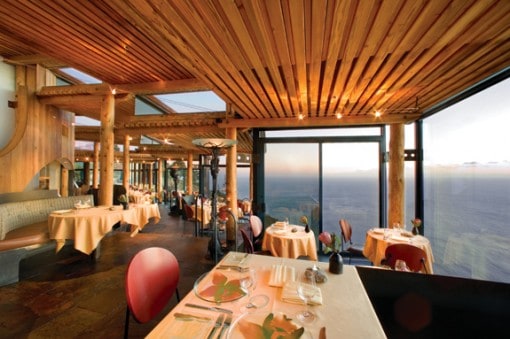 Even if you can't afford to say at the most stunning place in Big Sur, Post Ranch Inn, a meal here is worth the splurge. This is where the rich and famous love to stay, so keep a watch for celebs. The day I went for breakfast, Julia Roberts and her hubby were making googly eyes at each other nearby. The Sierra Mar Restaurant, with floor to ceiling glass walls and uninterrupted ocean views as in photo above, takes non-guest breakfast, lunch or dinner reservations and provides free valet. Lunch entrees, average $20.
Photo credits:  Courtesy of Lanee Lee (coastline); Monterey CVB (sunset beach, waterfall); Joie de Vivre (diners); Kodiak Greenwood (Sierra Mar)
NOTE:  This trip was sponsored in part by SeeMonterey.com; the opinions expressed are those of the author.
Lanee Lee is a Los Angeles based writer who uses her craft to pursue her passions – travel, artisanal food/spirits and maximizing quality of life. Lanee has traveled extensively – always in search of those golden moments of bliss. When she's not gallivanting the globe, she enjoys learning cooking tips from her French boyfriend and emulating Grace Kelly style. You can follow her latest adventures: www.laneelee.com, @wanderlushdiary on twitter.