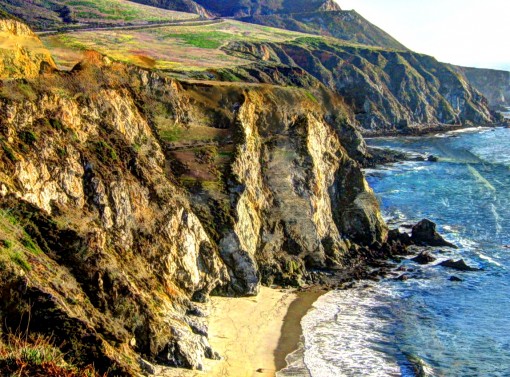 Big Sur, meaning the big south, is a popular tourist destination along California's Monterey Peninsula coastline.
Most visitors experience Big Sur by driving Highway 1 along the coast between Carmel and San Simeon. It's a stunning 90 mile road trip taking you from sea level to 1,00 foot drops, so remember to use one of the many pull out areas before letting your gaze stray too far from the highway. You're not the only one who'll be thinking the drive is gorgeous – it's considered one of the most scenic drives in the world.
Big Sur is an expensive as it is beautiful, with limited accommodation options that fill up quickly during the summer high season. Options run from campground and rustic cabins to luxurious 5-star resorts, but no big chain hotels. There are only three gas stations in that 90 miles and no chain supermarkets or fast food joints. It gets its exclusivity from nature, doing everything possible to retain its natural habitat.
In addition to the jaw dropping views, Big Sur offers outdoor activities from beach walking and exploring to hiking and mountain climbing, and nine state parks provide recreational activities and services.
Have you driven this part of Highway 1? Do you have a favorite Big Sur spot?
Photo credit:  Mary Jo Manzanares
What I love about traveling is that you can learn about new cultures, explore new places, taste their food and get the chance to meet exciting and interesting people. I love going to the beach. I want to go to places that have snow since we have a tropical weather here. I always wonder what it feels like!