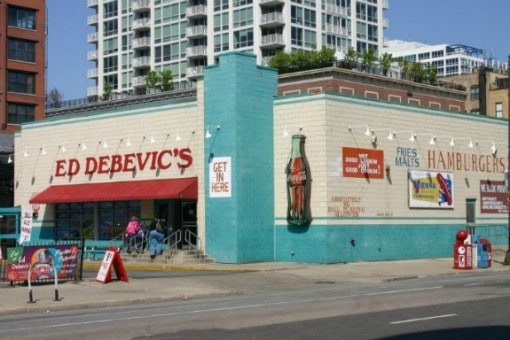 I couldn't help but laugh as I stared at the faded turquoise and creme-colored building and its equally obscure signage.
Near the red awning that shades the main entrance to Ed Debevic's in Chicago, the words "Get in here" are clearly visible on what appears to be a chimney-like structure. On the side of the building that faces North Wells Street, just a couple of blocks north of West Ohio Street, passersby can also see another sign that says "Not good lookin – Just good cookin."
There's certainly nothing flashy about the seemingly misplaced 1950s style diner, located within walking distance of the Windy City's highly-touted Magnificant Mile shopping and dining district, but the building's unusual external appearance is appropriately reflective of the dining experience awaiting visitors inside.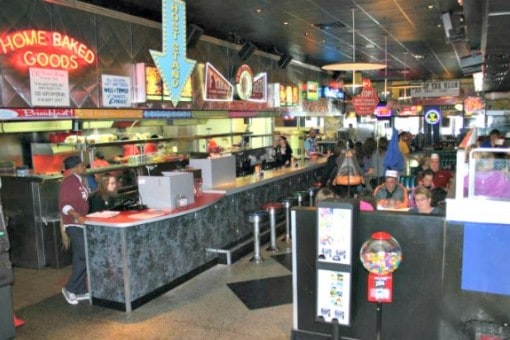 Soon after being ushered to a booth directly across from the facility's service counter and open-style kitchen, a colorfully dressed, suspender-wearing waiter named Biscuits passed by and, without stopping, said "I'm stuck with you three tables. Give me a minute."  We knew his mockingly frustrated tone was simply part of an intential act. After all, Ed Debevic's is known for having a somewhat rude and straight-forward wait staff. It's their job to behave in that manner.
Retro relics and neon signs cover the walls of the dimly-lit burger joint while catchy tunes from the 1950s, 60s and 70s play out loudly from the nearby DJ booth.  However, despite the apparent level of internal chaos, the restaurant boasts an undeniable air of smalltown simplicity.
Waiters and waitresses, comically dressed as time-appropriate greasers, cheerleaders and even bobby sox-wearing nerds, circulate the facility while periodically shouting out comments to their respective tables, each other, the kitchen staff or anyone who will listen, for that matter.
Sarcastic signage is everywhere.
"Eat and get out."
"All children left unattended will be towed at owner's expense."
"Help keep Chicago clean. Please wipe feet before leaving."
One of my personal favorites, positioned over the entrance to the restaurant's rear dining area, says "Our coffee is so good…we drink it ourselves."
While approaching my family's table for drink orders, Biscuits critized the shirt my 12-year-old son was wearing and then proceeded to call me a cheapskate because I requested water.
His quick-witted delivery was amusing, even to those sitting around us.  Though tall-back seats adequately separate each booth, and see-through partitions divide the eatery's lower and slightly-elevated upper dining areas, customers sit relatively close to one another at Ed Debevic's so it's easy to hear the insults being hurled at the next table.
The menu is surprisingly old school comfort food.  Aside from a list of appetizers, salads, chili, hot dogs, burgers and desserts, guests can also order deluxe plates that include things such as homemade pot roast, chicken fried steak and barbecue ribs or swell sandwiches like tuna salad or a turkey reuben.  Breakfast is available on Saturdays and Sundays.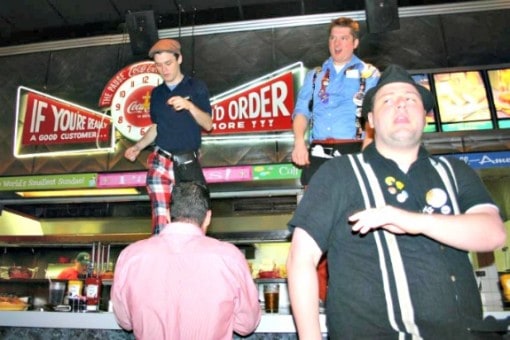 The diner, with its dingy-looking hard-surface flooring, also provides periodic sessions of coordinated wait-staff entertainment during which employees dance atop the service counter area to peppy tunes.
And when it was time to leave, our visit ended appropriately with a hand-written note on our bill that said "Thanks for leaving."
Things You Should Know
Ed Debevic's prides itself on providing a unique dining experience. Waiters and waitresses will most likely be rude during your visit and will probably make sarcastic and/or insulting comments. Don't be offended or take their jabs personally, it's part of the show.
Despite its non-traditional atmosphere, the eatery is widely popular. In order to avoid waiting an hour or more for seating, plan for an early, mid-week lunch or dinner because reservations are not accepted.
The table-side jukeboxes are only for decoration. Do not stick money in them.
Rude comments do not necessarily equate to less-than-adequate service. Biscuits was very attentive to our needs, though he frequently complained about our requests.
Location:  640 North Wells Street, Chicago
Hours:  Sunday through Thursday: 11 a.m. to 9 p.m. (lunch and dinner); Friday and Saturday: 11 a.m. to 11 p.m. (lunch and dinner); Saturday and Sunday: 9 a.m. to 11 a.m. (breakfast).
Prices:  Appetizers ($5-10), Salads ($4-10), Hot Dogs and Burgers ($7-$11), Deluxe Plates ($8-18), Swell Sandwiches ($8-11).
Photo credits:  All from the author's personal collection


Indianapolis-based Greg Seiter is a 22-year freelance veteran who specializes in family travel. While embracing a background in athletics, the travel enthusiast has written for the Associated Press and various NCAA Championships publications in addition to AAA and Resort Condominiums International. Greg's top three travel destinations are Orlando, Fla., Pigeon Forge, Tenn. and Myrtle Beach, S.C.