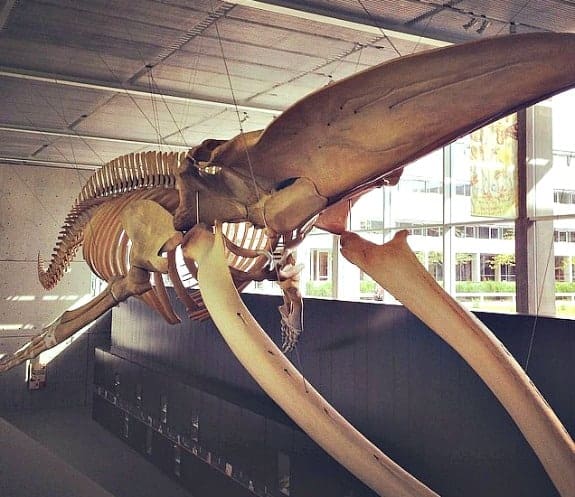 Consistently named as one of the top livable cities in the world, [amazon_textlink asin='1465409971′ text='Vancouver' template='ProductLink' store='thetravelersway-20′ marketplace='US' link_id='ca166606-69d7-11e7-a90d-ed82f010a39c'] offers an urban center surround by nature. A former home to the Winter Olympic Games, Vancouver celebrates its diversity, history, and culture in many ways.
You can, too, with a visit to one of these 15 museums in Vancouver, British Columbia, including the large and the small, the expected and the quirky:
 Beaty Biodiversity Museum – Located on the campus of the [amazon_textlink asin='B01M8QZ9MS' text='University of British Columbia' template='ProductLink' store='thetravelersway-20′ marketplace='US' link_id='3fa834c8-69d8-11e7-afc7-bf48244bb569′], this natural history museum is only a few years old.  Although is most prominent exhibit is an 82-foot blue whale skeleton which hangs from the ceiling, the Beaty has over two million specimens in its collection.  Address:  2212 Main Mall, Vancouver.
BC Sports Hall of Fame and Museum – It's not just about hockey, although you won't be disappointed if that's your favorite game, this sports museum is located at the main entrance to BC Place. The new Olympic Games exhibit has become a visitor favorite. Address:  777 Pacific Boulevard, Vancouver.
Chinese-Canadian Military Museum – This museum in [amazon_textlink asin='B017UNE8B6′ text='Vancouver's Chinatown' template='ProductLink' store='thetravelersway-20′ marketplace='US' link_id='92c66fd6-69d8-11e7-b510-2b63daedf1dd'] celebrates the role of Chinese Canadians in the various military services. Also located here is the Chinese Cultural Center. Address:    555 Columbia Street (2nd floor), Vancouver.
H.R. MacMillan Space Centre – This popular astronomy museum is located in Vanier Park and offers live demonstrations in addition to exhibits and shows in the Planetarium. The Gordon MacMillan Southam Observatory is right next door. Address:  1100 Chestnut Street, Vancouver.
Museum Of Anthropology at UBC – Another museum located on the campus on the University of British Columbia, the Museum of Anthropology is well known for its exhibits of First Nations and Native American culture and artifacts. It is also a research and teaching museum.  Address:  6393 Northwest Marine Drive, Vancouver.
Museum of Vancouver – This museum tells the history of the Metro Vancouver area from 1900 through the 1970s. Its impressive exhibits are very popular with visitors and residents. Like the Space Centre, it is located in Vanier Park.  Address:  1100 Chestnut Street, Vancouver.
North Vancouver Museum and Archives – With two locations, the NVMA focuses on North Vancouver history and art. A move to a waterfront location is currently being funded.  Address:  Presentation House at 209 West 4th Street, North Vancouver, and Community History Centre at 3203 Institute Road, Lynn Valley, North Vancouver.
Old Hastings Mill Store Museum – Hastings Mill was a sawmill that supported an entire company town, and when it closed, the former store was moved to create this museum. It features Native American, pioneer, and immigrant artifacts. Address:  1575 Alma Road, Vancouver.
Pacific Museum of the Earth – Another museum located on the campus of UBC, the PME has exhibits about rocks, minerals, fossils, and other good things found in the earth. Address:  6339 Stores Rd., Vancouver.
Science World at Telus World of Science – Located in the building that was the Expo Centre during the 1986 World's Fair, Science World is a known landmark in the Vancouver skyline. Full of exhibits, demonstrations, and lots of hands on activities, it focuses on science and technology. Address:  1455 Quebec Street, Vancouver.
Seaforth Highlanders of Canada Regimental Museum – A military museum dedicated to the Seaforth Highlanders that also offers searchable database for those seeking military records or genealogy information. Address:  1650 Burrard Street, in the Seaforth Armoury.
Vancouver Art Gallery – With a collection of over 10,000 pieces, including major works by Emily Carr and Marc Chagall, this art museum is also a National Historic Site of Canada. Address:  750 Hornby Street, Vancouver.
Vancouver Maritime Museum – Home to the St. Roch, an RCMP arctic exploration vessel, this museum is dedicated to preserving the maritime history of Vancouver. Address:  1905 Ogden Avenue, in Vanier Park.
Vancouver Police Museum – This heritage building was once the Coroner's Court, the City's morgue and autopsy facilities, and the City crime laboratory, but today houses over 20,000 artifacts, photos, and archival documents relating to Vancouver law enforcement. It is North America's oldest police museum. Address:  240 East Cordova Street, Vancouver.
Roedde House Museum – A restored Queen Anne-styled manor home, from the late Victorian period, the museum home has been faithfully restored to reflect the day-to-day life of a middle class, immigrant family at the turn of the last century. Address:  1415 Barclay Street, Vancouver.
Do you have a favorite museum in Vancouver? If I missed yours, please add it in the comments. (There are lots of things to do in Vancouver besides museums.)
If you're looking for a hotel in Vancouver, we recommend the reviews found on TripAdvisor. For price comparison and booking, we like the ease and transparency of Hotels Combined.
For Pinterest: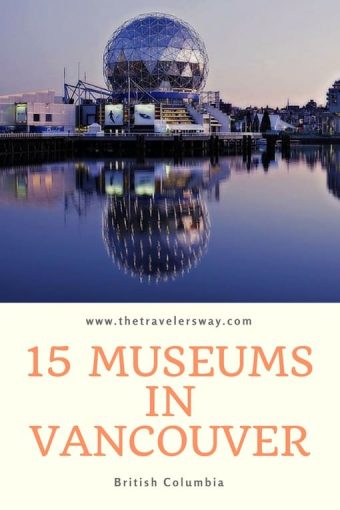 Disclosure: This post contains affiliate links. Clicking through for additional information or to make a purchase may result in a small commission being paid. By doing so, you help support this site and its authors, and we thank you.
Photo credit:  Courtesy of the author


Mary Jo Manzanares is a founder and the editor-in-chief of The Traveler's Way, an online travel magazine proving informational and inspirational travel recommendations for curious Baby Boomer travelers. She has been a speaker at various industry events and has a personal travel blog at Traveling with MJ. When she's not traveling, Mary Jo likes lingering over a cup of coffee, wandering in a museum, sipping wine at a cafe, and sharing it all with friends and readers. Mary Jo's top travel destinations are Italy, Portugal, and the Caribbean.