Paella and sangria may be the quintessential Spanish meal, but in one area of Spain, you're more likely to be tucking into bean casserole and drinking cider. Asturias, a principality on Spain's northern coast, is not somewhere widely known to tourists outside of Spain. While it has long been a summer retreat for Spanish monarchs, its mild climate and unpredictable weather means that it is off the radar for most sun seekers. Furthermore, the region's reputation as an industrial centre does not conjure up the most pleasant images.
However, it is not all grim up north – it calls itself a natural paradise with good reason. The annual rainfall, above average compared with the rest of Spain, has created this Costa Verde – the green coast. It is a lush, mountainous region with a rugged Jurassic coastline, dotted with pretty fishing villages and historic towns.
Oviedo is the regional capital and it is an appealing, charming city. Woody Allen fell in love with the place when he first visited and described it as a "fairy-tale" and featured it in his film Vicky Cristina Barcelona.  The city duly installed a statue of him as an honor. The region is both genteel and bohemian, with a quiet outer reserve that belies the vivacious Spanish soul just below the surface. It is possible to navigate your way around using the many statues and sculptures which create the feeling that the city is one big open-air gallery. Many of these represent the regional identity, such as the statue of a cow and milkmaids: Asturias is the dairy-producing region of Spain and it is where a huge variety of wonderful cheeses come from.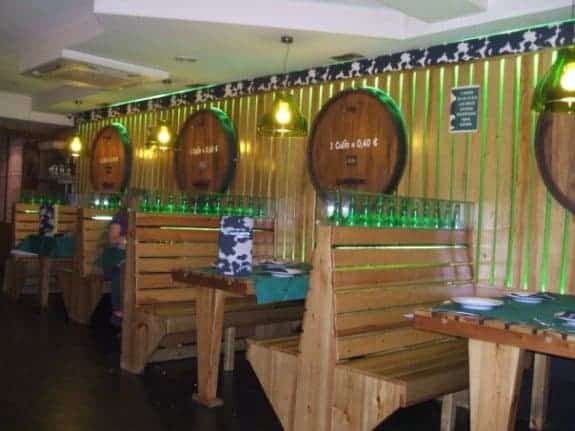 The Old Town is the gastronomic heart of the city and contains a multitude of restaurants, cafes and sidrerias – cider houses. Asturian sidra is famous throughout Spain and, in Oviedo, there is an entire street dedicated to it. The Calle Gascona is at the edge of the Old Town and provides visitors with a cultural experience like no other because sidra is not simply a drink; it is an event. Waiters pour the cider from a great height into the glass in order to aerate it and it must be then drunk in one gulp before it loses its effervescence. The dregs are then thrown onto the sawdust-covered floor ready for the next round. The rustic, woody flavor is something of an acquired taste, but it is well worth it for the experience. Each sidreria has its own personality, from slightly grungy tapas bars to an award-winning restaurant. There is even one with cow-themed barrels above each table, providing self-service cider.
The traditional Asturian dish is fabada, a bean stew similar to the French cassoulet. The best place to try it is Tierr'Astur, a very popular restaurant at the top of Calle Gascona. It's best to go early – meaning around 7p.m. – because it does get very busy later on and service can get slow. Also, fabada is quite a heavy meal, laden with beans and a lot of rich meat, so it's best to go on an empty stomach. The cheese and meat platters are also unparalleled here and the cider flows freely, so it is the place to come for the best of traditional Asturian food.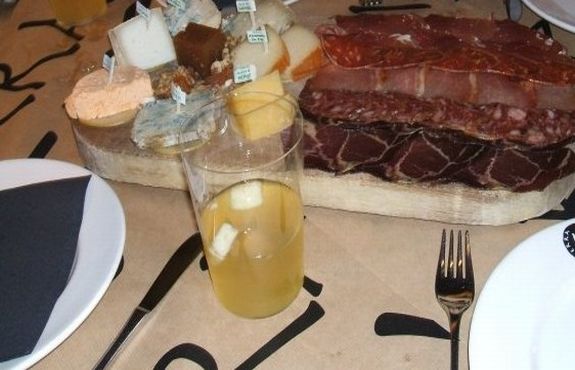 For lighter, more modern cuisine, La Mas Barata is a great restaurant on Calle Cimadevilla in the Old Town. Using local ingredients from the mountains and the coast, rice and seafood dishes feature heavily on the menu. There are great set menus available for big groups, from $30 per person. Main dishes are roughly $15 and there are also options for children starting at $8. The service here is some of the most friendly I have encountered in Oviedo; the waiters are knowledgeable about the food and they are always delighted to see foreign visitors, keen to practice their English with you.
If you just need a quick pick-me-up snack during a day of sightseeing, then most of the bars and cafes will bring you a plate of tapas with your drink. One of my favorite places to sit and people-watch is La Corte, an old-style Spanish bar with dark wood and high ceilings. There are chairs outside where you can sit and enjoy a glass of wine as the sun goes down. Little plates of tortilla are constantly replenished, for no extra cost other than the tip at the end, but it's often so good that you'll end up staying and ordering a whole load of tapas.
Asturias is fiercely proud of its cultural identity and it shows in their passion for the food and drink here. Partly Spanish, partly Celtic, it is a fusion like no other, but boy, does it work.
Photo Credit: All photos are the author's own.
Katy is a writer with wanderlust. Originally from the UK, she has lived in France, danced in Argentina and stargazed in Chile. She writes for numerous travel sites and you can always find her at www.starryeyedtravels.com.