Mesa's bountiful harvest is proudly shared with visitors with fresh experiences, a  treasured heritage of family farms, and long-standing festivals.
Serving as a culinary gateway to Phoenix and Scottsdale, the neighboring farms in Mesa and surrounding towns of Gilbert and Queen Creek provide a bounty of seasonal goods for visitors to enjoy year-round. Citrus in January, peaches in May, and olives in October — travelers can time their visits to experience harvest activities and events.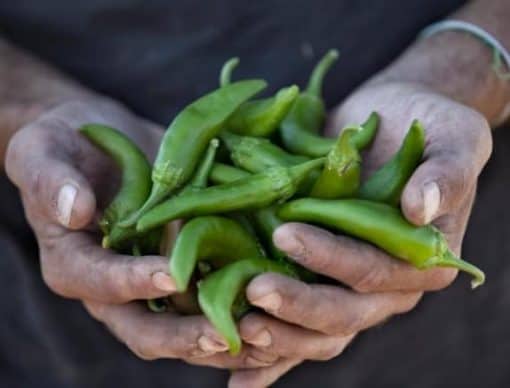 The Mesa Agritourism Trail in this region of Arizona includes the following culinary experiences:
The Orange Patch
The Orange Patch is one of Mesa's original citrus growers and has stood the test of time. Located north of the city, the Orange Patch is 110 acres of citrus and 30 acres of sweet corn and passersby can enjoy the fragrant orange blossoms each spring when temperatures begin to rise. Peak season for orange production is January and February.
Guests visiting are welcome to watch the picking and production process with complimentary tours offered for groups and tastings of the seasonal citrus. This road-side Country Store & Citrus Stand also serves fresh squeezed orange juice, hosts a working beehive on display and fresh desert blossom honey, as well as an assortment of culinary items for sale.
Superstition Dairy Farm
Visitors to Mesa can roll up their sleeves and get a taste of life on the farm. At Superstition Farms in east Mesa, guests can enjoy public tours of a fourth generation dairy farm. Run by brother and sister team, Casey and Alison Stechnij, tours are aimed at demonstrating daily life on a working agritourist family farm. In addition to learning about modern dairy operation and how farmers work to be environmentally conscious, guests also discover the dedication taken to the care, comfort, and health of every animal.
Also on site is the SuperFarm Super Food Truck, petting zoo, Milk Bar featuring a dozen flavors including Butterscotch and Peaches & Cream, and the Mooster's Moo-tique, a fully stocked boutique featuring toys, novelty items, games, candy, fresh eggs, cheeses, local jams, and desert honey. Not to be missed is the Udder Delights homemade ice cream and other dairy delights.
Agritopia
Agritopia, recently featured in the New York Times as a leading agrihood in the United States, is a community on the edge of the rural/urban interface. It is an urban farm designed to flourish in the urban setting. Instead of a huge field of one crop, you find a patchwork of numerous specialty crops. All of the produce grown on the farm is grown under the USDA organic protocol.  Residents and non-residents of Agritopia are engaged in community gardening and there is a waiting list for 12×12 lots. Agritopia has pathways which allow residents and visitors to easily view the crops.
The same-day harvest is sold at The Farm Stand, as well as the being served at Joe's Farm Grill and The Coffee Shop.  Both restaurants located inside the Agritopia community have established a national foodie following from their appearances on Food Network's Diners, Drive-Ins, and Dives with host Guy Fieri, and TLC's Cupcake Wars.
Queen Creek Olive Mill
Just east of Mesa is the Queen Creek Olive Mill, Arizona's only family-owned and operated working olive mill and farm, where olives are grown and pressed for the production of high quality extra virgin olive oil.  Grown at the base of the San Tan Mountains, an area known for its fertile soil, this flood plain region is famous for its high quality fruits and vegetables. The combination of long sunny days and cool desert nights provide the ideal growing conditions for the olive trees.
After a tour and complimentary tasting of oils, olives and tapenades, guests are invited to dine at del Piero, the mill's Tuscan-inspired eatery featuring fresh gourmet sandwiches, paninis as well as soups, salads, gelato and espresso. When the weather is ideal, guests can dine in the olive grove.
Schnepf Farms
Just down the road in Queen Creek, guests can make reservations for an exquisite dining experience at Schnepf Farms, a fourth generation family farm and the largest organic peach grower in Arizona. Schnepf Farms hosts their Dinners Down the Orchard program in the middle of the peach orchard on their 300 acre farm.
In May, they host the two-week Peach Festival and visitors can pick their own peaches and enjoy all things peach – from pies and cobblers to ice cream and peach cinnamon rolls. In October, the farm hosts the month-long pumpkin festival and hosts vintage-era carnival rides and games on the working farm. Year-round, seasonal produce is offered as part of their u-pick program. Visitors are invited to stop by The Country Farm Store for fresh baked goods, preserves and so much more.
Photo credit:  Courtesy of Visit Mesa
Mary Jo Manzanares is a founder and the editor-in-chief of The Traveler's Way, an online travel magazine proving informational and inspirational travel recommendations for curious Baby Boomer travelers. She has been a speaker at various industry events and has a personal travel blog at Traveling with MJ. When she's not traveling, Mary Jo likes lingering over a cup of coffee, wandering in a museum, sipping wine at a cafe, and sharing it all with friends and readers. Mary Jo's top travel destinations are Italy, Portugal, and the Caribbean.