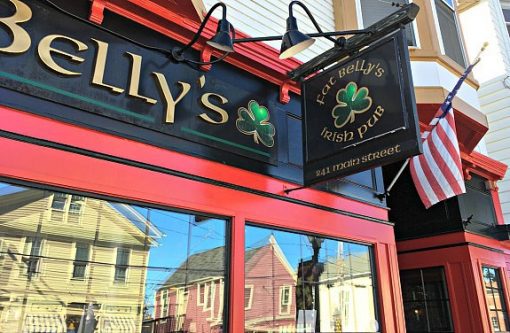 Founded in 1677, the Town of East Greenwich, Rhode Island is steeped in history. George Washington is said to have slept here on several occasions while plotting the American Revolution and positioned on Greenwich Bay is the documented birthplace of the US Navy in 1775. Within the Historic Hill and Harbour District of town, Main Street is flanked on both sides with rows of buildings centuries old.  Surprisingly, it is not the nationally registered historic places that draw visitors to Main Street. It is the lure of the many dining establishments, all local, no chain restaurants.
Breakfast is perhaps my most favorite meal to eat out. Maybe because as a child it was a splurge reserved for vacations and even as an adult, it is still a rarity. Luckily, Main Street is home to several spots, each putting their own spin on the morning meal. Ed's Roost; classic with house-made hash, Dante's Kitchen; a nod to the South with chicken & waffles, and Crosby's; huge portions and BYOB equals inexpensive Mimosa brunch.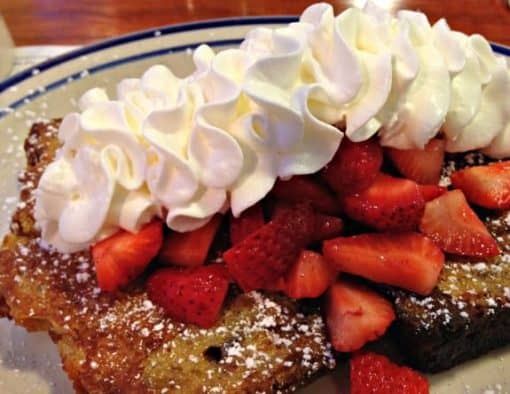 There is one stand out breakfast spot, Jiggers Diner that literally stands out in a 1940's era Worchester Dining Car. Local legend says that the street was closed, crowds gathered, and a band played while the dining car was placed in its current location in 1950. Passed through several hands and not always a diner, Jiggers was brought back to life in 2012.
Lunch is served at all of the above locations as well as several spots that are also open for dinner. Papa Franco; Stromboli, calzones, pizza and specialty sandwiches, Simon Says Cafe & Deli; soup and sandwich shop and Fat Belly's Pub; burgers and pub fare with a wink to Irish cuisine. For lunch with a view, head down the Hill to the Harbour for Blu on the Water or Finn's Harborside. Both offer a wide menu that includes fresh local seafood.  A word of warning, if this is a business lunch, after sitting staring at the water of the Bay, it will be very hard to head back to the office. Both locations are open seasonally and host live music during summer evenings.
It is during the dinner hour that more decisions have to be made. Will it be fine dining or casual, Italian or American, Seafood or Indian, Asian, Mexican or Greek? You can find it all within a five-block stretch. La Masseria Ristorante brings the flavors of an Italian farmhouse, and the Post Office Café serves an appetizer meatball as big as your fist in what once was, yes, the town's old post office. Go early for Greenwich Bay Oyster Bar's buck-a-shuck happy hour.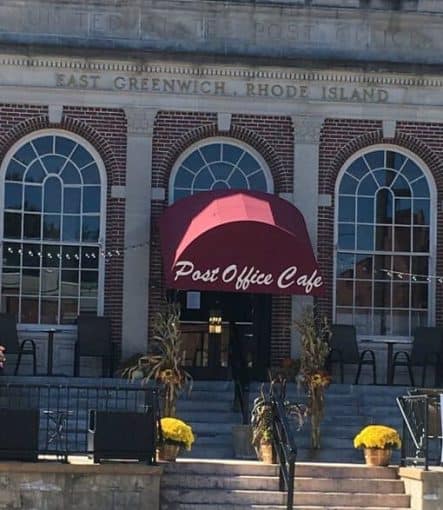 Trying a new style of food can be intimidating, especially if it is an international flavor. Rest assured, the staff at Rasa will ensure you are comfortable with your order from the way it is prepared to its level of spiciness, which can be very important when the tastes of India are involved. Comfort and freshness go hand in hand at Besos Kitchen and Cocktails.  The 1880's building was originally a tavern complete with hotel rooms upstairs. Today, Besos serves fresh ingredient foods and craft cocktails that diners can also enjoy on the porch or patio.
Meeting a friend for coffee, dessert or wine? Main Street Coffee can provide all three. Open early mornings for the coffee and breakfast crew, the shop also serves lunch, dessert, and house famous espresso martinis until the literal end of the day. Silver Spoon Bakery  sits within an old house where guests can enjoy cupcakes, coffee, cocktails and conversation within several rooms. A variety of specialty cupcakes is baked daily including gluten free options.
When the occasion arises and only a beer will do, Main Street has a few watering holes, too. The Greenwich Hotel and Lounge is one such place. Taking another trip down history lane, the original occupant of this land was the Arnold Tavern established in 1770. Here a few of the local men discussed their frustration with the British government and formed the Kentish Guard militia that served to protect the town through the Revolution and beyond. The Arnold was torn down in 1896 to make way for the newer Greenwich Hotel we see today. While the hotel has stories and a past, it is the Lounge that earns praises. Not for its fancy cocktails — it's pretty much beer, wine, and well drinks, nor for the food– they don't serve any. But the staff is friendly, fellow patrons colorful and the live open-mic music nights are always a treat. HINT: Although the drink prices are reasonable, this is a cash only establishment.
Photo credits: J. Ingersoll
Add this to your favorite Pinterest travel board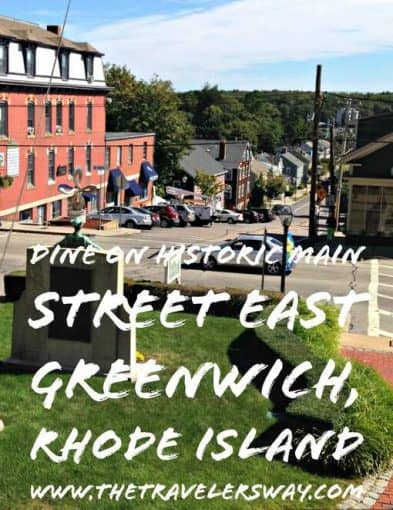 Having been transplanted numerous times, I have learned to explore the sites around our new found hometown, uncovering hidden gems and attractions. When vacation time rolls around, I enjoy traveling with my family and the occasional weekend escape with my husband, coming home to share our travel experiences with others. You can follow me on Twitter @JAIngersoll. My top three destinations are Walt Disney World Resort, the Midwest and any beach I can walk along.