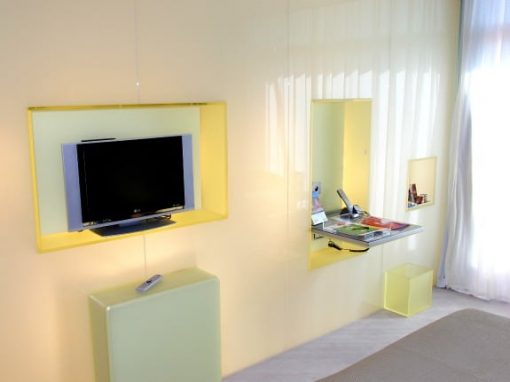 Madrid's Hotel Silken Puerta America is located in an Art Deco building about 15 minutes from the Madrid Barajas International Airport.  The 12-story building of red, purple, yellow, and orange, is the only hotel of its kind in the world and an art lover's paradise.  The exterior of the hotel was designed by the French architect Jean Nouvel, known for his design of the Opera House in Lyon and the Dentsu Tower in Tokyo.
The big draw at the hotel are the various art deco rooms and floors, each one different, designed by 13 different architects from around the world.  Even if you're not an art fan when you arrive, you may be by the time you check out. And you'll want a little bit of luxury when you're resting up from your day trips from Madrid.
The 5-Star Hotel Experience
From the minute I pulled up to the Hotel Silken Puerta America it was obvious the hotel was a five-star property.  I was attracted to the awning in front of the hotel that is covered with lines from a poem ("Freedom" by poet Paul Eludard).  While it's not always easy to explain the reasons a hotel don't add up, it is obvious when a property goes beyond expectations.  If you know what's meant by the phrase "Spanish flamboyance," you'll know what I mean when I say the service at this hotel attentive and helpful, delivered with charm.
At the front desk check-in the hotel receptionist showed us photos of the various rooms and designs on each of the 12 floors, letting us decide what design style we wanted to experience.  We were told that the second floor features some of the most popular rooms in the hotel, and then had to narrow our selection down even more – a choice of an all white (in photos here) or all black, science fiction-ish type of room created by Iraqi architect Zaha Hadid.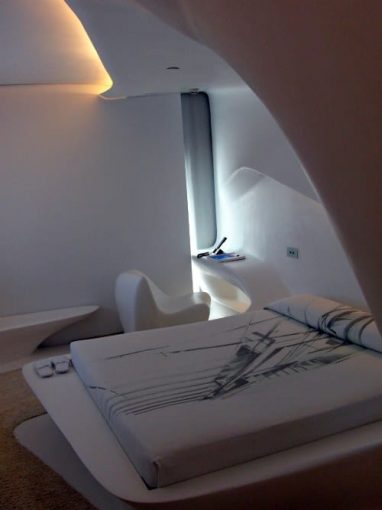 We chose the black room.  When I say the decor is science fiction-ish, I mean clean, straight lines,and furniture made of a hard plastic that can best be described as having come from the "The Jetsons" cartoon, sporting low lighting in pinks and blues to create a soft mood.  It was an other worldly experience for me  since I can't remember the last time I spent the night in a room that I can only compare to sleeping in the space station.  Unfortunately, an all black room is hard to photograph, so you'll have to imagine these all white photos gone black.
While the second floor is where most tourists flock, the overall experience at the hotel is family and couple friendly – thanks to the variety of room styles. Variations like the Zen approach rooms on the 10th floor are reminiscent of a Washitsu room in Japan, or a thoroughly modern theme on floor three looking more like a high-end Soho loft than hotel room in Spain, are just a few of the other stand outs.  Even the non-art lover will find something to be impressed by.
When you're ready to leave your room, check out the trendy bar scene on the main floor next to the reception area.  It was designed by American architect Marc Newson and is a magnet for crowds.  The bar features white marble and tables mounted onto white leather platforms, and at the moment, it's the place to see and be seen – even for Madrid locals.  The bar was packed on a Wednesday night, and the lively conversations were largely in Spanish.
The hotel features free soundproof rooms, an indoor pool, and free internet access. Given its proximity to the airport, it's also a popular choice with business travelers.
The Five-Star Dining Experience
The restaurant at the Hotel Silken Puerta America's restaurant is called Lagrimas Negros, which translates to Black Tears.  The space is Latin-inspired room decorated with abstract motifs set amid a backlit bar. I toured the wine cellar, which is made of aluminum and glass and holds 4,000 bottles; you'll find plenty to choose from to create the perfect pairing.
More stunning than the wine selections and ambiance, though, was the menu created by Head Chef, Jose Estevan.  Foodies take note, Chef Estevan was trained in the kitchen of Salvador de Moralzarzal.  I had heard that Estevan describes his cuisine as "traditional Spanish cuisine, but reformed and stylized while also solid with feeling and flavors."  All I could do was say let's taste it.
Taste it I did.
The menu always varies based on seasonal availability, with main courses ranging from pasta to risotto, sea bass to tuna, pigeon to suckling pig.  Starters are about $20, main courses about $35.
I decided on the 9-course Author's menu which offers a sampling from the a la carte choices.  This is the best way to taste Lagrimas Negros' variety of choices, and costs $100; add on a wine pairing for $25.
From the first course of a duck foie with smoked eel and apple, to the last main course of pigeon with pasta stuffed with mushrooms and chives coupled with a to-die-for truffle cream, it was gastronomical heaven.  I had little room for dessert, but since the waiter brought it anyway I couldn't turn it town.  My last bites were a basil foam caramelized apple jelly and ice cream paired with a Sauci wine liquor orange from Huelva Hidalgo Pedro Martinez.  Standout wines throughout the dinner included a rare Amontillado Napoleon-Xery and a 2009 Perrot Minot Bougogne, with our sommelier making each pairing a treat.
Location:  Avenida de America, 41 – 28002 Madrid.  This is Madrid's famous Gran Via, and is an easy walk to some of the city's well-known landmarks:  Paseo de la Castellana, the Santiago Bernabéu Stadium, Puerta del Sol, the Royal Palace, the Museo Nacional and the Milla de Oro shopping street.
Public Transportation:  The hotel is about a 2-minute walk from the Cartagena Metro Station.
Hotel Rates:  Rooms start at $250/night.
Photo credit:  Courtesy of Russell Dandridge
NOTE:   The author received a complimentary hotel stay; the opinions expressed herein are solely her own.
Rita Cook | Rita Cook is a writer/editor with over 1000 articles. She can be heard on Insider Mag Radio at KPRO 1570 am and she also reviews cars for the Washington Times Communities (Behind the Wheel). Her most recent published books include "A Brief History of Fort Worth" as well as two haunted books on Dallas and Fort Worth to be published in the fall 2011. Rita's favorite travel destinations are Italy, India and Kenya.