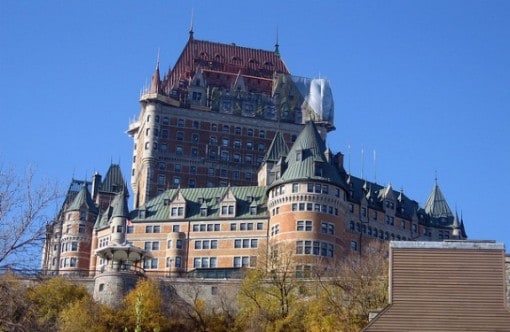 Located along the Saint Lawrence River, Quebec City is one of the oldest cities in North America.  The city was founded by Samuel de Champlain in 1608, and given an Algonquin name meaning "where the river narrows."  Quebec City was originally a walled city and it remaining ramparts, giving it some of its historical charm, led to the designation of the Historic District of Old Quebec as a UNESCO World Heritage Site.
Why should you put Quebec City, often called the "Paris of North America," on your getaway list?  Here are just a few of the wonderful experiences awaiting you there.
Where to Stay
Sure, all the standard hotel chains are found here, but I'd recommend a stay at the Chateau Frontenac (a Fairmont property, in photo at top).  The Cheateau Frontenac sits atop the Cap-Diamant, overlooking the Saint Lawrence River, and offers old world elegance and charm right in the heart of Old Quebec – the area best known for its historic charm.  It's tempting to relax in the hotel all day, and I'd recommend spending some time enjoying it, but you're well located to explore the city (it's a very walkable city).  So get ready to head out – the lower town is waiting to be explored, there are museums, historic, and cultural sites nearby, and there are culinary delights waiting to be sampled.
Special note for travelers with pets, the Chateau Frontenac is dog friendly.  They even have their own Canine Ambassador – Santol.  ABernese Mountain dog, originally trained to be a guide dog, Santol proved to be so lovable and social that the Miro Association used him for a variety of promotional appearance.  When he retired from Miro, Santol took up home in the lobby of the Cheateau Frontenac where he greets everyone and gets plenty of love from both staff and guests.  I asked where he went at night and was assured that he went home with a loving staff member.  Spending some time in the lobby and watching people interact with Santol is a lot of fun, and it's hard not to smile as you see how he brings laughter to so many people.  And he gets his fair share of loving right back.
From the minute I first saw its castle-like architecture and round turrets until the time I had to leave, I felt like a princess in my very own castle.  Not much can top that.
What to See & Do
Quebec is a city of neighborhood.  You'll likely be staying in or near Vieux Quebec (Old Quebec) or the modern downtown core, but don't forget to get to some of the other neighborhoods to enjoy the special local charm they offer.
Old Quebec, a UNESCO World Heritage Site, is made up of the Upper Town and the Lower Town.  You'll notice a definite European feel here as you stroll down the winding streets for a little shopping, stop off at a café for lunch or something to drink, or find a restaurant for a fine dining experience.  The area is full of historic spots with some dating back a few centuries.  With high fashion in the boutique windows, delicious pastries, chocolates, and other goodies around every corner, and the French language surrounding me, it almost felt like I was in Paris.  You can reach the Lower Town from the Chateau Frontenac by a short walk, and then down some steps, or take the Funicular which connects the two areas.
Worth seeing:
Plains of Abraham – Also known as Battlefields Park, this was the site British and French battles in the 1700's and today it is one of the largest and most impressive urban parks in the world.  Depending on the time of year you visit, you can walk or snowshoe the grounds, ride a bike or go cross country skiing, and enjoy numerous historic sites, attractions, and views.  Parliament buildings are nearby.
Fortifications of Quebec – A walking path around the remains of the walls of the only remaining fortified city north of Mexico City.  Admission about $4, depending on exchange rate.
Citadelle – A star shaped compound, this National Historic Site feature a museum and is home to a number of military ceremonies and events.  Be sure to stop off at the Residence of the Governor, the second home of the officer. Open year round, admission about $10.
Notre-Dame de Quebec Basilica-Cathedral – Originally built in 1647, and repaired and rebuilt after damage from two fires, this is the oldest parish in North America.  As you'd expect, the Cathedral is full of impressive art, stained glass windows, and rich religious history.
Notre-Dame de Victories – A small stone church in the Lower Town that is a National Historic Site.  It dates back to the 1700's and is still conducts worship services.
Observatoire de Capitale – Located on the 31st floor of the Marie-Guyart Building, you'll get panoramic views of the city and surrounding area.  You'll also get an interactive multimedia experience that takes you through the capital city's rich history and development.  Admission $10.
Mural of Quebecers – Painted on the side of a building in the Lower Town, the mural tells the story of 400 years of Quebec history with 15 historical figures worked into the artwork.  See how many you can spot.  It's also a great spot for photographs as visitors try to put themselves into the scene.
Place Royale – Probably the most historic spot in the Lower Town, this was the original location of the town plaza back in Champlain's time (in photo below).
Funicular – This incline elevator will take you along the cliff from the Lower Town to the Upper Town and give you great views in the process.  $2.
Special note:  As with all old cities, Quebec has a wonderfully rich haunted history.  If this is your thing – or perhaps, just because it's Halloween time – a ghost tour may give you a different perspective on the city.
What & Where to Eat
If you think Paris has great food, don't worry, Quebec City won't disappoint you.  It's full of both traditional and nouveau French cuisine, of course, but it's also making a name for itself by carving out some serious foodie territory.
For traditional dining experiences try:
Breakfast or brunch at La Cochon Dingue (it means the crazy pig), a friendly French bistro serving café au lait in a bowl.
Restaurant Le Continental is located in a house that dates back to 1845 and is just a short walk away from the Chateau Frontenac.  Flambés are the specialty in the classic dining room, with nearly everything is cooked table side (in photo above).  It's quite impressive to see a filet mignon cooked to different degrees of doneness and all served at the same time.  And let's not even get started on the decadent desserts!  For classic food, prepared in a classic style, and served with traditional manners and charm, this is your place.
Restaurant Initiale – A subdued classic Relais & Chateaux dining room that is the backdrop for great food paired with great wine.
Lady Kookie Bisuiterie – Whether you're looking for a little afternoon snack, want something to take back to your hotel for a bedtime treat, or are picking up enough cookies to share with other, this bright pink cookie shop makes for a delightful stop (in photo below).  As pretty as they are tasty, my favorites were Dulce De Leche and Noix de Makadam (White Chocolate Macadamia Nut Cookie).  Yummmmm!
For something a little different:
Le Café du Clocher Penche – A contemporary bistro with a menu of the moment, one that changes daily.  You never know what will be on offer, and that's part of the charm of this bright and airy spot that always packs a crowd.
Le Cercle – Serving tapas and wine in the midst of an art and multimedia studio.
Laurie Raphael – Fans of molecular cooking have made this one of the hot spots around town, and the Chef Chef menu is a popular introduction to those unfamiliar with the concept (in photo below).  It would probably not be my go-to restaurant, and much of the nuance of the technique was lost of my unschooled palate, but there were some interesting combinations and presentations that made for an enjoyable evening.
La Traite Restaurant – Located at the First Nations Hotel in Wendake, this is as much a cultural and is it dining experience.  The table d'hote offers a choice of three, four, or six courses, with optional wine pairings, and was some of the most unusual food that I've ever tried:  bonbons of salmon with sour glasswort, seal meat, haskap berry spread, elk tartar with fir jelly, and kangaroo pate.
Au Gout d'Autrefois – Head out to Ile de Orleans for this mega-dining experience with a country-style approach, this is farm-to-table at its most literal.  Everything, let me repeat that, EVERYTHING is source from the farm where the restaurant is located.  By reservations only, you can choose how many courses you wish for your menu, and then be prepared for a relaxed (and lengthy) dining experience.
Getting There 
Jean Lesage International Airport (YQB) is located about seven miles southwest of the city.  It's about a 15 minute drive into the city, and is also serviced by public transportation (RTC bus #78).  From the United States, service is available from (or through) Detroit, Newark, Washington Dulles, Chicago, Philadelphia, and Fort Lauderdale.  It is also easily reached through all of the major Canadian cities.
Photo credits:  Courtesy of the author
NOTE:  The author's visit to Quebec was sponsored by the Quebec Tourism Office and its partners; the opinions expressed are her own.
Mary Jo Manzanares is a founder and the editor-in-chief of The Traveler's Way, an online travel magazine proving informational and inspirational travel recommendations for curious Baby Boomer travelers. She has been a speaker at various industry events and has a personal travel blog at Traveling with MJ. When she's not traveling, Mary Jo likes lingering over a cup of coffee, wandering in a museum, sipping wine at a cafe, and sharing it all with friends and readers. Mary Jo's top travel destinations are Italy, Portugal, and the Caribbean.