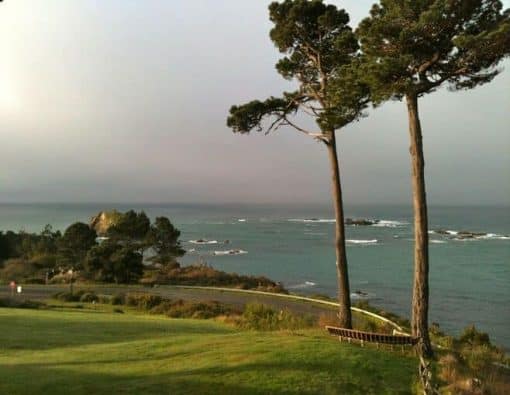 If a digital detox is what you crave, Mendocino County is a ruggedly picturesque, off-the-beaten-path destination just a few hours north of San Francisco, and provides a haven to unplug and recharge.
Since there is little to nil cell service and sparse Wi-Fi, a holiday in Mendocino is just what the doctor ordered if you're suffering from OCPD (Obsessive Cell Phone Disorder).  As one Mendocino local I overheard say, "If you don't have cell service in Mendocino, it's because you don't need it here!"
To ease the Wi-Fi withdrawal symptoms, Mendocino County's Anderson Valley wine country and rustic farm-to-fork scene, along with a few quirky characters to meet along the way, are soothing balms for the soul.
My boyfriend and I began our digital detox with two nights at the Little River Inn. Little River Inn is a 1960's Victorian style property overlooking the rocky coastline.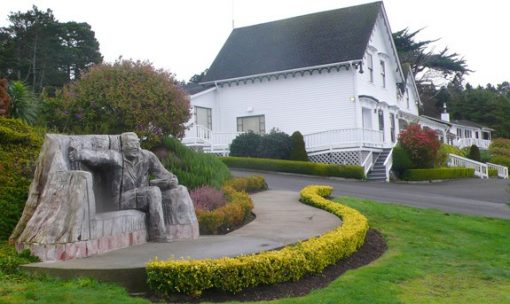 They offer more luxurious rooms with Jacuzzi tubs and fireplaces, but Little River Inn's Traditional Ocean View room is a great budget-friendly choice: clean, simple, and million dollar vistas (as depicted in top photo) at a value luxury price of $179 a night. Little River Inn has a little bit of everything to enjoy: golfing, tennis, spa services, Ole's Whale Watch Bar and the Little River Inn Restaurant.
Mendocino Eats
Always on the hunt for what's new in the way of food and drink when I travel, we ate at newcomer Wild Fish, directly across from Little River Inn. Restaurateurs Kelvin and Liz recently moved to Mendocino after running a successful restaurant on the English coast of Devon for over a decade.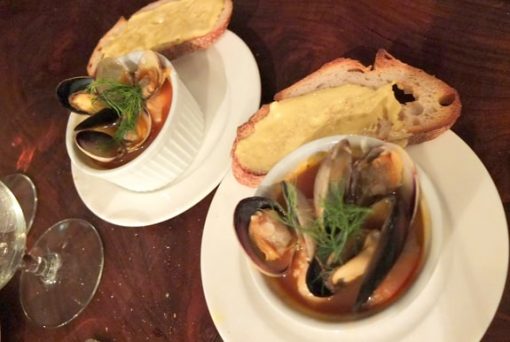 The couple's passion for local West Coast seafood paired with the know-how of elegant cuisine, and served with a good dose of hospitality, makes for a hopping scene in the tiny restaurant often packed to the gills so to speak with hungry locals and visitors alike. Try the aromatic Fresh Clam Chowder, the Noyo Petrale Stuffed Whole Dungeness Crab and Piccata-esque California Halibut. Wednesday's are Hurry for a Curry night to recreate the Indian cuisine not found in Mendocino until now. Marizpan ice cream, a flavor made especially for Wild Fish by the local creamery Cowlick's, is a divine finish.
If you're wavering on remaining cell phone-free, a visit to Thanksgiving Coffee Company with a No Cell Phones Policy will get you back on track, not to mention a superb cup of java as well.  As one of Mendocino's fair trade heroes, say hello to roastmaster Paul Katzeff (pictured below with a photo of him from his early days of coffee roasting) championing the cause of not just a cup, but a just cup of coffee.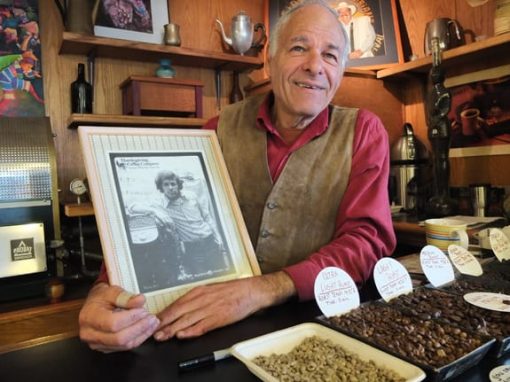 Speaking of justice, as you'll discover when you visit, Mendonesians flock to the area to promote a better way of life for themselves and the planet. Ravens' Restaurant, at Stanford's Inn eco-resort, is the ultimate in supporting any kind of detox as it's completely vegetarian or vegan, with an emphasis on locally sourced (much of it from their on site garden) produce from morels to seaweed.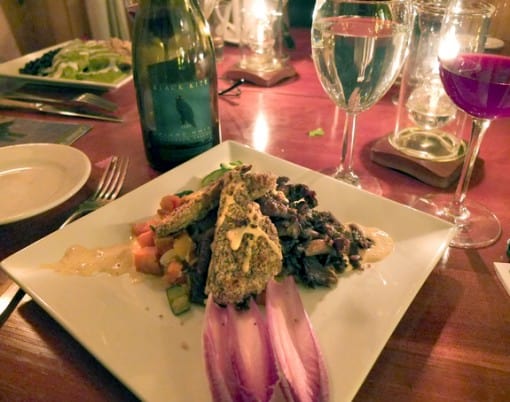 A Ravens' veggie-centric meal is NOT a pile of steamed veggies and mundane salads but an inspired menu offering creative interpretations on sushi, tacos, and meaty mushroom and tempeh entrees. Once again, the vegan Bananas Foster dessert had me shamelessly licking the plate like I did with the Marizpan ice cream at Wild Fish.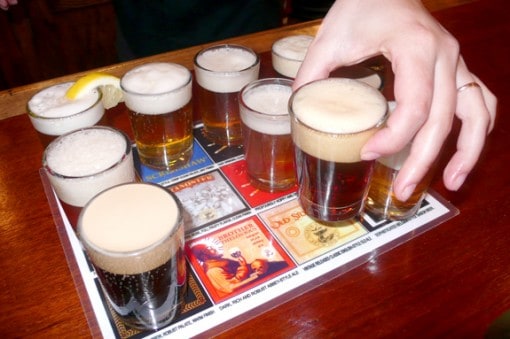 Farther up the coast in Fort Bragg, North Coast Brewing Co. Taproom & Grill hits the spot for brews and burgers. Tasting the dirty dozen is a must. Twelve mini North Coast Brewing beers get set on a Bingo like card with the logos below so you can know what's what. If bingo beer seems a bit much, try the Brother Thelonious Belgian Style Abbey Ale: hops in melodic form.
Mendocino Wine
Known as America's greenest wine county, I asked Mendocino wine expert and friend Brendan McGuigan which wineries to visit for a boutique, mom and pop experience rather than the behemoth, Faux-Tuscan wine tasting experience of nearby Napa.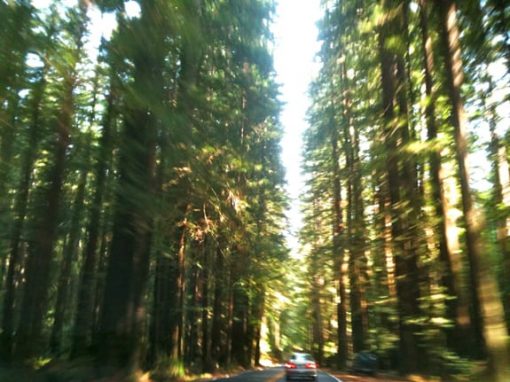 He answered with a grin, "They're all boutique, passionate winemakers in Mendocino. Why do you think I live here?" And off we went through on the magical Hwy 128 shrouded in towering Redwoods to explore Anderson Valley wines. And FYI, most tasting rooms are amazingly still FREE in Mendocino County.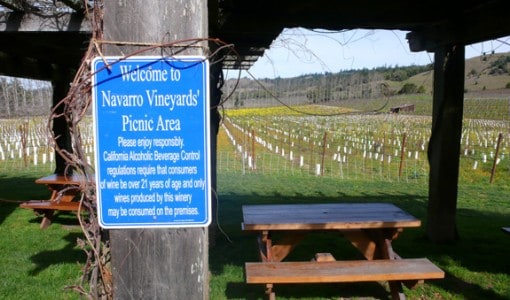 First stop, Navarro Vineyards, set up against rolling hills and vast vineyards makes for a dreamy afternoon delight of wine and cheese. As a fan of funky grape varietals, I loved their Navarro 2010 Edelzwicker, 2009 Late Harvest Gewurztraminer and this amazingly tart green grape juice called Verjus.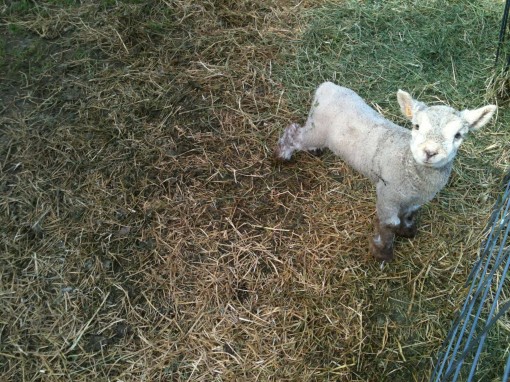 Venture out back to see the adorable Baby Doll sheep with Yoda-like faces. They are used as eco-mowers/fertilizers for the vineyards as they keep the grass trim but are too short to eat the grapes.
My boyfriend, hailing from France, always says good wine should be designed to pair with food, and Toulouse Vineyards has it right. Taste the four Pinot Noirs as well as a Rose Pinot Noir along side gourmet appetizers like cheesy bacon flatbread. Try to resist sharing with the mascot of Toulouse Vineyards – a friendly white Labrador who excels at begging.
To get the creative juices flowing literally, stop at Phillips Hill tasting room by artist/vintner Toby Hill. Toby's theory with wine making is like his art "don't paint the painting, let the painting paint you." Each bottle of wine is emblazoned with one of his sketches or paintings.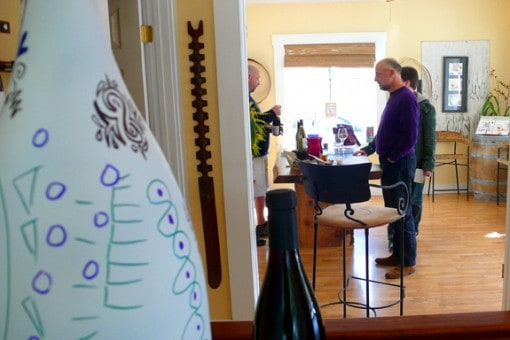 Matt Meyers of Meyer Family Cellars has stellar winemaking in his genes. His parents founded the award-winning Silver Oak Cellars in Napa Valley. Exceptional wines for both tasting and take home souvenirs are the Meyers Family Port and 2011 Dry Rose Syrah.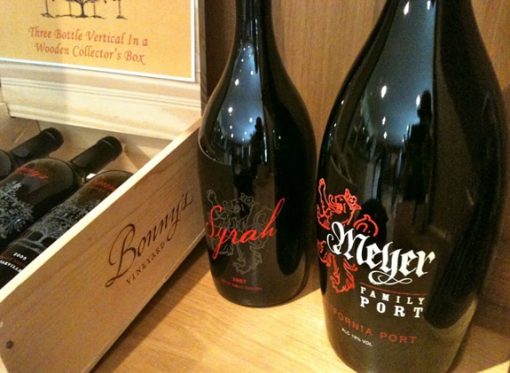 As the only certified organic vineyard in Mendocino, Yorkville Cellars was a favorite stop of mine. For a royal flush, try the Bordeaux-style white wine Eleanor of Aquitaine and six red grape varietal blend Richard the Lion Heart. Another stellar sipper is the 2011 Sweet Malbec with a wee bit of effervescence.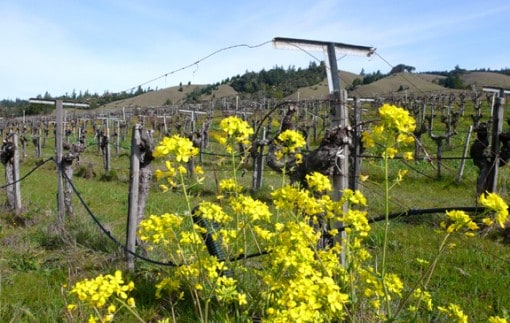 As you can see, there is plenty in the way of fine eats and wine tasting in rural Mendocino County to transport you from 2012 to 1982 when life went on splendidly without digital dependence.
Note:  Portions of this trip were sponsored by Visit Mendocino. Opinions expressly my own.
Photo credits:  Courtesy of the author
Lanee Lee is a Los Angeles based writer who uses her craft to pursue her passions – travel, artisanal food/spirits and maximizing quality of life. Lanee has traveled extensively – always in search of those golden moments of bliss. When she's not gallivanting the globe, she enjoys learning cooking tips from her French boyfriend and emulating Grace Kelly style. You can follow her latest adventures: www.laneelee.com, @wanderlushdiary on twitter.