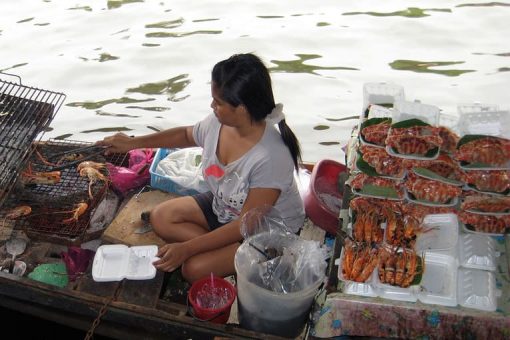 At the weekend only Taling Chan Floating Market in Bangkok Thailand, locals and tourists enjoy Thai music, foot massages, canal tours, and the freshest of seafood. It makes for a perfect day trip in the city and provides a glimpse into the local Thai lifestyle.
No trip to Bangkok is complete without visiting a floating market, and on a past visit to Thailand, this was number #1 on my list of things to experience in Bangkok.  As I started my research I discovered that Bangkok has many floating markets – in fact, there are more than five!
After calculating the various distances and possible travel routes, we settled on visiting the Taling Chan Floating Market on the Thonburi side of Bangkok. Taling Chan is one of the 50 districts in Bangkok, with the market located 12 km (about seven and a half miles) from downtown Bangkok and accessible via public transit. This market is said to have fewer tourists than the famous (and very crowded) Damnoen Saduak Market featured in various action movies such as the classic James Bond film The Man with the Golden Gun. (You can head out to the other islands in Thailand for more James Bond filming sites.)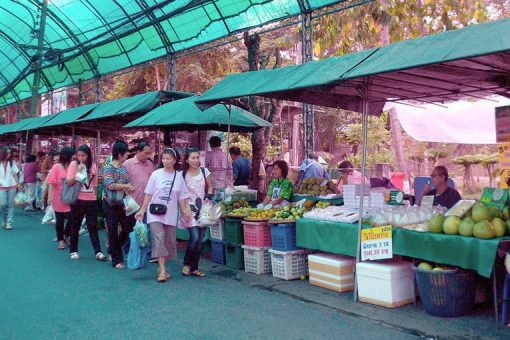 Once at the market, you will immediately be in the mix of locals as they shop for their weekly fruits and vegetables as well as plants, gardening supplies, and housewares. After strolling through the vendor booths under the big green tarp, follow your nose and your rumbling stomach, and continue your way towards the Chao Praya River for lunch.
When deciding what to eat, you can order one of the ubiquitous noodle dishes, but when you are sitting directly on the river, it seems more appropriate to order seafood especially when your order is uniquely cooked on a longboat kitchen and is fresh as seafood should be. If you aren't a seafood fan, there are also grilled meats, and vegetarian dishes, along with other savory and sweet non-seafood snacks.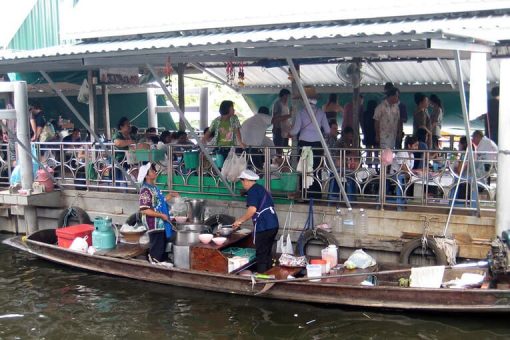 Shrimp, squid, crab, and fish, you'll lick your lips in anticipation when everything smells as good as it looks and the price is right! Don't worry if you don't speak the local language because you can simply point at illustrated menus, at the beautiful plates of food on display, or at your neighboring diner's meal. If sitting on a mat on the floor and dining at a communal table low to the ground doesn't sound comfortable, there are additional tables with chairs at the entrance to the market.
One traditional dish served from the longboat kitchens is the snakehead fish stuffed with herbs, salted, and then grilled. A traditional recipe, Celebrity chef Anthony Bourdain, ate this very item when he visited this same market.
Snakehead fish are a favorite for eating, but they are also popular for feeding! They swarm, bob, and fight along the water's edge for stale bread available for purchase in the market for this very purpose.It's quite the sight to see the local children feeding the hungry fish as they get "fattened" up for someone's plate. It's said that feeding the fish will bring good fortune, but I don't think the fish came up with that story.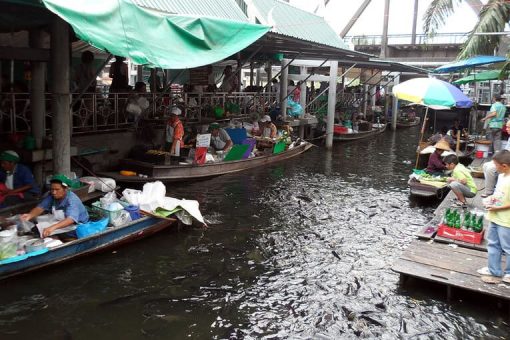 A long-tail boat tour through the backwater canals surrounding the market area is a good way to see local temples, stilt homes, and get a glimpse of how the local Thai people live and work along the river.
At the Taling Chan Floating Market, we had a fabulous day as we dined on succulent grilled fish on a floating barge. We sailed the backwater canals on longtail boats, waving at the children as they played in their stilt homes. Then ended our day with a relaxing foot massage as we listened to the distant sound of traditional Thai music coming from the nearby stage.
It was a terrific experience that we'll never forget, and a fun experience to plan, no matter where in Bangkok you're staying. It also works in great as part of a longer itinerary to Thailand.
Have you been to a floating market before?  I'd love to hear what your experience was and most importantly…What you ate!
Save this to your favorite Pinterest board for planning your trip to Thailand.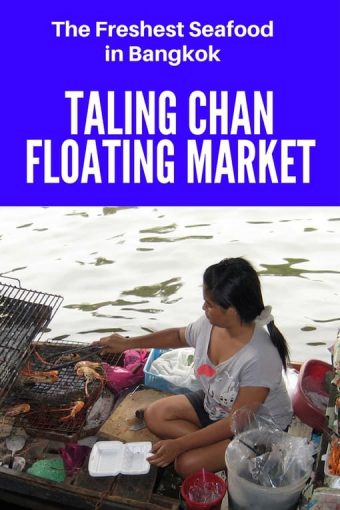 Author Bio: Mary Chong provided this story and accompanying photos about her visit to the Taling Chan Floating Market in Bangkok, Thailand. Mary is a travel writer/world cruiser based in Toronto, Canada. She shares photos and stories of her adventures from both near and far on her travel website CalculatedTraveller.com.
The Travelers Way occasionally accepts guest posts from fellow travel bloggers, friends within the travel industry, and as advertorial content.