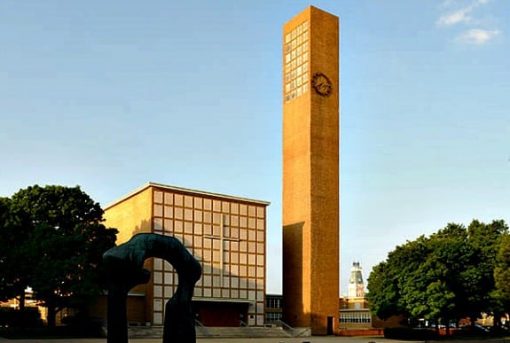 I grew up in the small Midwestern town of Columbus, Indiana. I lived there more than half my life until I moved away and traveled back on many occasions. I thought I knew it like the back of my hand, but somehow, on my last visit, I really looked at my hometown through a tourist's eyes and discovered new things.
Columbus was blessed with a generous benefactor, Cummins Engine Co., and its founding Miller family. Beginning in the 1940's the Miller's began paying the architectural fees for public buildings within the city. Through the years, Columbus has become known as a hub of modern architecture with the design works by such notables as Robert Venturi, Harry Weese, Eliel and Eero Saarinen to name a few.
Visitors to the city can climb aboard a tour bus for a 2-hour viewing of these architectural works of art. Ticketed docent-led tours begin at the Columbus Visitor's Center and drive past 40 structures before stopping to allow participants to explore the interiors of two buildings. Other architectural tours are available including a guided walking tour of the downtown or a self-guided audio tour. The Visitor's Center also offers a map and a downloadable smartphone app for those wishing to tour at their own pace.
One of the buildings on the tour is the First Christian Church. I had seen this building hundreds of times, after all, it is across the street from the [easyazon_link identifier="0847831450″ locale="US" tag="thetravelersway-20″]I.M. Pei[/easyazon_link]-designed public library. Yet, I never knew that when it was completed in 1942 it was one of the first contemporary designed churches in America.
Separate from the architectural tour is the Miller House and Garden. Viewed as one of the finest examples of American Modernism, the house served as the residence for J. Irwin Miller and his wife, and following their death is now under the care of the Indianapolis Museum of Art. The Garden was designed by renowned landscape architect, Daniel Kiley who lists the [easyazon_link identifier="B00AWHJIWC" locale="US" tag="thetravelersway-20″]St. Louis Arch[/easyazon_link], [easyazon_link identifier="0810981483″ locale="US" tag="thetravelersway-20″]National Gallery of Art in Washington[/easyazon_link], and the Lincoln Center among his works.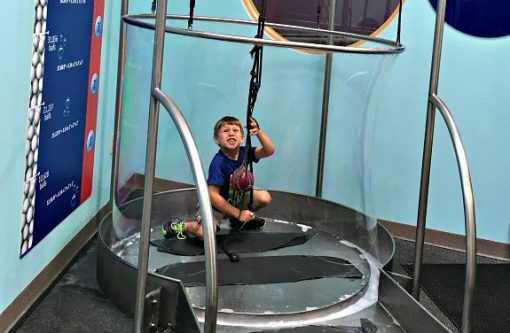 The 300 block of Washington Street is a favorite area of town for the young and young at heart. Within this downtown block are three family-friendly attractions. The first being the Playground at The Commons, a free-to-play indoor playground. The 5,000 square foot park has three distinct areas of play for toddlers, preschoolers and school age children that include slides and a water-cyclone spinner. By far the most popular apparatus is The Lucky Climber that connects 50 curved platforms with six miles of aircraft cable to create a 35-foot high climber.
Located across the street from the Commons is the second choice spot for families, kidscommons. Kidscommons is a three-story interactive children's museum that encourages hands-on play from a craft area where recycled items become take home art and a bubble station where guests can stand inside while they create a bubble around themselves. The ExploraHouse exhibit demonstrates the functions and systems within a house from insulation to electricity.  There is even an oversized toilet where children, and more than a few adults, climb in and slide through to inspect the plumbing. Entry to the museum allows in and out admission for the entire day.
If all this activity has worked up an appetite there are numerous options in the vicinity for lunch. However, there is only one place to go for dessert, Zaharakos Ice Cream Parlor. Located next door to kidscommons, Zaharakos rounds out the trifecta of family fun on the block. Ice cream treats and fountain drinks have been served at the marble counter since 1900.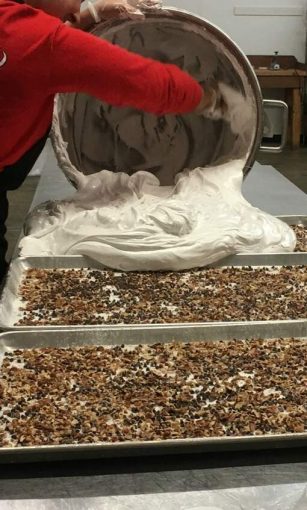 If a Banana Split or Green River Soda didn't satisfy your sweet tooth,   240Sweet surely will. 240Sweet is known for its gourmet marshmallows sold on-site, online, and from a S'mores food truck. Salty Carmel, Bourbon Ball, and Hoosier Strawberry are a few of the marshmallow flavors so tasty that even [easyazon_link identifier="B001THPA4Y" locale="US" tag="thetravelersway-20″]Oprah[/easyazon_link] considers them one of her favorite things. For a special treat, attend an Art of Marshmallow Making Class. Learning the process to create marshmallows in your own kitchen, participants cut, dust and package the fluffy treats to take home.
The Atterbury-Bakalar Air Museum is located on the grounds of the former Bakalar Air Force Base.  The air base was originally named Atterbury Army Air Base after the active army camp located 10 miles away.  The museum shares both names and is dedicated to the military and civilians that participated in conflicts from WWII through Vietnam.  Exhibits relating to the WWII glider pilots, the Tuskegee Airmen and Women Air Force Service Pilots or WASPs include scale aircraft, uniforms, equipment, photos, and artwork.  The museum is run by volunteers and does not charge admission, although donations are accepted.
If you too would like to be a visitor in my hometown, Columbus is less than one hour south of Indianapolis and slightly over one hour north of Louisville, Kentucky. Columbus is a convenient day-trip from either city or a weekend destination on its own.
Post to your favorite Pinterest travel boards.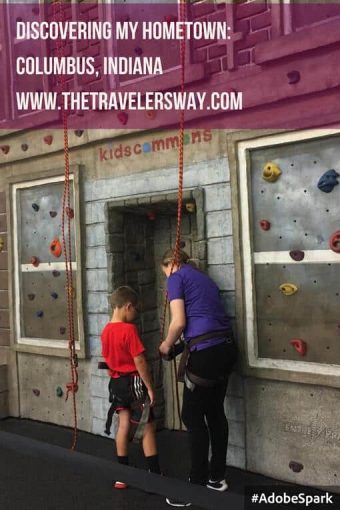 Photos Credit:  Courtesy of Columbus Visitor's Center and J. Ingersoll
Disclosure:  This post may contain affiliate links. You can click through to get information or make a purchase (at the same low price), and in return, it supports this site.
Having been transplanted numerous times, I have learned to explore the sites around our new found hometown, uncovering hidden gems and attractions. When vacation time rolls around, I enjoy traveling with my family and the occasional weekend escape with my husband, coming home to share our travel experiences with others. You can follow me on Twitter @JAIngersoll. My top three destinations are Walt Disney World Resort, the Midwest and any beach I can walk along.