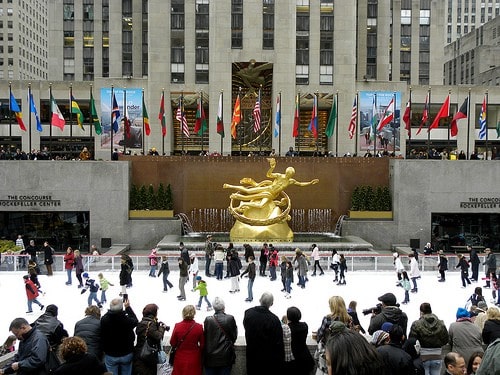 Whenever I asked the question where should I go when visiting New York, seasoned New Yorkers would almost always reply, "You will never see it all, so pick one area and explore it!" Whether you are visiting for a day or a week, this is excellent advice. There truly is no way to do it all. Picking just one area to truly explore allows you to see, do and ultimately enjoy more of the Big Apple.
I have always wanted to see Rockefeller Center and the ice skaters on the rink. Planning a trip in mid-February would be a good opportunity, but the weather would definitely play a factor. The ability to duck into buildings to warm up or better yet, spend several hours out of the cold would be important.  Since Rockefeller Center is in an area with numerous museums, restaurants and attractions all within walking distance, our one location was determined.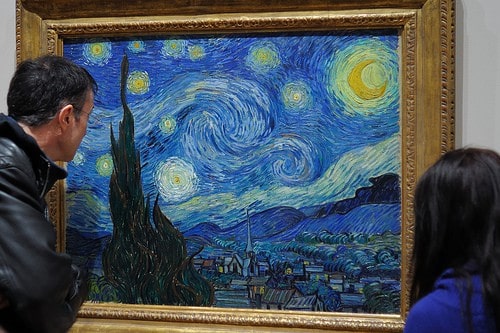 A short distance from Rockefeller Center is the Museum of Modern Art. MoMA as it is affectionately know, displays all forms of modern art spanning the last 150 years. Proudly boasting a growing collection that features over 10,000 artists it is safe to say there is something of interest for everyone. Because the hours that the MoMA is open are more limited than Rockefeller Center, we decided to make this our first stop.
Arriving shortly after opening, we were able to secure our tickets and begin to freely explore. The crowd of visitors noticeably grew throughout the day. I was glad that we had arrived early. Another factor to keep in mind, guests under the age of 16 are admitted free of charge, adding to the crowds on weekends and school holidays.
Maps of the galleries are available in several languages, though it is not hard to tell where the most famous pieces are located. Crowds stand around the favorites like Vincent van Gogh's The Starry Night, leaving room for you to discover lesser known treasures and perhaps a new personal favorite or two.
Another way to find your way around is by using MoMA Audio+. Guests may borrow the listening device free of charge to find specific works of art, receive directions around the museum and hear detailed information regarding specific works of art. It is like having your own personal docent. Guests can also download the MoMA app to their smart device to receive similar information.  To use the app, you must have internet connection. If you are browsing the Museum by yourself, I can see where these would be very helpful and make the visit more enjoyable.  However, in the company of others, I prefer to stick with a map and get lost in the artwork together.
Be sure to build in some extra time to visit the Museum shop. Full of artistic novelties and creative gift items I find this to be a great spot to find a unique souvenir. Even if you don't have time for the full Museum tour, if you are in the area, be sure to stop and shop.
A short distance from MoMA is Rockefeller Center. Although the holiday decorations are gone, nothing says winter in New York better than watching the skaters on the ice of The Rink at Rockefeller Center. If you want to take to the ice yourself, The Rink offers timed skating sessions beginning at 8:30 am and running through midnight.  A variety of skate packages are available including the  VIP Skate package that provides assistance with skates and use of a warming igloo where hot beverages and fresh baked goodies are served.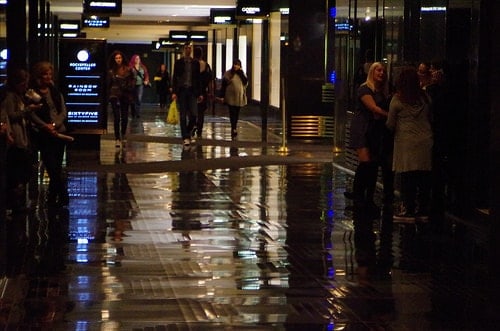 You can watch the skaters and still warm up from the Concourse at Rockefeller Center, a network of shops, restaurants and services that runs underneath the Rockefeller buildings. The concourse is a bustling hub used by business people, residents and tourists alike making it a great spot to sit for a bit and people watch.
Fans of popular NBC network programs like Today, The Tonight Show and Saturday Night Live will not want to miss the new NBC Experience Store. Merchandise featuring the logos of these shows and other icons of the NBC network like Friends and Seinfeld, as well as the upcoming 2016 Summer Olympics is available for purchase.  Guests can take a look at items on display used in the early days of broadcasting including a studio camera and a variety of microphones. Personally, I couldn't resist sitting in one of the big red judges chair from The Voice.
A popular dining spot within the Concourse is Bill's Bar & Burger, holding over 400 seats this Rock Center restaurant is known as the "largest stand alone burger joint in the country". Even with 400 seats, there was a wait to be seated. Reservations can be made in advance and I would advise doing so if you have a set schedule.  Bill's serves up a pretty tasty burger. In fact, CNN named the Fat Cat burger, (topped with caramelized onions, American cheese and served on English muffin) as one of their Top Ten Burgers. If you have a sweet tooth, the Campfire  Milkshake with toasted marshmallow topping is a must! Sides of regular and sweet potato fries are delicious and ample enough to share.
The task of selecting ONE area within this fascinating city and slimming down the endless possibilities of things to see and do can be overwhelming. But, remember to truly savor the Big Apple it is best to take just one bite at a time. Now that I have taken that first bite, I can't wait for more.
Disclosure:  The author received a complimentary admission to the Museum of Modern Art. 
Photo credit:  ralph and jenny  (Starry Night); Rev Stan  (ice skating), hannibal1107 (concourse)
Having been transplanted numerous times, I have learned to explore the sites around our new found hometown, uncovering hidden gems and attractions. When vacation time rolls around, I enjoy traveling with my family and the occasional weekend escape with my husband, coming home to share our travel experiences with others. You can follow me on Twitter @JAIngersoll. My top three destinations are Walt Disney World Resort, the Midwest and any beach I can walk along.