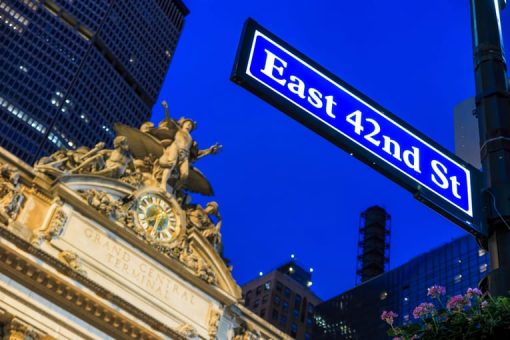 Planning a weekend getaway? Few places on Earth will give you more options than New York City. Whether you're looking for a rejuvenating respite or two gloriously action-packed days, you'll find it all in the Big Apple. It sounds cliché, but NYC truly is the city that never sleeps.
Of course, if you're not familiar with the area, figuring out what to see in New York City can be overwhelming. There are five boroughs — The Bronx, Brooklyn, Manhattan, Queens, and Staten Island — so, if you're short on time, it's probably best to stick with Manhattan. To help you get started with your plans, here are some landmarks and popular tourist spots that we'd recommend.
Grand Central Station
All aboard! Will you join the more than a quarter-million people who make their way through Grand Central Station every single day? Located at 42nd Street and Park Avenue in Midtown Manhattan, this is one New York City landmark you won't want to miss. And staying nearby at a hotel in midtown NYC will help to make your trip hassle-free.
As Jacqueline Kennedy Onassis once said, "Grand Central Terminal stands as a universal symbol between New York City's past and present." You'll feel that the moment you step through the doors as you marvel at the architecture inside this world-famous commuter hub — be sure to keep an eye out for the iconic clock!
Empire State Building
Ask anyone what to see in New York City, and one of the first things they might say is the Empire State Building. The 102-story Art Deco skyscraper opened its doors in 1931, and it's been a must-see attraction for locals and tourists ever since. Head up to the 86th Floor Observation Deck to get a 360-degree outdoor view of the city!
In addition to the Visitors Center, you'll find new exhibits on the 2nd Floor (including a great photo op with King Kong himself!), restaurants and shops, and the official Empire State Building gift shop. Want to beat the crowds? The quietest times to visit the Empire State Building are from 8 am to 10 am or after 10 pm.
Central Park
Do you love being out in the fresh air? Head over to Central Park, where you'll find plenty to do in the great outdoors. Walkers and joggers will love the beautifully landscaped trails and paths spread across more than 800 acres. You may also want to check out some of the other seasonal activities including swimming, ice skating, and even lawn bowling.
Take a leisurely stroll while discovering the monuments and memorials throughout Central Park. After you've worked up an appetite, sample something from the cafes and concession stands, or even make a reservation at the upscale Tavern on the Green.
Times Square
What's a trip to New York City without a visit to Times Square? The bustling district has so much to offer, and everything is conveniently located. You'll find everything from the cheesiest souvenir shops to high-end department stores in Times Square, where you can feast from food trucks or sit down at a number of elegant restaurants.
Don't forget Broadway! Keeping in mind that many shows run several hours, you'll have to budget your time if you're only there for a couple of days. If seeing Hamilton if on your list of things to do in New York City, though, this is the place to be!
The Vessel
Make your way to Hudson Yards and check out one of the newest attractions in Manhattan. The Vessel is a magnificent structure made up of 2,500 individual steps, 154 interconnecting flights of stairs, and a staggering 80 landings, each offering its own spectacular views of New York and the Hudson River. Upper levels are also accessible by elevator.
While The Vessel is incredibly impressive, you won't have to pay to enjoy it. You can find free same-day tickets at interactive kiosks throughout 20 Hudson Yards located near restaurants, shops, and on the Public Square and Gardens. If you'd like to secure your tickets ahead of time, a limited number are also available online free of charge.
9/11 Memorial & Museum
Most of us who are old enough to remember can recall exactly where we were when the Twin Towers collapsed on September 11, 2001. As such, the idea of visiting the site might be deeply emotional. That's probably why so many continue to flock to the 9/11 Memorial & Museum nearly 20 years after that tragic day.
There are a number of ways to pay your respects during your visit; pause by the reflection pools and read the names of the 2,977 people who lost their lives or reflect on the exhibits and collections at the museum. Many find that the best way to experience and learn about the devastating event is to sign up for a tour with an expert. Have children in your group? There are sessions designed for families and youth. While you might not be able to see everything, what matters most is that we remember.
Relax and Enjoy Yourself
When you're trying to decide what to do in New York City, don't forget to relax. It's understandable that you want to see everything, but you could also have the best time people watching as you enjoy an incredible coffee on a patio or by a window. There's never a dull moment in the Big Apple!
Soak in the city's intoxicating energy and luxuriate in the unique sights and sounds that you'll only find in New York. Even if you spend most of your time hustling from one attraction to another, give yourself time to breathe and indulge. You won't regret it.
Finding the right hotel in NYC can seem daunting. Westgate's NYC Hotel is located only two blocks from Grand Central Station and is close to many of the attractions in Midtown.
Anthony has found travel provides a healthy balance to his day job as a criminal defense attorney. Living on the periphery of blogging for years, he's now decided to flex his creative muscles with a little writing and photography of his own. Anthony's favorite travel destinations are the Caribbean, Italy, and Ireland.