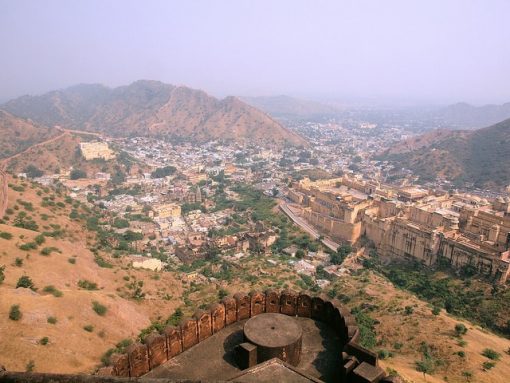 Photo by Arun Prabhu,CC BY-ND 2.0
There is a certain charm in Jaipur that leaves a fondness in everyone who visits this marvelous city. There are a many attractions inside this city that delight tourists throughout the year. From the street markets to the magnificent forts, Jaipur has maintained an identity through generations, parts of which are still intact as they were centuries ago. Although visitors often possess an image of Jaipur in their minds, there is always something unexpected waiting around the corner to surprise them. This city is filled to the brim with wonders that tourists wouldn't normally encounter.
Listed below are five places in Jaipur that one may not come across on a regular tour but are worth the effort to discover. These often overlooked places showcase the heritage of Rajasthan and should be on your must-visit list.
1. Galtaji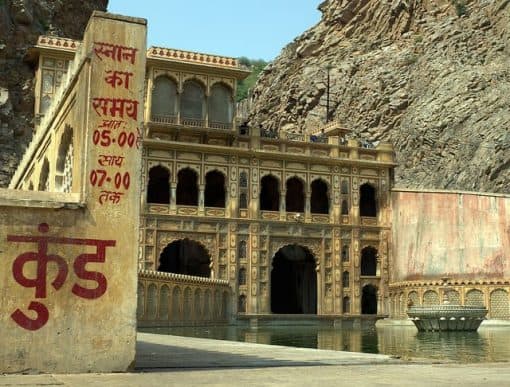 Photo by Travis Wise, CC BY 2.0
Among all the religious buildings in Jaipur, Galtaji holds prominence for its natural beauty and soothing view. The story behind the establishment of Galtaji suggests that a saint once resided here who was an experienced yogi and attained salvation. Galtaji is a fine example of religious architecture with a water reservoir at the foot of the temple complex. Besides possessing a great many aspects of religious significance, there are hot springs and beautiful fountains that add a mystic charm to the location. An interesting addition to this place is the rhesus macaque and languor population who call this home.
2. Gaitore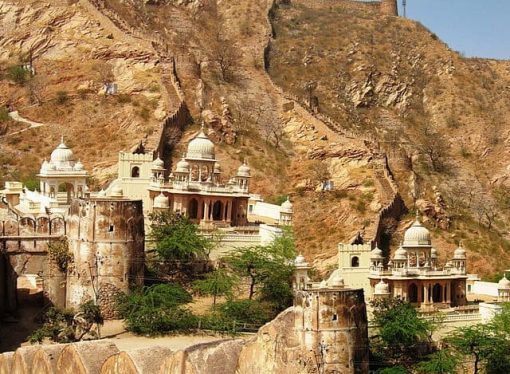 Photo by Hemant Shesh, CC BY-SA 3.0
Gaitore was originally structured for the purpose of cremation for royal families. The rights for passage of cremation were reserved for the people of the Kachhwaha family. Gaitore is literally translated as the resting place for the departed. The structures inside the vicinity of Gaitore are made of white marble and sandstone, laden with dome shaped buildings resting on tall pillars. Gaitore is a fine example of convergence of cultures with Hindu and Islamic styles of architecture as seen in the detailed carvings that are intricately imprinted on the marble walls. Travelers who visit this monument can sense a deep feeling of calmness and vibrancy.
3. Garh Ganesh Temple
One of the few temples of Lord Ganesha that depict him in an entirely human form, Garh Ganesh Temple is a marvel to behold. Situated atop a hill near Jaigarh Fort, Garh Ganesh Temple offers a 360 degree view of the valley below. The temple complex rests on the banks of a lake which adds to the beauty of its structure. On the way to the top of the mountain, you can easily spot a giant cross engraved into the temple wall which almost covers the entire length of the temple. Every devotee who has visited Garh Ganesh has witnessed a pure sense of revelation and spirituality that stays with them for a long time to come.
4. Sisodiya Rani Bagh
Sisodiya Raani ka Bagh or Sisodiya Rani Gardens are a heritage site passed down through the royal Sisodaya family. It was erected by Sawai Jai Singh II during the early eighteenth century.  The Garden is an extension of the grand palace which looks out upon the entirety of the garden premises. Sisodiya Rani Gardens are full of soft green grass and depictions of mythological figures. There are several fountains and structures constructed from red sandstone that stand out among the trimmed, lush green ferns.
5. Jawahar Kala Kendra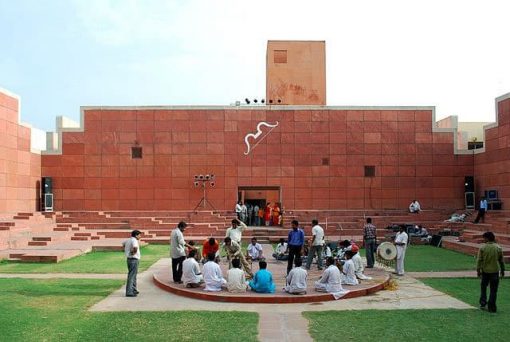 Photo by Sanyam Bahga, CC BY-SA 3.0
Jawahar Kala Kendra is a building complex built by the Government of Rajasthan state. The main function it serves is the promotion of arts and culture. Jawahar Kala Kendra has a multitude of artistic displays all over its campus, ranging from paintings to sculptures and murals. The campus is divided into eight blocks within which a library, museum and a theater is located. Every year, Jawahar Kala Kendra holds a Theater festival where revered performers display their work in the form of plays.
Jaipur has a vibrant culture, many tourist attractions and offers many exciting things which you can do. Every corner one looks at, a new and exciting feature of this great city is stand out. Immerse yourself in the colors of this city and appreciate its magnificence to understand its glory.
Author Bio:  Himanshu is an enthusiastic traveler who loves to indulge in different cultures and continental delicacies. He spares no opportunity to explore new terrains and document them in his blogs. He often writes at Pearls India Tour about his adventures and new places one should visit.
The Travelers Way occasionally accepts guest posts from fellow travel bloggers, friends within the travel industry, and as advertorial content.