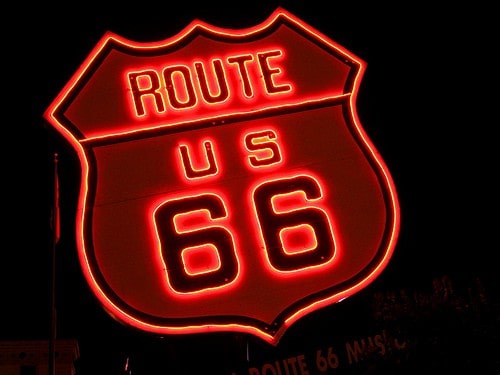 You don't have to travel far on Route 66 in Missouri to realize you're in for one fantastic road trip.
Stretching more than 310 miles from east to west, Route 66 includes two of Missouri's largest cities, notable attractions, scenic views, and motor courts harkening to a bygone era. Learn more online at VisitMO.com.
Here are eight ways you can enjoy your Route 66 adventure in Missouri, driving from east to west.
Start off Sweet
The eastern tip of Route 66 in Missouri is in St. Louis, where a popular roadside eatery has been serving locals and travelers alike for more than 60 years. Ted Drewes Frozen Custard stand opened on Route 66 (Chippewa Avenue) in the early 1940s and has been a staple in the community ever since. With delicious treats like "All Shook Up" (a peanut-butter-banana combo that Elvis himself would love), it's no wonder Ted Drewes' is the spot for cooling off on warm summer evenings. It's just 15 minutes from the Gateway Arch, an iconic symbol of St. Louis and the U.S.
Look for Jesse's Loot
About an hour west of St. Louis, Meramec Caverns in Stanton is one of Missouri's most well-known and oft-visited attractions. While touring Meramec Caverns, you're bound to hear about Jesse James, an outlaw notorious for stashing his loot in caves around Missouri. Jesse used Meramec Caverns as a hideout … but if he stashed anything there, it hasn't been discovered. On-site, there's a motel, campground, canoe rental, restaurant and zipline attraction.
Sightsee and Savor
From Stanton, it's just a 20-minute drive to Cuba, Missouri, where beautiful murals commemorate everything from Missouri's role in the Civil War to local history. Just outside of Cuba visit the Fanning 66 Outpost, home to the World's Largest Rocking Chair. Just west of Cuba, visit St. James and sample wines at the award-winning St. James Winery. Recently, the World Association of Wine and Spirits Writers and Journalists ranked St. James No. 14 on their list of the top 100 wineries in the world!
Connect with Nature
Sometimes, you have to stretch your legs. So get out to enjoy nature's beauty in Pulaski County. Take a canoe trip on the beautiful Big Piney River, enjoy the scenic Route 66 overlook that features a wooden trestle railroad bridge, and explore the Roubidoux Spring area in Laughlin Park. The spring also has an underwater cave; you must be scuba-certified and have your gear with you.
Visit the Birthplace of Route 66
Springfield, the state's third-largest city, is the birthplace of "The Mother Road." How? At a meeting in Springfield on April 30, 1926, the Chicago-to-Los Angeles Highway was first called Route 66! Several sites around Springfield have ties to the highway, including a vintage Steak-n-Shake Restaurant and the city's Route 66 Visitor Center. About 20 minutes west of Springfield, near Ash Grove, you find Gary's Gay Parita, a recreation Sinclair gas station. Travelers from around the globe visit this site every day, making it one of Route 66's most-popular destinations.
Take a Side Trip to Branson
From Springfield, deviate off Route 66 and travel 35 minutes to Branson, known to many as "The Live Music Show Capital of the World." The famous Highway 76 Branson strip has dozens of performance theaters and countless performers who offer a variety of musical genres, tribute acts, acrobatics, magic and comedy. Branson also is noted for attractions like the Titanic Museum, shopping destinations such as Branson Landing, and outdoor fun on Table Rock Lake. It's billed here as a Route 66 side trip, but with so much to see and do, you should plan to stay more than one day!
Explore the Western Edge
As your travels on Route 66 lead toward the western border of Missouri, visit the road's remaining cities, including Carthage, Webb City and Joplin. In Carthage, don't miss the Precious Moments Chapel and Gardens, devoted to the angelic figures created by artist Sam Butcher. At Webb City, see the 32-foot-tall, 100-ton Praying Hands statue and the 10-foot-tall Kneeling Minor, a tribute to the area's mining history. In Joplin take your camera (and swimming suit, if it's warm enough) to Grand Falls, the largest continually flowing waterfall in Missouri.
Rest Your Head
Any tour of the Mother Road should include stays at the Wagon Wheel Motel in Cuba, the Boots Motel in Carthage, the Best Western Route 66 Rail Haven in Springfield, and the Munger Moss Motel in Lebanon. The Wagon Wheel Motel is listed on the National Register of Historic Places; the Munger Moss Motel features themed rooms; the Route 66 Rail Haven includes antique gas pumps and vintage signage; and the Boots Motel (built by Arthur Boots in 1939) fulfills his promise of "A radio in every room."
Photo credit: "Caveman Chuck" Coker
Mary Jo Manzanares is a founder and the editor-in-chief of The Traveler's Way, an online travel magazine proving informational and inspirational travel recommendations for curious Baby Boomer travelers. She has been a speaker at various industry events and has a personal travel blog at Traveling with MJ. When she's not traveling, Mary Jo likes lingering over a cup of coffee, wandering in a museum, sipping wine at a cafe, and sharing it all with friends and readers. Mary Jo's top travel destinations are Italy, Portugal, and the Caribbean.