In a combination of quirky architecture juxtaposed with religious consecration and symbolism,La Sagrada Familia in Barcelona is a UNESCO World Heritage Site. Designed by Antoni Gaudi, the basilica combines Gothic and Art Nouveau elements to create a project that defies explanation.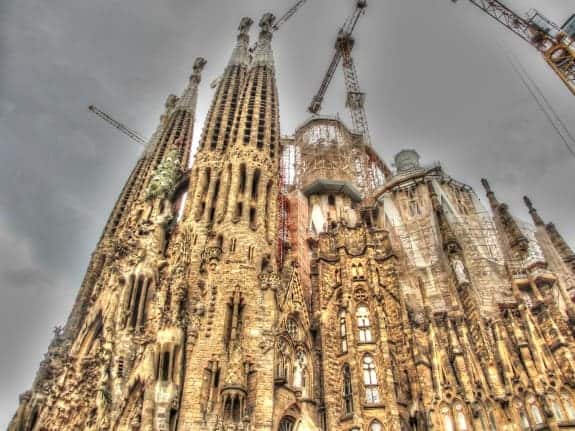 La Sagrada Familia is not a cathedral, that's a specific designation given to the seat of a bishop, but it is definitely cathedral-sized. Construction began in 1882, and amid fits and starts, fire and war, by the time Gaudi died, it was only about 15-25% complete.
Gaudi's original design called for 18 spires on the church, representing the 12 apostles at the lowest level, the four Evangelists, the Virgin Mary, and highest of all, Jesus. Eight spires have been completed so far, all apostles, and once the remaining are completed, this will be the tallest church building in the world.
In 2010, an organ was put in the main nave, and Pope Benedict SVI consecrated the church later that year. Mass and other religious services and sacraments are now held in the church.
La Sagrada Familia is open to the public with a variety of tour options, starting at € 14.80 for adults and € 12.80 for students and seniors. Money from tickets sales is used to pay for completion of the work, along with private donations. It is hoped that the church will be complete in 2026, the 100th anniversary of Gaudi's death.