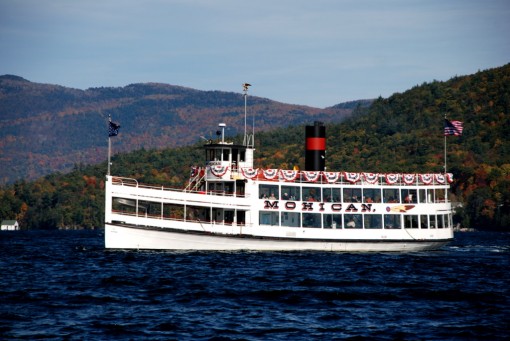 When people think of "New York" they usually think New York City, but there is so much more to the Empire State. I'm an Upstate New York girl myself—born and raised in the Finger Lakes—so I'm always anxious to introduce people to the less urban areas of the state, and one of my favorites is the Adirondack Mountains. No matter the time of year, the Adirondacks are beautiful and welcoming, and offer visitors no shortage of spectacular vistas, athletic activities, romantic getaways and gastronomic delights. Whether you're the hearty outdoorsy type, or an indoorsy type who loves a good view, the Adirondack Mountains will be a vacation to remember.
About the Adirondacks
The Adirondacks are located in the northeastern region of New York State, and are comprised of eight counties which together make up Adirondack Park: Clinton, Essex, Hamilton, Herkimer, Lewis, St. Lawrence and Warren. New Yorkers like myself often use the general term "Adirondacks" interchangeably when referring to either the park or the general region. Adirondack Park is the largest protected area in the Lower 48 states; created in 1892, the park was designed to protect the water and timber resources of the area. The region is large and diverse, with many popular tourist destinations such as Lake Placid, Saranac Lake and Lake George, among others. Adirondack Park is larger than Yellowstone, the Everglades, Glacier, and Grand Canyon National Parks combined!
Adirondacks in Autumn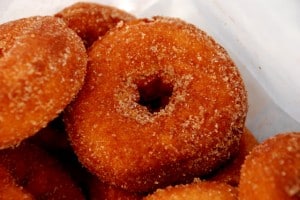 My favorite time of year to visit the Adirondacks is at the peak of fall foliage leaf-peeping. Most days at peak time are warm and dry enough for hiking, and cool evenings are perfect for romantic candlelit dinners. To keep tabs on the leaf schedule, check in with Adirondack fall foliage reports; the best foliage shows are usually in early October, but it varies depending on the weather.
A visit to Hicks Orchard is a must for any fall visitor to the area.  Located in Granville, NY, Hicks is the oldest "u-pick" apple orchard in the state, in operation since 1905. In addition to apple picking, pick up some of their fresh, hot cider donuts—they are incredible!
Adirondacks in Winter
Skiing and snowboarding, snowmobiling, skating, sledding, and snowshoeing are popular winter activities in the Adirondack Mountains. Whether you enjoy downhill or cross-country, you'll find plenty of trails on these mountains. Ice fishing and ice climbing are also popular winter activities.
While you'll find many hotels in larger towns like Saratoga and Glens Falls, you will find many bed and breakfasts in smaller towns that are cozy and comfortable, and perfect for a romantic weekend getaway. Think hot cocoa by the fire after a day on the slopes or trails.
Adirondacks in Spring and Summer
Watch the flowers and trees come to life in spring, and enjoy long days of hiking in summer. Bird-watchers flock to the Adirondacks to get a glimpse of their favorite birds: bald eagles, red-tailed hawks, owls, osprey, falcons, ravens, turkey vultures, ducks, geese, and scores of songbirds. In fact, wildlife abounds and hikers may see deer, rabbits, wolves, fox, bobcat, and even moose! Bring your binoculars and a camera when you visit the Adirondack mountains, and capture more than just beautiful landscapes.
As for outdoor spring and summer activities, you can hit the trails or the water to enjoy fresh air fun. Hiking is always a favorite, and the Adirondack Mountains have hundreds of miles of trails to choose from. If you prefer to spend your time on the water you can swim, boat, water ski, wakeboard tube, canoe, kayak—or just lie on a beach reading a good book.
Places to Go
Here is a list of just a few of my favorite places to visit in the Adirondacks:
Irish Times Pub at 14 Phila Street, Saratoga Springs, NY: They know how to pour a Guinness just right at the Irish Times Pub! (They also make a mean dirty martini.) Two floors of comfortable seating with lots of nooks and crannies to relax and share a pint with friends.
Adelphi Hotel at 365 Broadway, Saratoga Springs, NY: The Adelphi Hotel is a beautifully restored, Victorian-era hotel. The design is Italian villa, with a second-floor piazza on the front side. I love to stay here when I visit, and so will you. Every detail is perfect, right down to the real room keys; not a swipe card in sight!
Fort William Henry in Lake George, NY: Lake George is gorgeous, and this historic fort and museum are a wonderful cultural stop as you travel through the Adirondacks. Restored and preserved from its short time of service during the French and Indian War, Fort William Henry is open May through October.
Hattie's at 45 Phila Street, Saratoga Springs, NY: This is quite possibly the best fried chicken I've ever had in my life. Hattie's Restaurant is small, and they don't take reservations (save certain holidays), so get there early—especially if you're hungry! Open since 1938, Hattie's has been featured on Food Network and written up in the New York Times, the Wall Street Journal, the New York Post, Bon Appetit, and Food & Wine magazine.
Adirondack Museum on Rt. 28 North & 30, Blue Mountain Lake, NY: I love museums of all shapes and sizes, and the Adirondack Museum is no different. Learn about the rich history of the region at this museum, dedicated to expanding the public's awareness of the Adirondacks.
Photos from the author's personal collection.
Christina loves travel writing, and she has a particular interest in writing about adventure travel, food and drink. In addition to writing Christina works as a social media manager and consultant, helping people tell their stories online. In her spare time Christina enjoys reading, yoga, and spending time outdoors. Christina lives in Houston with her husband Josh and their dog, Sandy. You can follow her on Twitter @snowcones. Her top three travel spots are Alaska, Paris, and Western Canada.