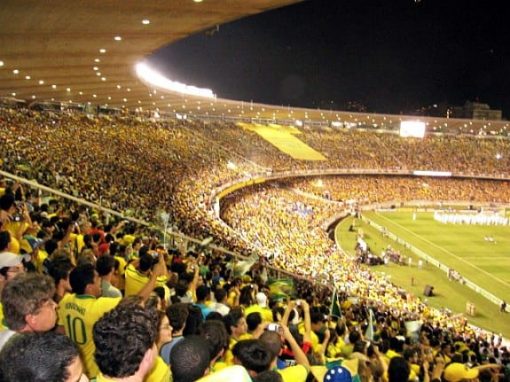 There are all sorts of great reasons to visit Brazil, South America's largest country, from the beautiful beaches along along the country's 5,000 mile coast line to the nature of the Amazon rain forest and the Pantanal wetlands.  From the delicious cuisine and regional specialties the caipirinha cocktail, the country's national social drink.  From the high fashion, folk art, and jewelry to the adventures of Iguassu Falls and Sugar Loaf Mountain.  There's a long list of things to see and do in Brazil, and that list is going to get even longer in the coming years.
In 2014 Brazil will host the World Cup finals, and as the only country that has participated in ALL World Cup tournaments, winning five (more than any other country), you just know that this will be an epic event.  The venue for the finals are allocated between 12 cities:  Belo Horizonte, Brasilia, Cuiaba, Curitiba, Fortaleza, Manaus, Natal, Porto Alegre, Recife, Rio de Janeiro, Salvador, and Sao Paulo.  The opening match will be held at the new Corinthians Stadium in Sao Paulo, and the final match will be held in the Maracana Stadium (in photo above)  in Rio, which was also the site of the 1950 World Cup final.  The World Cup dates are June 12-July 26th, 2014.
But World Cup isn't the only exciting event coming up in Brazil.  In 2016, Rio hosts the Summer Olympics, or more properly, the Games of the XXXI Olympiad.  These will be the first Olympic Games held in South America, with dates for the games set for August 5th-21st.  The venues for the games will be located if four zones:  Copacabana Beach, Maracana, (home to the 2014 World Cup final), Deodoro, and Barra da Tijuca, which will also house athletes in the Olympic Village.  The Rio 2016 Summer Olympic Games will be followed by the 2016 Summer Paralympics held in the same venues.  The Paralympics, for athletes with physical disabilities, began in 1948 with a small group of British WWII veterans.  Since then it has grown into a multi-national competition held in parallel with the Olympic Games.  The Paralympic dates are September 7-18th, 2016.
Getting to Brazil, let alone getting tickets to any of these sporting events, will be a lesson in patience.  Here is some noteworthy information that will help you plan your trip to Brazil.
The months of June through September are considered fall and winter months in Brazil, and although the country has generally year round tropical climate, in the southern part of the country (where Rio is) can be more severe.
Brazil has generally high standards of public health, but consider your health situation and consult with your personal physician and the Centers for Disease Control for specific recommendations for any shots or other considerations required.
The official currency is the real, or reais (the plural), and is issued in 1, 2, 5, 10, 20, 50, and 100 bills, and 1, 5, 10, 25, and 50 cent coins.  ATMs can be found at the airport, so it may be easier to get money once you arrive rather than buy foreign currency at home.  Always check for fees for all foreign currency transactions.  The current exchange rate is $1.00 equals R$1.72.
International credit cards are generally accepted.  In smaller towns and markets you will likely need local currency.
Several airlines fly into Sao Paulo and Rio, with convenient connections through major US hubs.
A trip to a sporting event can be an expensive undertaking.  Check your insurance policies, and you may also want to protect your travel investment with travel insurance.
You will need your passport and a visa to travel to Brazil.  Brazil is not a visa waiver country, although we can keep hoping that is resolved soon, so there are plenty of hoops for you to jump through.   An entry visa is required for all Americans traveling to Brazil (as is required for Brazilians traveling to the U.S.).  You can obtain the visa at one of the Brazilian consulates or embassies located in the U.S., and the process should take anywhere between 2-15 days, although in peak season it will take longer.  The visa must be activated within 90 days of issue, meaning you must enter Brazil within that time, and once activated it is good for multiple entries over 5 years.  If you arrive in Brazil without a visa, you will be denied entry into the country.  The cost of the visa is $130.
Photo credit:  Vladimir H. Ribeiro via wikimedia
Mary Jo Manzanares is a founder and the editor-in-chief of The Traveler's Way, an online travel magazine proving informational and inspirational travel recommendations for curious Baby Boomer travelers. She has been a speaker at various industry events and has a personal travel blog at Traveling with MJ. When she's not traveling, Mary Jo likes lingering over a cup of coffee, wandering in a museum, sipping wine at a cafe, and sharing it all with friends and readers. Mary Jo's top travel destinations are Italy, Portugal, and the Caribbean.