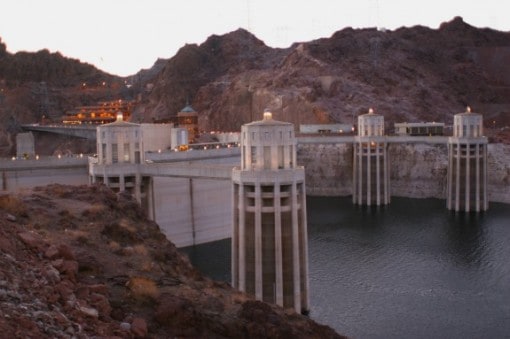 Concrete typically doesn't excite me, but when I'm in Las Vegas all bets are off.
There's nothing unusual about the concrete in Sin City, it's all around you.  But for an equally impressive look at concrete head out to Hoover Dam, about 30 minutes away.  This National Historic Landmark has nary a neon light or slot machine in sight, and features an impressive 4.4 million cubic yards of the concrete.
That's a lot of dam concrete! In fact, it's enough to pave a two-lane highway from San Francisco to New York.
But seriously, all dam jokes aside, Hoover Dam is an architectural masterpiece that I find especially impressive because of its historic relevance, functionality and visual appeal.
Located 35 miles southeast of Vegas on U.S. Highway 93, the upside down wedge-shaped dam, named after America's 31st president, Herbert Hoover, is in Black Canyon, just outside of Boulder City.  Since its completion in 1935, the structure, originally known as Boulder Dam, has successfully held back the waters of the Colorado River and in the process, formed Lake Mead, which is the largest man-made reservoir in the United States. But Hoover is much more than just a blockade. In fact, with 17 generators producing four billion kilowatts of electricity per year, it is also one of the country's largest hydroelectric power facilities.
Designed by more than 200 engineers and ultimately constructed by an estimated 21,000 workers, the dam, which was completed in less than five years, two years ahead of schedule, was originally built to prevent springtime flooding in the region.  At a little more than 725 feet above the Colorado River, it is the highest concrete dam in the Western Hemisphere and the third tallest in the world. As a result, the views are spectacular and guided tours are strongly recommended.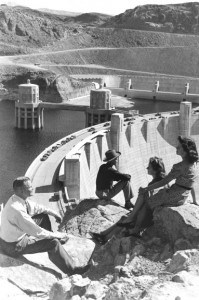 The 30-minute Hoover Dam Powerplant Tour provides guests with an up-close look at the generators, which are housed at the base of the dam, as well as the huge diversion tunnels that were initially built to divert the river around the facility during construction. Participants also get to stand atop a 30-foot pipe and feel the waters of the Colorado River racing through it.
However, my favorite stop during the powerplant tour is an observation deck set well above the dam itself. From there, an unobstructed, panoramic view of the Colorado River, Lake Mead and the dam's various components can be experienced.
The tour allows for other stops along the top of the dam too.
Hoover Dam tours also offer observation deck experiences but focus more so on the inner workings of the structure.  During a one-hour tour of the dam, visitors are taken through inspection tunnels where they'll be able to see wall markings from long ago. From a first-hand glimpse at antique stairs to opportunities for river watching through vents inside the concrete structure, this tour is a must for anyone interested in the dam itself.
Whether you're a history buff, a water enthusiast, a fan of  engineering and architectural wonders or simply a person who likes dams, it's easy to see why more than a million visitors come to Hoover Dam every year.
Changes To Be Aware Of
When I paid my first visit to Hoover Dam in the early 1990s, through-traffic was allowed.  But that is no longer the case.
The Arizona side roadway has been closed thanks to the October 2010 completion of the Hoover Dam Bypass Bridge. As a result, vehicles can still cross the dam to visit the Arizona side but are now required to turn around and re-enter Nevada.  Vehicles cannot stop on top of the dam. Nevertheless, driving over the top is worthwhile and provides a unique perspective that can't otherwise be experienced.
Security practices have changed too. During my most recent visit, I was surprised to learn that all vehicles must pass through a security check point on Nevada State Route 172, one mile north of the dam. Of course, you may be fortunate enough to simply be waved through, but even if your vehicle is selected for inspection as mine was, the process is relatively quick.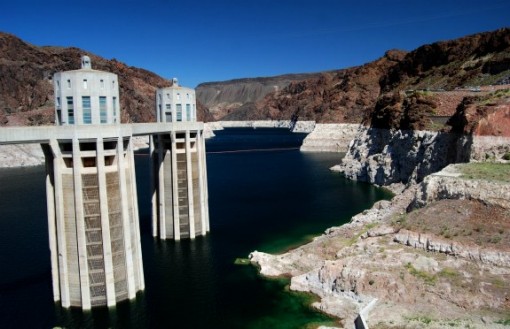 Area Tidbits
Hoover Dam was built in vertical columns of blocks; an estimated 215 overall.
Lake Mead, a popular recreation area for water-sports enthusiasts, can store up to 9.2 trillion gallons of water.
The Colorado River offers a variety of rafting options.
Nearby Boulder City is home to the historic Boulder Dam Hotel, which is listed on the National Register of Historic Places. Boulder City visitors can also visit the Boulder City/Hoover Dam Museum and the Nevada State Railroad Museum.
Know Before You Go
Dam restrooms are located on Level 1 of the facility's parking garage, on the theater and exhibit levels of the Visitor Center, adjacent to the old exhibit building, and in the downstream face towers on top of the dam.
Food is available through a concession service at the base of the parking garage.
The Hoover Dam Visitor Center and the powerplant tour are wheelchair/scooter accessible. The dam tour IS NOT. Guests with wheelchairs, strollers and other mobility equipment can enter the Visitor Center via an elevator inset into the canyon wall a few yards past the escalator entrance. Wheelchair rentals are available in the parking garage for $5.
The tours are not recommended for anyone who suffers from claustrophobia, or has a pacemaker or defibrillator. Tours are conducted in confined spaces and in a powerplant with generators emitting electromagnetic frequencies.
The busiest season at Hoover Dam is in the summer from Memorial Day until Labor Day; the slowest months are January and February.
Tickets are sold separately for the powerplant and the dam tours.
Tour departure times change by season. Specific information can be found on the U.S. Department of the Interior's Bureau of Reclamation Web site.
Powerplant Tours
Powerplant tours include admission to the Visitor Center and powerplant.  Tickets are $11 for adults, $9 for seniors (62+) juniors (4-16), and military.  Children 3 and under and military in uniform are admitted free.
Powerplant Tour tickets can be purchased online through the U.S. Department of the Interior's Bureau of Reclamation Web site or on site at Hoover Dam.
Hoover Dam Tours
Hoover Dam tours include admission to the Visitor Center, powerplant and dam passageways.  Tickets are $30.  No children under age 8 are permitted.  This tour is not accessible for visitors with wheelchairs or crutches.
Dam Tour Tickets are available on a first come-first served basis and must be purchased in person at the Hoover Dam.  They cannot be purchased online or in advance.
Visitor Center Admission
Guests may also visit the dam's Visitor Center without having access to the dam or powerplant tours.  Tickets are $8, children 3 and under admitted free.
Visitor Center admission tickets can be purchased online through the U.S. Department of the Interior's Bureau of Reclamation Web site or on site at the Dam.
Photo Credit: Nevada Commission on Tourism
Indianapolis-based Greg Seiter is a 22-year freelance veteran who specializes in family travel. While embracing a background in athletics, the travel enthusiast has written for the Associated Press and various NCAA Championships publications in addition to AAA and Resort Condominiums International. Greg's top three travel destinations are Orlando, Fla., Pigeon Forge, Tenn. and Myrtle Beach, S.C.