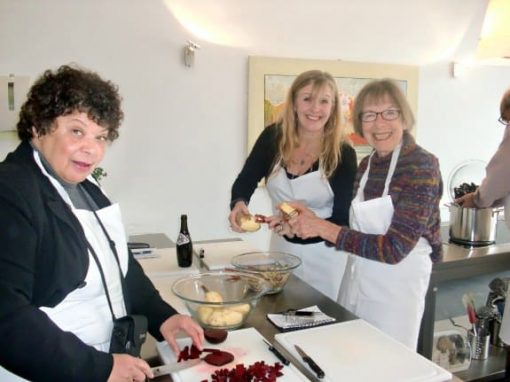 I'm no cook and I will be the first to admit it. However, trying my hand at a cooking school in Brussels, Belgium, with a group of friends was too much to pass up. Keep in mind I am a person who can't even boil water – but I was assured that by the end of the class I would know how to prepare a few Belgian favorites.  We were promised we would learn how to expertly cook the meal, and then sit to eat it for lunch.  Cooking it at home later, maybe not, but cooking it during class proved to be fun and easier than I could have imagined, and is something I recommend you put on your itinerary for Brussels.
The cooking class was held at Cooking Time, located in the historical part of the city near the Koninklijke Vlaamse Schouwburg (royal Flemish theatre) and the Fish market.  It's a refurbished building from the 17th century with a façade dating back to the 19th century, and while it may be old on the outside, on the inside the kitchen is modern.
As I entered the cooking school and looked at the oversized stove tops with multiple burners, the sharper than sharp knives sitting and taunting me atop cutting boards, and the larger than life pot for boiling water, I decided I was going to first need one of those ever popular mugs of Belgium beer.
Let's Talk About Belgium Beer
Beer is, in most all circumstances, an appropriate first course at any good meal.  No surprise for a country with 250 breweries and 2,000 different beers produced.  And all that in a country the size of the state of Maryland.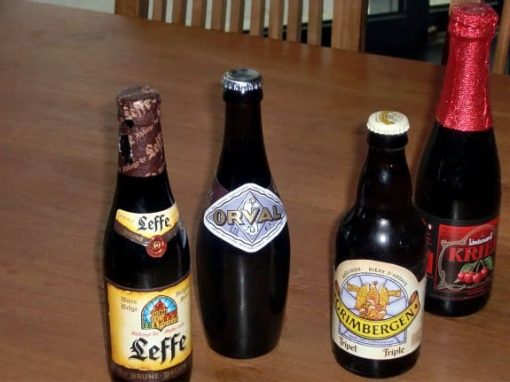 When we walked into the cooking school, we hung our coats and were immediately handed glasses to try five beers sitting waiting for us at a nearby table. My favorite turned out to be a local cherry beer called Lindeman Kriek Beer.  It has a strong sweet-acid cherry flavor and is usually served with dessert. Another all around favorite was a beer made at one of the seven Trappist Monasteries left in the world (six are in Belgium and one in Holland).  Named Orval Brewery, this beer is made inside the Abbey with local spring water, two-row malting spring barley, aromatic hops, and liquid candy sugar.  Very tasty!
Cooking Time Begins
Finally we were ready to begin preparing lunch.  Before me, along with those empty pots and pans and still clean knives and cutting boards, were uncooked fish, potatoes, leeks, onions, dessert apples, beet root, and dry raisins, all waiting to be turned into culinary goodness.
What is called "the laboratory" is a culinary space with two kitchen islands, stainless steel working tables, and multi-function ovens with steam cooking functions.  I was like a kid on the first day of school.  We all poured ourselves another beer and the cooking extravaganza began.  Breaking up into groups, my friend and I were set to the task of creating the main course – cod with leeks, mashed potatoes and sabayon duvel.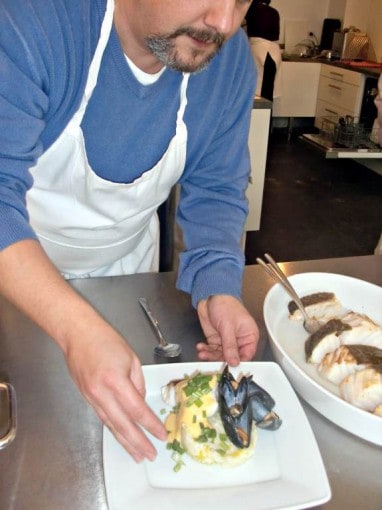 Lots of chopping and stirring and mashing and beating went into the main course we were preparing, until finally our masterpiece was ready for consumption.  All we had left to do was arrange the food on the plate, just like they do at all top chef restaurants.  We poured the puree in the center and above the fish, arranged the mussels around the dish, and voila!  It was a work of art.
We all had a chance to create a dessert called Kriek Lindemans, using that cherry beer I was so fond of along with beetroot, raisin tarter, and sorbet.  We boiled up the sugar – easier to do than it might sound – and poured it into the ice cream maker, cubed the beetroot and apples and finally stirred in the raisins garnishing it all with sorbet.
While I don't think I will be a contestant on any sort of cooking show in the near future, hanging out with friends in a country known for its cuisine was an experience I would definitely do again.
About Cooking Time
Cooking Time was a great place to try the cooking class experience, with an owner as enthusiastic as her students.  The class focuses on local, fresh ingredients, and provides you with a lesson to help you become more familiar with a broad range of cooking techniques, discover new recipes that can be tried at home and teach you how to use professional utensils.
You can also choose your cuisine theme:  Grandmother's cooking such as blanquette de veau, slow food, healthy cooking, fusion food, nouvelle cuisine, Belgian, French and European cuisine, regional cooking or Indian, Japanese, Chinese or Mediterranean.  For those interested in more than just a one-day experience Cooking Time offers weekly lunchtime classes, letting students take a lunch break, cook their lunch and then head back to work.  How European is that?
Location:  Quai au Foin, 51 – 1000, Brussels
Hours:  Open from Monday to Friday from 10 am-7 pm, and on weekends for special classes upon request.
Price:  Cost for classes begin at $25 and include preparing either a starter and main dish or a main dish and dessert.
Want to try cooking a classic Belgian dish at home? Try this recipe for Moules Frites.
Photo credit:  Courtesy of Cooking Time
NOTE: This trip was hosted by the Visit Flanders, all opinions are exclusively the writer's own.
Rita Cook is a writer/editor with over 1000 articles. She can be heard on Insider Mag Radio at KPRO 1570 am and she also reviews cars for the Washington Times Communities (Behind the Wheel). Her most recent published books include "A Brief History of Fort Worth" as well as two haunted books on Dallas and Fort Worth to be published in the fall 2011. Rita's favorite travel destinations are Italy, India and Kenya.