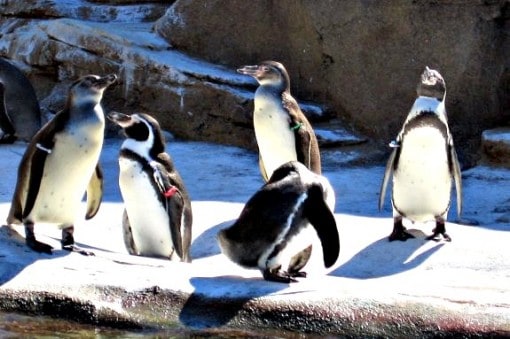 Woodland Park Zoo, located in the Phinney Ridge area of Seattle, has been serving as the city's zoo for over 100 years.  The zoo complex spreads out over 92 acres, and includes animals and exhibits, open space, a rose garden, many other gardens, administrative buildings and parking, and attracts over a million visitors a year.  Woodland Park has been nationally recognized for its creative programs, including the gorilla habitat, which is considered the world's first immersion zoo exhibit.  The zoo's current animal residents include over 300 animal species, including 35 endangered and five threatened species.
With a zoo complex this large and impressive, how does a visitor break it down for a visit?
Simple – the zoo is divided up into themed areas allowing visitors to spend in depth time in areas that interest them, or to quickly view highlights of each of the areas.  Seeing everything the zoo has to offer will take an entire day and leave you exhausted.  A better choice would be to study up on the exhibits you most want to see and skip over the things that aren't of interest.  That way you can see the major highlights, spend time in your favorite areas, and skip over the rest.
Here's my recommendation on how to approach it:
Tropical Rain Forest – The most popular part of this exhibit is probably the jaguar, so try to visit when you can see him up and prowling around.  He's cute when he's napping, but he's magnificent when he's moving about.   The zoo has a pair of these endangered animals, but only one is in the exhibit at any time.  After spending some time watching the jaguar, head off to see the lemurs, colobus monkeys, and a Tropical Rain Forest building full of tropical birds, ocelots, tamarins, snakes, frogs, and more.
African Savanna – Another favorite themed areas, the African Savanna exhibit was the first of its kind when it opened in 1980.  You enter the area through a model African Village, and there is usually some type of entertainment or interactive exhibit.  Animal highlights of the African Savanna include zebras and gazelles, hippos, giraffe, Patas monkeys, lions, sun bear, sloth bear, tigers, wild dogs, Komodo dragon, gorillas, meerkats, and an aviary display.  The Savanna abuts the Rain Forest, so it's easy to move between the two themed areas.  If you time your visit well, you can feed the giraffes ($5 fee).  It's worth every penny to watch people's eyes grow large as the giraffe munches on the grass held in their hands.
Australasia – As you finish with the African Savanna, the path will take you into the Australasia section.  It's small, but worthwhile, and you can get a quick glance at some of the animals from this part of the world.  This is home to snow leopards, kookaburras, wallaby, and emus.  The highlight, though, is the Willawong Station, an enclosed area that is home to parrots, parakeets, cockatiels, and other birds.  The birds fly free, and have the right away over human visitors, so it's a chance to really get an up close look at these birds.  For $1 you can buy a wooden stick with some food on it, then place yourself, and patiently wait for one of the birds to come eat off your stick.  If your quiet and move slowly you'll have a bird's eye view of your new best feathered friends.
Temperate Forest – Another small themed area, but well worth the time to see Asian crane, hornbills, red panda, flamingo, and over 50 different birds.
Humboldt Penguins – The penguins are very popular, and if they're active they can really pack a crowd.  Wait patiently for your turn for a view, or better yet check back when you need a break in your schedule.
Those five popular exhibits, at a leisurely paces with some time to sit and enjoy the sun, will make for the better part of a day.  If you've got some energy left, there's still more to see:
Tropical Asia – Home to the Elephant Forest, check out the feeding schedule ($5) and pass over some treats to the pachyderms.  Also in this area are the Malayan tapirs, siamangs, orangutans, lion-tailed macaques, and pythons.
Northern Trail – Resembling a trail in Denali National Park (Mt. McKinley), you'll see animals typically found in Alaska including mountain goats, arctic fox, brown bear, river otter, snowy owl, wolves, and elk.
Raptor Exhibit and Show – From a look at the magnificent Bald Eagle to owls, falcon, and more, this up close look at raptors will make you appreciate their size and power.  Scheduled shows give you an opportunity to see how they fly and hunt for prey, as well as a chance to learn more about them.
What do you most want to see at Woodland Park Zoo?
Location:  5500 Phinney Avenue North, Seattle.  There are many entrances into the park, but this South Entrance is considered the main one.  Metro Bus routes drop passengers off at the West Entrance (55th & Phinney).
Hours:  Summer hours are 9:30 am – 6 pm (May-September).  Winter hours are 9:30 – 4 pm (October-April).
Admission:  $17.50 adults, $11.50 children (ages 3-12).  Discounted admission during the winter.  If you visit the zoo more than twice a year, an annual pass is a great bargain.
Parking:  $5.25.  The lots fill up fast, so you may need to look for street parking in the surrounding neighborhood and walk to the nearest entrance.
Food & Drink:  Concessions stands are located through the zoo, from ice cream and popcorn carts, to pizza and Asian food at a food court.  You may also bring in your own food and beverage for snacks or a picnic.  Remember though, the food is for people, NOT animals.
Photo credits:  author's personal collection
Mary Jo Manzanares is a founder and the editor-in-chief of The Traveler's Way, an online travel magazine proving informational and inspirational travel recommendations for curious Baby Boomer travelers. She has been a speaker at various industry events and has a personal travel blog at Traveling with MJ. When she's not traveling, Mary Jo likes lingering over a cup of coffee, wandering in a museum, sipping wine at a cafe, and sharing it all with friends and readers. Mary Jo's top travel destinations are Italy, Portugal, and the Caribbean.