One of the rich traditions of the Mardi Gras season is the King Cake, and with only a week left until Fat Tuesday, bakeries are madly trying to fill the last orders before the Lenten season begins.
The history of the King Cake dates back to the celebrations of Epiphany, the 12 days after Christmas.  Epiphany is more widely celebrated in Europe than in the United States, but Louisiana adopted the tradition of the King Cake and made it a part of its Mardi Gras traditions.  The King Cake is served throughout the Carnival season – Epiphany, or 12th night, until Fat Tuesday, this year March 4, 2012 – and is a part of this time of celebration, feasting and partying.
During the Mardi Gras season, king cake parties are popular, the tradition dates back to the 18th century, but increasingly King Cakes are showing up at festivities all year round. So if you don't get your King Cake fix in by next week, you can still manage to get one.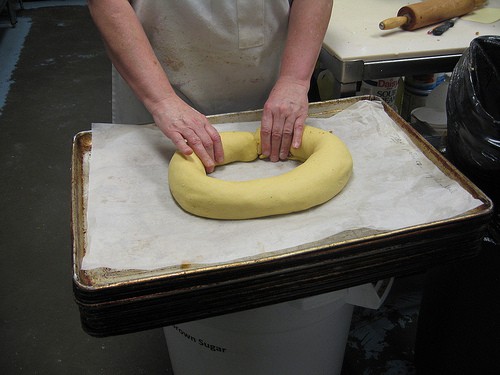 The King Cake isn't really a cake; it's a yeast dough pastry that's been mixed up, left to rise, kneaded and rolled out, then shaped (sometimes braided) into a ring before baking.  A trinket is placed inside the dough, usually a small plastic baby, and is baked right along with the King Cake. The traditional King Cake is laced with cinnamon throughout the pastry, but fillings have become common in recent years. You can find a variety of fruit fillings, chocolate, cream cheese, and more – my favorite is praline filled.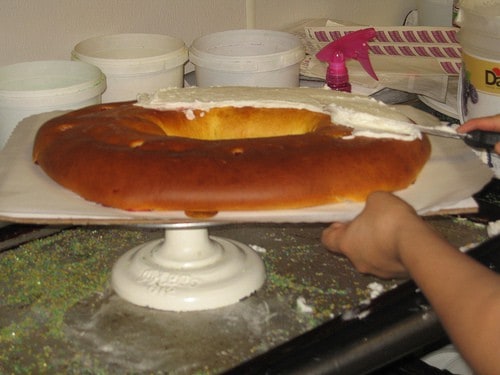 After baking and cooling, the cake is frosted with a butter cream fronting, then decorated with the traditional Mardi Gras colors of purple, green, and gold.  The frosting itself can be tinted in these bright colors, or the top may be decorated with colored sugar sprinkles creating a topping for the frosting. The cake is sliced up for serving, and the person who eats the slice containing the plastic baby is supposed to host the next party or provide the next King Cake.
If you live in Louisiana, you probably have your own favorite spot to buy your King Cake. But what if you don't live in Louisiana?
Check your local bakery to see if they offer King Cake. Many family owned bakers will offer them, although usually only during Mardi Gras season, or you can order one from Louisiana with overnight delivery. Since choosing a bakery is a matter of location, personal preferences, and a bit of community pride, I won't be recommending a specific bakery to order from, but here are a few tips for placing a long distance order for King Cake.
Time your purchase carefully, and pay for overnight delivery. You want your King Cake to be served as fresh as possible, so look for a bakery that offers overnight delivery. Don't order you cake  too far in advance; they're made and shipped daily and will remain fresh for 2-3 days maximum.
Figure out how many servings. Using the traditional serving size of a 2-inch slice, calculate the number of slices you will need to serve your crowd. King Cakes typically come in three sizes, with small serving 8-10, medium serving 20-25, and large serving 30-35. A few left overs will be fine, and delicious the next day with your morning coffee, but remember that this is a fresh bakery item with a short shelf life.
Most mail orders arrive in a decorative box with Mardi Gras decorations (beads, doubloons, confetti) in the box. If you're planning a Mardi Gras party, you'll have a good start on table decorations.
As with most specialty items, pricing is all over the board. Buying in smaller towns and from smaller bakeries, you should be able to find something in the $20 range for a small King Cake, while in New Orleans or from some of the more famous bakeries, the price may be double that. Plus shipping, of course.
It's too late to get your King Cake shipped to receive for Mardi Gras this year – the bakeries are stacked high with orders right now. Put a reminder on your calendar for next year and order it early, or arrange for delivery after March 4th.
Mary Jo Manzanares is a founder and the editor-in-chief of The Traveler's Way, an online travel magazine proving informational and inspirational travel recommendations for curious Baby Boomer travelers. She has been a speaker at various industry events and has a personal travel blog at Traveling with MJ. When she's not traveling, Mary Jo likes lingering over a cup of coffee, wandering in a museum, sipping wine at a cafe, and sharing it all with friends and readers. Mary Jo's top travel destinations are Italy, Portugal, and the Caribbean.