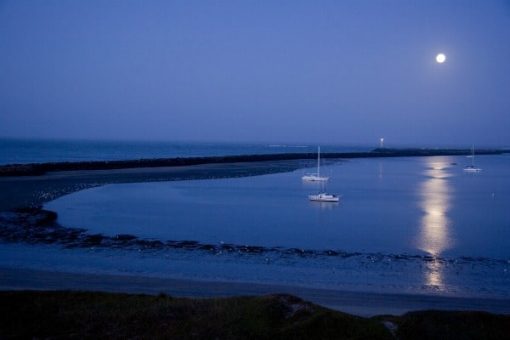 Half Moon Bay, California might very well be just about the most unassuming place in the world. Or at least in California, or let's say definitely in northern California. The laid back, cool factor is high and it's only 20 minutes from San Francisco. You'll be hard pressed to find relaxation, wine, outdoor activities and a historic district all tied together in such a neat little package anywhere else so close to a major hub.
South of San Francisco, Half Moon Bay sits on the Pacific Coast with a mix of forests and hills on one side and the stunning California coastline on the other. The main draw here for me though, enjoying wine in wine country.  That was a good start anyway.  That and the historic downtown where it's easy to mix and mingle with locals, shop for antiques and art or just delve into one restaurant after another eating your way through the little town.  And why not, since seaside dining is the thing in Half Moon Bay and so are fresh and local ingredients.
Bottom line, you can't go wrong no matter where you stay, where you dine or what you decide to do for a week or a weekend.  See if you agree.
First Things First; Where to Stay
The Mill Rose Inn is a good place to spend a few nights with landscaping that is reminiscent of an old English country garden, rooms filled with corner reading nooks and fireplaces, and wine and cheese every afternoon. There are only six rooms and its easy access to the historic downtown district.  Want to stay on property?  That's okay too just schedule a massage for the day and curl up with a good book.
The Beach House Hotel is just like it sounds – right on the beach.  Only two miles from town, this New England hotel offers easy access to the mountains on one side and to the ocean on the other.
Oceano Hotel and Spa is on the harbor so that means shopping, fishing, and an easy walk to dinner. Big bonus points in my book come with the fact that the place is eco-friendly, just like a good California establishment should be.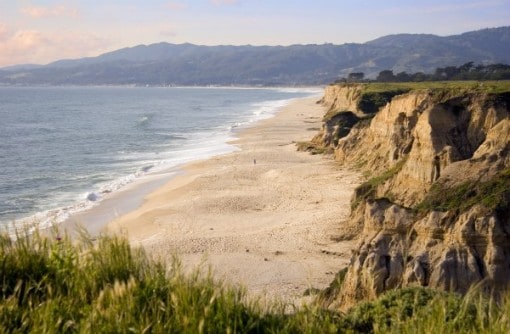 And That Seaside Dining is Where?
Navio at the Ritz Carlton overlooks the Pacific Ocean with floor-to-ceiling windows that show off the view.  The restaurant features California coastal cuisine, and let's say this — any chef who pairs an ice wine from Canada with a foie gras for a starter has my vote of confidence. My suggestion is to try the Sunday Brunch with sushi, caviar, a breakfast station, meat station and one of the best dessert stations in Half Moon Bay.
Moss Beach Distiller touts a ghost, the Blue Lady, in addition to their menu.  The food is the draw here though, well that and the fact that it's located right on the beach.  The restaurant uses all natural meats and chicken and hey, since you are on the water you have to try the wild-caught seafood.  Take your pick at the smorgasbord of menu items and have a Blue Lady cocktail, made with vodka and blue curacao, to toast the local spirit.
Sam's Chowder House has taken awards for Best Seafood and Best Waterfront Dining.  The Executive Chef and Partner, Lewsi Rossman, is all about sustainable, fresh and local. I like the Lobster Roll paired with garlic mashed potato and grilled asparagus.
Wineries for the Choosing
La Nebbia Winery, with a coast side location, offers more than just wine these days.  There are garlic barbecues, wine and cork day, and of course the requisite wine and jazz or wine and blues night.  Here they're even more special because of the location, location, location.
Thomas Fogarty Winery is just a short ride into the Santa Cruz Mountains and represents some of the best tasting in the area.  The winery is best known for its Pinot Noir and Chardonnay, so whether you're a red or a wine taster you are going to be able to sip something good either way.
Plenty More to do in Half Moon Bay
Try whale watching, but keep in mind that sometimes the weather is not kind (bring some Dramamine as a precaution if you're at all prone to motion sickness).  The best time to go is December through April when the female whales are migrating north with their young calves.
I also can't resist suggesting a surfing lesson since it is California and the waves are ripe.  Try Maverick's, a half-mile off Pillar Point Marsh, or Shoreline at Princeton Harbor.  This area features some of the world's largest waves (I'm not kidding) and is one of the hottest surfing locations in the world.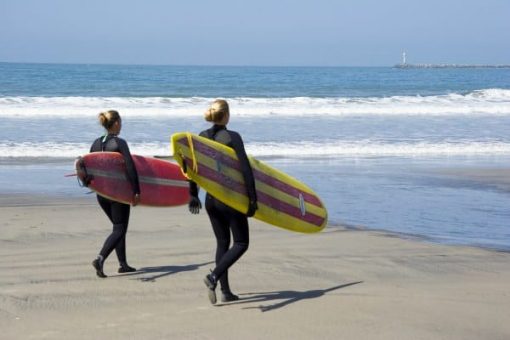 For those who want to stay on dry land there's horseback riding, hiking or shopping in downtown Half Moon Bay.  Don't forget about all those art galleries just calling your name, check out Half Moon Art and Antiques, Leesas Artistan Studio, or Luna's Memories.
Of course I would be remiss not to mention the golf in Half Moon Bay, even though it's the one thing I don't do when traveling.  If you even have an inkling to get in the golf cart, there are several award-winning championship golf courses overlooking the Pacific Ocean and that's just well, romantic.  Just outside of the Ritz-Carlton, Half Moon Bay there is the Ocean Course, a Scottish links course meandering along the bluffs and there's also the Old Course, a Parkland-style course lined by cypress trees and originally designed by Francis Duane and Arnold Palmer in 1973.
Anything else and you're going to have to spend another week.
Photo credits:  Used with permission of Half Moon Bay CVB.  Photo at dusk and surfers, © Jay Graham.
Disclosure:  The author's trip to Half Moon Bay was sponsored by the CVB several years ago.  Half Moon Bay won her over for many reasons and it is one of her favorite places to visit.  It's where she and her husband ended up eloping.  The opinions expressed here are based on both business and personal experiences.

Rita Cook is a writer/editor with over 1000 articles. She can be heard on Insider Mag Radio at KPRO 1570 am and she also reviews cars for the Washington Times Communities (Behind the Wheel). Her most recent published books include "A Brief History of Fort Worth" as well as two haunted books on Dallas and Fort Worth to be published in the fall 2011. Rita's favorite travel destinations are Italy, India and Kenya.