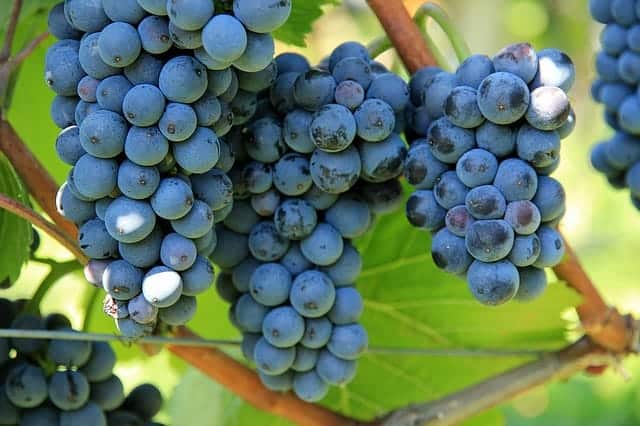 Texas is the fifth-largest wine-producing state in the U.S., and Grapevine has served as a trendsetter and leader with award-winning wineries and winemakers. Grapevine is home to the premier Urban Wine Trail in [easyazon_link identifier="B00K9W24KI" locale="US" tag="thetravelersway-20″]Texas[/easyazon_link], as well as the Texas Wine and Grape Growers Association and GrapeFest, the largest wine festival in the Southwest, held annually in September. Many of Grapevine's urban wineries offer an ideal setting for small weddings and private functions.
Check out one of these fantastic finds along Grapevine's Urban Wine Trail.
Bingham Family Vineyards (Opened 2015) – Cliff Bingham, a fourth generation farmer in Terry County, Texas, began full-time farming in 1982. Since 1992, Cliff and his wife, Betty have served as pioneers in the Texas organic cotton and peanut markets and diversified their farming operations in 2003 by planting grape vines. Together with their children, the Binghams currently own or manage over 200 acres of wine grapes in the Texas High Plains American Viticultural Area. The Grapevine tasting room is the first tasting room operated by Bingham Family Vineyards.
Address:  620 S. Main St.
Cross Timbers Winery (Opened 2003) – Set in the historic Dorris/Brock home, one of the oldest structures in Grapevine, Cross Timbers Winery offers 11 varietals grown in the High Plains. Some favorites include Texas Blush, Grapevine White, and Stone Cold Sparkling Wine. Surrounded by centuries-old Oak and Pecan trees, the outdoor facilities feature a relaxed setting to enjoy wine tastings. Cross Timbers also features a selection of wines from Casa Madero, the oldest winery in the Western Hemisphere, located in Parras de la Fuente, Mexico, one of Grapevine's Sister Cities.
Address:  805 N. Main St.
Delaney Vineyards & Winery (Opened 1995) – The largest vineyard in North Texas, the 8,000 square foot Delaney Vineyards & Winery is reminiscent of an 18th-century French chateau nestled among 10 acres of lush grapevines. Tastings, special events and more allow wine aficionados and those just discovering Texas wines to enjoy this amazing venue. Offering two varietals and three blends, some of the most popular selections include Cynthiana, Muscat Canelli, and Texas Claret.
Address:  2000 Champagne Blvd.
Grape Vine Springs Winery (Opened 2004) – Experience the ambiance of Grape Vine Springs Winery on Grapevine's Historic Main Street. Featuring more than 32 different wines in production, Grape Vine Springs Winery offers daily wine tastings, a wide variety of [easyazon_link identifier="B000GA3KCE" locale="US" tag="thetravelersway-20″]wine accessories[/easyazon_link], the Night Watchman Ghost Tour, and custom winemaking experiences where guests can make their own wine. Popular choices include Midnight Onyx, Boot Scootin' Blush, and Sangiovese.
Address:  409 S. Main St.
Homestead Winery (Opened 1998) – Just a block off Grapevine's Historic Main Street, the 100-year Homestead Winery is located in an old Victorian home and offers daily tastings and wine accessories. Make sure to stop by for the Wine Downs on Thursday, Friday, and Saturday nights. Fan favorites include Prairie Rose, Moonshadow, and Rose of Ivanhoe. While there, don't forget to write your name on the wall.
Address:  211 E. Worth St.
Messina Hof Winery Grapevine (Opened 2014) – Messina Hof Winery is located in the replica of the Wallis Hotel and offers a cozy 19th-century environment. Messina Hof Winery, one of the most highly regarded and awarded Texas wineries, is a family-owned business. Featuring more than 50 wines from 28 different varietals, favorites include Private Reserve, Papa Paulo Port, Private Reserve Cab Franc, and Solera Sherry. Be sure to check out the Enomatic Wine Dispenser and all the unique wine accessories they offer.
Address:  One Liberty Park Plaza.
Sloan & Williams Winery (Opened 2014) –Sloan & Williams Winery offers wines produced from carefully selected, certified fruits. Featuring seven varietals and three blends, favorites include Serendipity, Sangiovese, and Symphony. Make sure to enjoy a glass of wine on their pet-friendly patio or try their amazing wine ice cream.
Address:  112 E. Texas St.
Su Vino Winery (Opened 2003) – Fans of all things wine-related will love a stop at Su Vino. Don't miss the unique wine gifts, wine stoppers and accessories, along with a variety of award-winning wines. Offering more than 20 varietals, favorites include the Cheeky Monkey, Almond Sparkling Wine, or the Strawberry Blonde. Those looking for the perfect holiday, meeting or wedding gift can choose their favorite wine and then bottle it themselves with custom labels, with a minimum quantity of 30 bottles.
Address:  120 S. Main St.
Umbra Winery (Opened 2014) – Umbra Winery features more than a dozen spectacular wines produced from only the highest quality grapes that their partner vineyards in Texas and the Northwest have to offer. With primary production facilities in Little Elm, Texas, the Umbra team has been crafting award-winning wines since 2005. Now situated in the heart of Historic Main Street, the folks at Umbra's newest location invite you to enjoy a glass of their Red Fusion, Pinot Gris or one of their many other award-winning wines.
Address: 415 S. Main St.
Wine Fusion – (Opened 2015) – Wine Fusion Winery features a fun experience meant to fill the void between novice and experienced wine drinkers. Wine Fusion Winery offers a variety of experiences, from tasting to special events and custom wine blending classes, where guest and groups can make their own wine.
Address:  603 S. Main St.
Grapevine also offers seasonal wine trails throughout the year. Enjoy one of these annual celebrations with your significant other or a group of your best friends.
Throughout the year, a variety of themed wine trail experiences are offered:
Sweetheart Wine Trail (February) – Love is in the air and a romantic, heartfelt toast is underway. Feel the love on a wine tasting date — the perfect way to spend some quality time with your sweetheart and friends on Valentine's Day! It's the ideal place for wine enthusiasts and romantics to celebrate the holiday of love.
Jazz Wine Trains (April) – There's nothing like good jazz, fine wine and a trip back in time. This one-of-a-kind wine tasting experience will showcase some of the best wines from Grapevine's winery tasting rooms. So grab your girlfriends or that someone special for a night out on the town.
Blessing of the Vines & New Vintage Wine Trail (April) – Toast the good life at Grapevine's New Vintage Wine & Gallery Trail and Blessing of the Vines. The New Vintage Wine Trail offers a memorable journey to experience first-hand the winery tasting rooms of Grapevine.
GrapeFest (September) – GrapeFest – A Texas Wine Experience, is the largest wine festival in the Southwest United States. Celebrating the best of Texas wines, as well as wines from another state in the U.S. and an international destination, this four-day family-friendly festival is one Grapevine's most anticipated events.
Hallo-Wine Trail (October) – The Hallo-Wine Trail guarantees a spooktacular time! The wine trail includes visits to eight wineries in Grapevine and features a thrilling Murder Mystery. Costumes are encouraged.
Christmas Wine Trains (November-December) – 'Tis the season for holiday cheer on the Grapevine Vintage Railroad.  The Christmas Wine Trains offer a great grown-up escape from the hustle and bustle of Christmas.
Click here for information, reviews, and to book your hotel in Grapevine.
For Pinterest: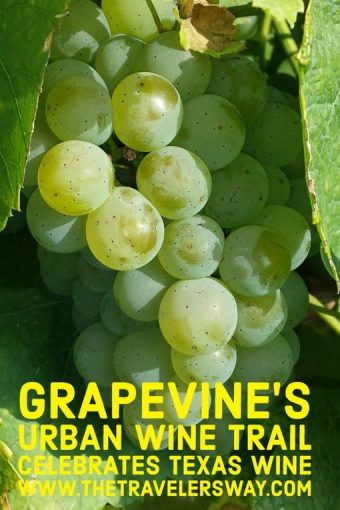 Disclosure:  This post contains affiliate links. Clicking through for additional information or to make a purchase may result in a small commission being paid. By doing so, you help support this site and its authors, and we thank you.
Mary Jo Manzanares is a founder and the editor-in-chief of The Traveler's Way, an online travel magazine proving informational and inspirational travel recommendations for curious Baby Boomer travelers. She has been a speaker at various industry events and has a personal travel blog at Traveling with MJ. When she's not traveling, Mary Jo likes lingering over a cup of coffee, wandering in a museum, sipping wine at a cafe, and sharing it all with friends and readers. Mary Jo's top travel destinations are Italy, Portugal, and the Caribbean.