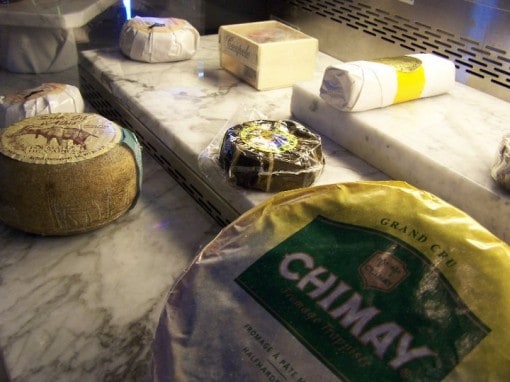 The cheese and charcuterie display glistens as the afternoon sun pours in from Las Vegas Boulevard to Morels French Steakhouse & Bistro at The Palazzo. Splayed out on a couple of shelves and behind a glass window is more cheese than I have ever seen on display at a restaurant. Big, thick-rinded cheese. Gooey cheese seeping its contents onto thin slices of brown paper. Little toothpicks poked into the thin skins, telling guests what selections could be ending up in their satisfied bellies.
In the four years Morels has been open (it opened when The Palazzo opened its doors in January, 2008), the restaurant has gained a reputation for its impressive cheese selection. The steakhouse and bistro currently serves more than 60 types of artisan cheese from all over the world.  It's enough to make any cheese-lovers stomach do flip-flops of delight.
And then there's the wine and beer selection. Since it opened, the restaurant has also been recognized by Wine Spectator, earning the prestigious "Best of" award for its 400-plus wines by the bottle and 60-plus wines by the glass.
When one of the vested servers passes along the cheese menu clipped to a wooden board, coupled with the large selection of beverages available to pair with the cheese, the experience can either be one of pure pleasure, or one of pure overwhelm.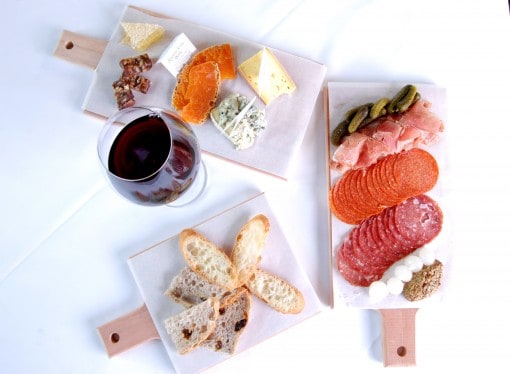 Fortunately, Wine Director Alexandre Brard is aware of the difficulty people can have making the perfect pairings. He's lent his expertise to us to help you the next time you want to artfully pair a cheese with a wine (and, in one case, beer!).  Try these pairings at home, or at the restaurant, where all of the selections are served.
Pairing: Valencay Pyramide, Loire Valley, France with Pouilly-Fumé 'Blanc Fumé' Domaine Dagueneau 2009. The classic, raw milk mold-ripened chèvres is a pasteurized version of young goat's milk. Shaped like a pyramid and blanketed by an ash mold, the cheese's texture is smooth and dense with a mild, lemony flavor. While it can pair well with most dry, white wines, a favorite at Morels is the Pouilly-Fumé 'Blanc Fumé' Domaine Dagueneau 2009.
Pairing:  Époisses de Bourgogne with Domaine Servin Chablis 'Les Pargues' 2009. This gooey and delicious cheese has a powerful and rich flavor combining sweet, salty and creamy milk. The rind, which is washed in Marc, adds to the complexity of this popular selection. The Les Pargues wine offers up notes of white orchard fruit with a citrus and lingering finish, perfect with the cheese.
Pairing: Morbier Franche-Comte, France with Château des Jacques Moulin-a-Vent 2007. Morbier, with a thin line of ash running through its middle, is an aromatic and light French cow's milk cheese. While the ash has historical routes – it dates back to the 19th century when the cheese was first made and the ash was used by cheesemakers to keep a rind from forming overnight and to keep insects away – today it just adds to the look of the cheese. According to Brard, the perfect complement to Morbier is the Moulin a Vent. Made in the north of Beaujolais, the sweet-smelling wine offers woodsy tones of white mushroom and gardenia.
Pairing: Nancy's Hudon Camembert (C&S) Old Chatham, NY, USA with Lambic, Stout, Lindemans Framboise, Belgium.  A creamy, soft-ripened cheese from the milk of Old Chatham Shepherding Company's herd of East Fresian ewes, this Camembert is award-winning. This cheese is special – sheep milk Camembert is not very common and its taste is phenomenal. Think nutty and earthy with a triple-crème texture. Paired with the Lindemands Framboise, the flavors of both the cheese and the raspberry beer come alive.
Pairing: Stilton Royal Blue Derbyshire, England with Dows 20-Year-Old, Tawny, NV. This cheese set the standard for "blued cream cheese" and, at Morels, it is a popular selection. Known as "the king of cheese," it has made with strict codes and was actually one of only a handful of British cheeses to be granted protected status by the European Commission. This cheese pairs beautifully with Dow's port. It's drier than others and focuses on balance and elegance instead of power and sweet fruit. The aromas of toffee, roasted nuts and orange peel bring out a delicious flavor profile of the cheese.
Photos: Courtesy of Morels French Steakhouse & Bistro
Diana Edelman is a world traveler and a travel blogger. In 2009, she started d travels 'round, an award-winning travel blog which documents her colorful solo travel adventures around the world. When she's not writing for her site, she is a regular contributor to Viator, CheapOair, OneTravel and others. Her writing has been published in The Huffington Post, World Nomads, Vegas Seven and others. Follow along with her on Twitter, and Facebook.