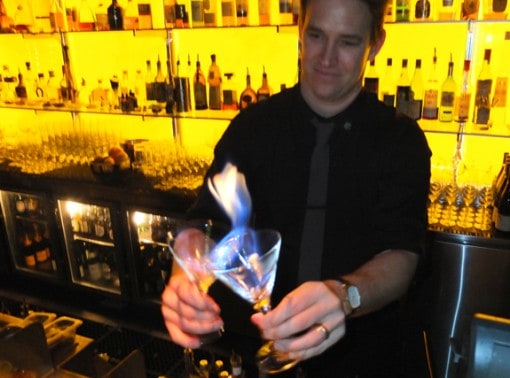 In a city with stars as common as convenient stores, bartenders also have their place in LA's figurative Walk of Fame. Going head-to-head with masterful mixologists of New York City, Chicago, Miami and Portland, Los Angeles' notable bars specialize in farmers market ingredients, Pre-Prohibition classics and some flame-juggling thrown in for pizazz. If cocktail artistry is what you crave, don't miss these top five Los Angeles bars with renowned mixologists: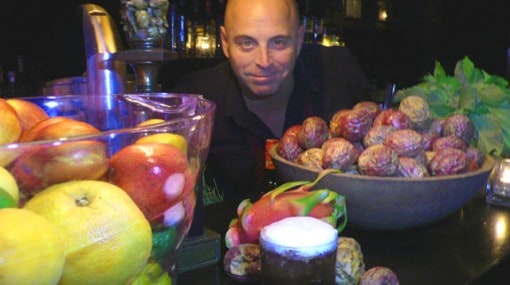 The Library – Best to free your mind of all the 'tired' and true cocktails you normally drink for fear of head bartender Matthew Biancaniello's friendly but fierce reply, "We don't make cosmos here." Simply tell him what you like – sweet, fruity, savory – and the down-the-rabbit-hole spirited adventures begin with exotic Farmers Market ingredients like tarragon, finger limes, star fruit and even white truffles. If you want to sound like a Library Bar veteran, ask for his classics like the Last Tango in Modena (gin, aged balsamic vinegar, organic strawberries and St. Germaine infused foam), or one of my favorites: The Roquette, an arugula muddled Gimlet. To find out when Biancaniello's behind the bar, join the thousands of his thirsty Facebook fans to get daily updates.
Library Bar, Roosevelt Hotel, 7000 Hollywood Blvd, Hollywood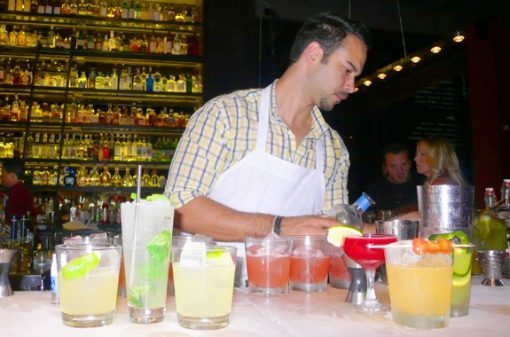 Playa Rivera – Two LA cuisine celebrities reside here: Esquire Magazine's Chef of the Year 2011, Chef John Sedlar Rivera and mixologist Julian Cox. Julian Cox was named Eater LA's Best Bartender 2011 and it's no wonder, not just for his mad skills but because he's the mastermind behind five different cocktail menus throughout the Los Angeles dining scene. Cox's bar menu at Playa features seasonal updates. Most recent Spring 2012 suggestions? Sip on the Count of Monte Crisco, a buttery mezcal based cocktail with crazy elements like celery shrub and cinnamon bark tincture or the Salamanca with chrysanthemum tea, velvet falernum (spicy Carribean syrup), Manzanilla sherry and dueling bourbons. Best way to catch him behind the Playa bar is to go on weekends or call ahead.
Playa Rivera, 7360 Beverly Boulevard,  Los Angeles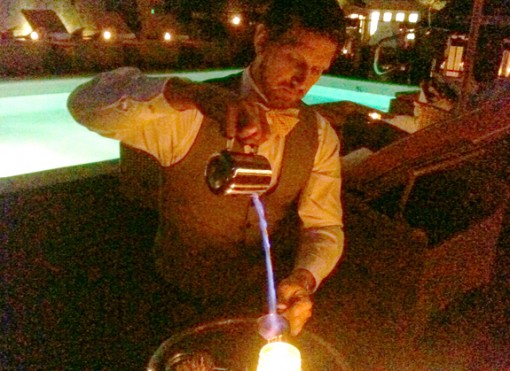 Butterfly Bar – At the bohemian-chic rooftop bar of Petite Ermitage, Brian Stewart is stirring up a new religion of cocktail voodoo. The off-menu Lovely Lauran cocktail, named after his girlfriend because, he says with a grin, "the drink is like her: everything I love, but it will get you in trouble."  Lovely Lauran is made with Buffalo Trace bourbon, Averna, Benedictine, and Boston Bittahs and tenderly aged for two months in a Beaujolais wine barrel. With ambitious techniques like this, Stewart is on target to reach his goal of firmly planting Los Angeles on the map for innovative cocktails. Another in-the-know Stewart special is the Mayan Priest: tequila and agave are set ablaze (as pictured above) and then accessorized with clove and orange rind. If you like your cocktails stout rather than sweet, try the sugar-free Catcher in the Rye with Chartreuse, Rye, lemon juice, grapefruit juice and Cynar. Because the rooftop, complete with pool, restaurant and bar, is for guests and members only, best to just stay a night for the full Petite Ermitage treatment.
Petite Ermitage Rooftop Club, 8822 Cynthia Street, West Hollywood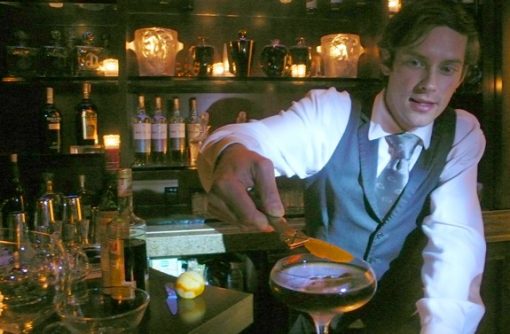 £10  – When you want to go big in Beverly Hills style, Ten Pound, an exclusive cocktail den of luxury awaits in the Montage Hotel. Head barman Nick Vitulli, or "boozeier" as he calls himself, rolls out bespoke cocktails like a fine Savile Row suit. The stemware is enough to make you swoon, with Lalique Crystal rocks glasses and Eiffel-Tower-high martini glasses, let alone the symphonic orchestration of the finest spirits with fresh ingredients. But first, before Vitulli makes a personalized cocktail, you must choose from five different ice varietals. This is a serious investment no doubt, with drinks starting at $25 and topping out at $2,500 for a glass of 60 year old Macallan Single Malt Scotch Whisky. But feeling like royalty for a few hours under the attentive care of Vitulli and Sommelier Mark Hefter is priceless. To gain access to the secret bar, best to stay as a Montage guest or know a friend like me that has the unlisted number to make a reservation.
£10, Montage Hotel, 225 North Canon Drive, Beverly Hills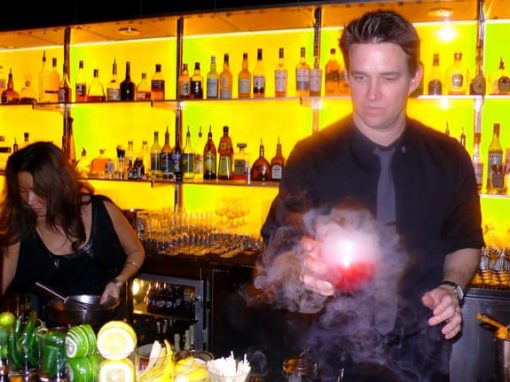 Bar Centro – Molecular gastronomy is the name of the game here. Head bartender Rob Floyd and his team of experimental bartenders tinker around in the liquid lab of SLS Hotel's Bar Centro. These mad scientist-mixologists use chemistry such as aeration, atomizing, fractional distillation and combustion, to push the traditional boundaries of a cocktail. If you like Cirque de Soleil performances, order Floyd's Smoke on the Water, a spectacular smoking cocktail that looks like Mount Vesuvius erupting or the Cotton-Candy infused Mojito. Even drinks based on standards like the Ultimate Gin & Tonic are a work of artful elegance with fresh flowers and herbs floating atop your choice of top-shelf gin and designer tonic.  Another not-to-miss cocktail experience at Bar Centro is the Liquid Nitrogen Caipirinha made tableside that results in a beautiful, boozy slushie. Chef José Andrés' playful eats, like the foie-gras cotton candy and deconstructed olives, make for a complete carnival for the taste buds.
Bar Centro, SLS Hotel's Bazaar, 465 South La Cienega Blvd., Los Angeles
Photo credit:  Courtesy of the author
Lanee Lee is a Los Angeles based writer who uses her craft to pursue her passions – travel, artisanal food/spirits and maximizing quality of life. Lanee has traveled extensively – always in search of those golden moments of bliss. When she's not gallivanting the globe, she enjoys learning cooking tips from her French boyfriend and emulating Grace Kelly style. You can follow her latest adventures: www.laneelee.com, @wanderlushdiary on twitter.