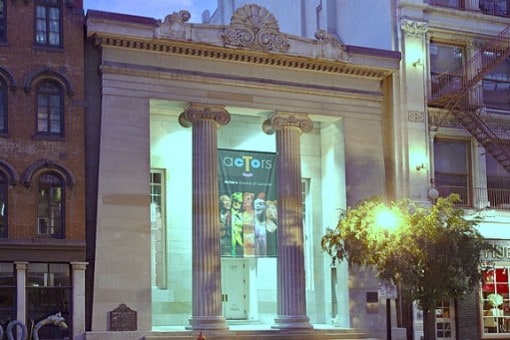 Located on the northern edge of the south and the southern edge of the Midwest, Louisville, Kentucky  is within a day drive of more than half of the United States. While spring brings the excitement of the festive Kentucky Derby, and summer and fall burst with outdoor activities, winter is my favorite time to explore Louisville from the inside out.  Home to numerous attractions, award-winning hotels, fresh dining experiences and the birthplace of Bourbon, the stage is set for a winter weekend adventure.
Attend The Theater
One of the things I love about Louisville is its reuse of historic downtown structures.  Housed within two buildings, the Actors Theatre of Louisville contains three theaters and is home to numerous theatrical performances including the annual Humana Festival of New American Plays.  Set to showcase new productions for the 37th season, the Humana Festival has introduced several Pulitzer Prize winning plays to the public including Dinner with Friends, The Gin Game and Crimes of the Heart. 
Known for the intimate yet comfortable settings within its theaters, the largest, Pamela Brown Auditorium seats slightly over 600 while the Bingham Theatre offers theater in the round. With seats escalating outward and scattered in a creative fashion, my view was front row, even though I was seated several rows back. Additionally, with only two seats in our row, it felt as if the production was being performed privately for my husband and me.
Patrons will want to arrive a bit early to enjoy a cocktail and relish in the beauty of the Theatre's lobby within the Old Bank of Louisville Building, built in 1837 and listed as National Historic Landmark.  Lobby bar service is available one hour prior to curtain, and often features a specialty cocktail themed to the performance.
Location:  316 West Main Street, Louisville, Kentucky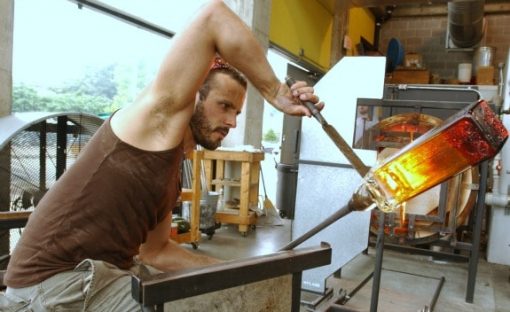 Visit Museum Row
In a four block section of East Main Street, in the heart of Downtown Louisville, lies eight museums and galleries that present various forms of art, history, science and sports and forms what is known as Museum Row on Main.
Art lovers can enjoy visits to the Kentucky Museum of Art and Craft and The Kentucky Center for the Performing Arts, while the beauty and art of glass can be explored at Glassworks.  Housing not only working studios and galleries, Glassworks also offers tours and walk-in workshops where you are the artist and create your own glass art.  Thankfully, no experience is necessary.
Contemporary art enthusiasts will not want to miss 21c Museum Hotel and history enthusiasts can revel in 1,000 years of history at the Frazier History Museum. I found the exhibits to be very engaging as one display flowed into the next and I wound my way through time.  Of particular interest to war and weaponry buffs is the 300 pieces from the Royal Armouries in Great Britain, General George Custer's Colt Pistol, the bow of Comanche leader Geronimo and the one and only "big stick" used by Theodore Roosevelt.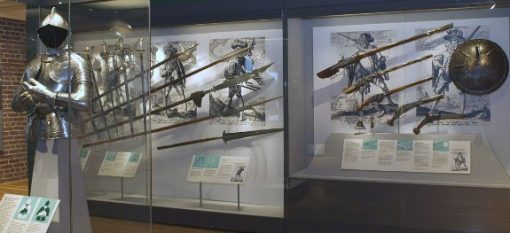 Talking about a big stick, one proudly greets guests in front of the  Louisville Slugger Museum. This replica of Babe Ruth's 34-inch Louisville Slugger bat stand 120 feet tall.  And what could possibly match the world's largest bat? How about a baseball glove constructed from 17 tons of Kentucky Limestone awaiting visitor's inside the museum that honors the most renowned baseball bat-maker in the world.
As you visit one attraction and head to the next, be sure to show your admission ticket stub for a discounted entrance fee.  With so much to see and do on Museum Row, visitors could spend an entire day and not see it all.
Relaxation by the River
Conveniently across the street from the Actor's Theatre and a few blocks from the start of Museum Row, sits the Galt House Hotel & Suites. This is the largest hotel in Kentucky, yet the accommodations are inviting and comfortable, and guests can choose between a variety of accommodations from standards rooms to five styles of suites. Our stay in an executive suite provided a separate bedroom and living area that included a work space, wet bar and entertainment area. It was perfect for night owls that happen to be married to early morning risers.
The hotel stands in two separate buildings, the Suite Tower and the Rivue Tower. The two are connected via the Conservatory that bridges 4th Street below.  One of my favorite spots in the hotel is this sunny glass enclosed walkway featuring tropical plants, an aviary of songbirds.  Also located in the Conservatory is Al J's Lounge that offers a fabulous view of the Ohio River and a 30-foot aquarium bar loaded with live fish.  Sitting at the bar watching tiny sharks swimming below your drink is nothing less than hypnotic.
Photos Courtesy of Louisville Convention & Visitor's Bureau
NOTE:  A portion of the author's visit to Louisville was complimentary; the opinions expressed are strictly her own.
Having been transplanted numerous times, I have learned to explore the sites around our new found hometown, uncovering hidden gems and attractions. When vacation time rolls around, I enjoy traveling with my family and the occasional weekend escape with my husband, coming home to share our travel experiences with others. You can follow me on Twitter @JAIngersoll. My top three destinations are Walt Disney World Resort, the Midwest and any beach I can walk along.