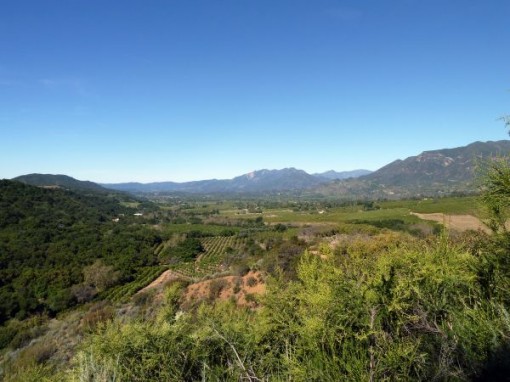 If you are looking to get out of the hustle and bustle of Los Angeles, head just 90 minutes northwest to the town of Ojai. Ojai is a community popular with artists, musicians, and health enthusiasts, making it the ideal place to "get away from it all."  Just 12 miles inland from the coast and the city of Ventura, Ojai is situated in the Ojai Valley and surrounded by peaks, a perfect spot for those  beautiful pink sunsets.
If you are thinking about heading up to Ojai for some rest and relaxation, check out these suggestions to plan a wonderful weekend!
Where to Stay
There are a few great places to lay down your head in Ojai, each with their own perks.
Blue Iguana Inn, 11794 N. Ventura Ave.
This is the place to stay if you are traveling with a pet. There is a great courtyard that is easily accessible from all of the rooms, and the bike path that goes into town is right across the street. The rooms are gorgeous and the pastry breakfast from a nearby bakery, pool and spa make this a great place. The only potential downside is that it's not in the center of town, and you'd need to drive.
Emerald Iguana Inn, 110 Pauline St.
A few minutes walk from downtown, the Emerald Iguana is a good choice for a romantic weekend in a garden getaway.
Lavender Inn, 210 East Matilija St.
One street back from the main drag, this bed and breakfast was originally built in 1874, and guests are offered gourmet breakfast in the morning and wine and cheese in the evening. They also have an on-site somatic therapy massage therapist and a skincare expert. Pets are allowed in one of the rooms.
Oaks at Ojai, 122 E. Ojai Ave.
An all-inclusive destination health spa at the edge of the main shopping strip.
Where to Eat
Within the city limits of Ojai, there are no chain restaurants (except Carrow's, which was grandfathered in), giving visitors the opportunity to enjoy good local food whether for a quick snack or a full meal.  Here are some of my recommendations:
Suzanne's Cuisine, 502 West Ojai Ave.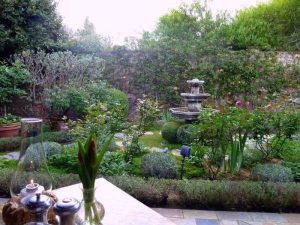 Suzanne's Cuisine is perhaps the most highly-acclaimed restaurant in Ojai, and shouldn't be missed. Owner Suzanne Roll shops the farmers market weekly to find the freshest ingredients, and I overheard a waitress telling another patron that Suzanne brings in herbs from her personal garden as well. Suzanne's is open for lunch and dinner, and serves a variety of dishes from meat to seafood to pastas. There is also a great selection of salads; try my favorite – the grilled vegetable salad.  Reservations are suggested.  Tip: ask for a table by the garden!
Feast Bistro, 254 East Ojai Ave.
Located in the downtown Arcade, Chef Susan Coulter uses locally grown seasonal ingredients to create delicious American dishes with her own spin. The dishes are delicious, but be sure to save room for the light and lemony citrus olive oil cake for dessert.  Or try the wine/espresso/tea bar.  Open daily for lunch and dinner.
Rainbow Bridge, 211 E. Matilija St.
A natural health food store with a small cafe, Rainbow Bridge also has a small deli that is great for grabbing lunch. There are hot and cold selections that are weighed by the pound, so you can get as much or as little as your hunger desires!
What to Do
Casa Barranca Tasting Room, 208 E. Ojai Ave.
As the first certified organic winery on the Central Coast, all of Casa Barranca's wines are made from organic grapes. Their vineyard consists of organic Syrah, organic Grenache, organic Semillon, and organic viognier grapes. The fee is $10-15 to sample a selection of organic wines, and the tasting room is open Tuesday to Thursday from noon to 6 pm, Friday and Saturday from noon to 8 pm, and on Sunday from noon to 6 pm.
Meditation Mount Garden, 10340 Reeves Rd.
While Meditation Mount hosts events throughout the year, they have a lovely garden that is great for reflection, or for getting a great view of Ojai. Meditation Mount is a few minutes drive outside town.
Shelf Road Hike
Located at the end of Signal Street, there is plenty of parking for this hike. Around 3.5 miles round trip, this rolling out and back route will rewards hikers with gorgeous views of the city of Ojai, as well as the many orchards and farms that can be found in the area. The hike is dog friendly, though they must be on a leash. The path is a wide dirt walkway, and your regular sneakers would be appropriate. It can take around 90 minutes, though, so be sure to wear your sunscreen – you might be out there awhile.
Ojai Olive Oil Tour, 1811 Ladera Rd.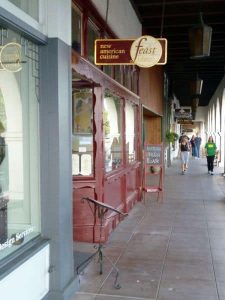 If you visit a restaurant or one of the many stores in town, chances are you will hear about the family owned and operated business, Ojai Olive Oil. With its Mediterranean climate, Ojai weather is perfect for growing olives (and lemons and oranges), and Ojai Olive Oil is more than happy to show you how olive oil is made and provide a tasting. You will learn about the different types of olives used as well as see the machinery for the entire process. The are generally open for tours on Saturdays from 10 am to 3 pm, but I'd recommend calling in advance. Private tours can be arranged as well.
Shop the Arcade
The Arcade is the block of stores in downtown on Ojai Avenue between Signal and Montgomery streets. Stop off at Made in Ojai Artisans & Mercantile, which features arts & crafts, jewelry, books, olive oil, and more, all created by the people of the Ojai Valley.
Photo Credits: author
NOTE:  The author was a guest of the Ojai Visitors Bureau; the opinions expressed, however, are those of the author.

Abbie lives in Denver, Colorado and is a freelance writer & Editor and teaches preschool Special Ed. Abbie's top three travel destinations are the Big Island of Hawaii, Madrid, and the Dominican Republic. Check out her website at abbiemood.com, or follower her on Twitter @AbbieMood.