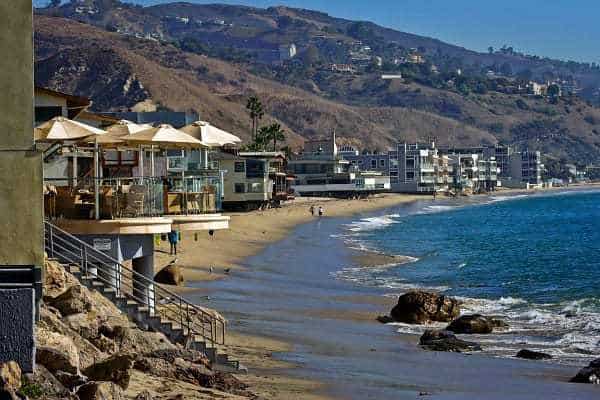 Sometimes a beach vacation isn't just about being on the beach, but about taking a peak at some of the homes that line the beach. You know, the ones that us ordinary folks can't afford. But the rich and famous can.
Now you can get a little bit closer to those celebrities with a new tour from Starline Tours that offers close-up views of the beach homes of the rich and famous. The all-new Malibu Stars' Homes Tour features celebrity homes, movie locations, as well as the Pacific Coast Highway's stunning views, the magnificent Getty Villa and a visit to Malibu Beach where the stars live, stroll, dine and swim.
Daily tours begin at the iconic Santa Monica Pier at Ocean Boulevard, the heart of LA's surf culture, and travel along Pacific Coast Highway in an open-top mini-bus. Guides point out filming locations for such movies as "Gidget" and "Planet of the Apes," and the more recent, "Hanna Montana" and "Iron Man." A close-up of the architecturally significant Getty Villa, which serves as a museum for Greek, Roman, and Etruscan artifacts, and the views it provides is also included.
More than 30 homes are featured on the tour, including the beachfront residences of Leonardo DiCaprio, Cher, Charlize Theron, Bruce Willis, Burt Reynolds, Adam Sandler, Courtney Cox, Sting, Bill Murray, and more.
They're not going to ask you in for coffee, but you'll get some inside scoop on the celebrity lifestyle.
Location: Departs from Santa Monica pier, 322 Santa Monica Pier (the kiosk is opposite Bubba Gump)
Day & Time: Daily. The tours last 2 hours and departs at 9:30 am, 12:30 pm, and 3:30 pm. The morning tour is not available late November through mid-March, and extra tours are added on during the summer.
Tickets: $39 for adults and $29 for children ages 3-11. Purchase at the kiosk on the pier. Hotel pick-up from select Santa Monica hotels is available for an additional $8 per passenger.
Photo credit:  Derek Purdy via flickr (creative commons-commercial)
Mary Jo Manzanares is a founder and the editor-in-chief of The Traveler's Way, an online travel magazine proving informational and inspirational travel recommendations for curious Baby Boomer travelers. She has been a speaker at various industry events and has a personal travel blog at Traveling with MJ. When she's not traveling, Mary Jo likes lingering over a cup of coffee, wandering in a museum, sipping wine at a cafe, and sharing it all with friends and readers. Mary Jo's top travel destinations are Italy, Portugal, and the Caribbean.