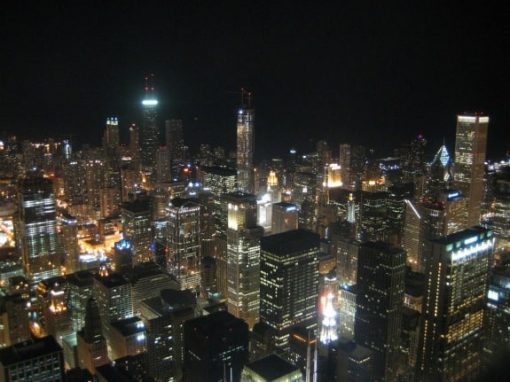 There's much to see, do and experience in Chicago and unfortunately, business travelers oftentimes believe there simply isn't enough time in between meetings and appointments for them to sample what the city has to offer.
Granted, if you're only going to be in town for a couple of days, it may be difficult to find the time for a baseball game at historic Wrigley Field or even a meaningful visit to the Shedd Aquarium or the Field Museum of Natural History for that matter. However, depending on where you're staying, chances are pretty good that entertainment options and points of interest are easily accessible and within a short walk.
Whether you have a 20-minute break in between meetings or three hours of open time on your conference agenda, there are many worthwhile and non-traditional free-time options that travelers should consider, especially near Chicago's Magnificent Mile area, when visiting the "Windy City" on business.
 15-30 minutes
Check out the towering statue of Marilyn Monroe at Pioneer Court near the Tribune Tower.  At 26-feet, the J. Seward Johnson creation captures Monroe in her famous pose from the film "The Seven Year Itch" when her iconic white dress was repeatedly lifted into the air by the wind.
Within just a few yards of the statue, you can be a window spectator outside the Tribune Tower's WGN-AM radio studios and watch/listen to live on-air interviews and programming. Self-guided tours of the historical Michigan Ave. building are also available.
30-45 minutes
Go for a jog or simply walk along and explore the city's river walk which provides access to numerous shops, eateries and landmarks. In each of my exploratory strolls, I've been pleasantly surprised at how clean the river walk area is.
Explore the McCormick Bridgehouse and Chicago River Museum. Located in the southwest tower of the Michigan Ave. bridge, the McCormick is the city's only bridgehouse open to the public.  Exhibits on each of the tower's five floors provide visitors with an inside look at how the river has changed over time.  My favorite spot, however, is at the top of the tower where magnificent views of the river and city can be found.
1-2 hours
Take a cultural stroll.  The River North neighborhood, immediately due north of the Loop, is a historic commercial center in downtown Chicago.  It's filled with galleries, boutiques, upscale antique stores, and specialty shops. If you're like me, you'll enjoy window shopping and people watching in the area almost as much as visiting the stores themselves.  You'll find an abundance of eateries to choose from too.  NOTE:  After dark, the area transforms into a haven for club goers so if you're into that scene, a daytime walk is a great way to familiarize yourself with what's available before venturing out at night.
Consider taking a boat ride.  The Chicago Water Taxi and Shoreline Water Taxi are great ways to experience architectural wonders along the Chicago River without committing to a tour.
2-4 hours
Participate in an architectural boat tour.  While there are multiple providers of this service, two of the better known are conducted by the Chicago Architecture Foundation (CAF) and Shoreline Sightseeing.  No matter which one you choose, you're bound to enjoy the informative excursion you'll experience while learning the stories behind some of Chicago's architectural landmarks. I sampled a CAF trip during my most recent visit and marveled over the knowledge shared by our volunteer guide. While aboard an open-air-deck vessel known as Chicago's First Lady, we navigated the river and learned about the ways in which the Great Fire of 1871 changed the cityscape forever. I also found it interesting to learn how skyscrapers, warehouses, condos and even semi-vacant or unfinished structures combine to represent Chicago's past and present. We also got to pass through the Chicago Harbor Lock and enjoyed a few minutes on Lake Michigan.
Discover the Chicago Cultural Center. Just down Michigan Ave. and near Randolph St., the facility offers more than 800 free cultural programs each year. The center's two stained glass domes are spectacular and chances are pretty good that while there, you'll also be able to catch a musical or theatrical performance, a flim screening or even a lecture.
Half day or More
Go on a private or group bike tour.  At Bike and Roll Chicago, which is located at Lower Wacker Drive and North Columbus Drive, bike rentals start at $10 per hour and the facility has many options to choose from including cruisers, hybrids and mountain bikes as well as quadcycles, pedicabs and even kids' equipment. I've found that touring the city via bicycle is an enjoyable and cost-effective way to get around in a relatively short period of time.
Visit the Navy Pier.  Widely recognized as one of Chicago's most popular attractions, the Navy Pier encompasses more than 50 acres of shops, attractions and rides. The IMAX theatre there is the city's largest flat movie screen at six stories tall. A must-do experience, as long as you're not afraid of heights, is the 150-foot ferris wheel. Modeled after the world's first ferris wheel, which made its debut at the 1893 World's Fair in Chicago, the Navy Pier version provides spectacular views of the city's skyline.
Visit the Chicago Children's Museum and the Smith Museum of Stained Glass Windows, both located at the Navy Pier.
Spend time in Grant Park.  The 319-acre Grant Park is often referred to as Chicago's front yard. Aside from beautiful landscaped gardens, the lakefront area is home to popular attractions like Buckingham Fountain and the Art Institute of Chicago.
Hit up Lakefront Trail. Lakefront Trail runs from Hollywood Ave. on the north end to 71st Street on the south end. It's an 18-mile, paved trail that's perfect for walking, running, biking and skating.
Photo Credits:  Rhys Apslund (night skyline); John Picken (river walk); Bernt Rostad (Navy Pier); all via flickr.

Indianapolis-based Greg Seiter is a 22-year freelance veteran who specializes in family travel. While embracing a background in athletics, the travel enthusiast has written for the Associated Press and various NCAA Championships publications in addition to AAA and Resort Condominiums International. Greg's top three travel destinations are Orlando, Fla., Pigeon Forge, Tenn. and Myrtle Beach, S.C.