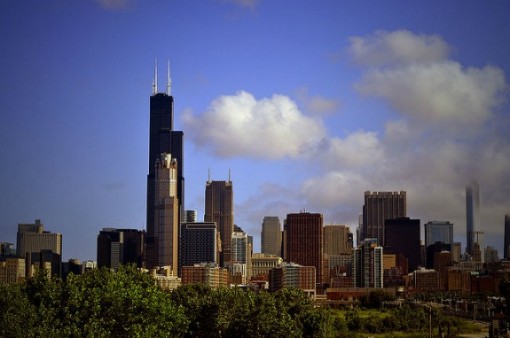 I am a planner by nature.  I have lists for everything and no where does this quirk in my personality come into play more than when I travel.  Imagine my apprehension when an impromptu trip to Chicago, with not one family but two,  forced me to venture out without a prearranged agenda.
There is one thing that I insisted on — we had to make hotel reservations in advance.  Having this  arranged , I vowed, would allow me to take a deep breath and then I'd be able to go with the flow. We chose Embassy Suites Downtown Chicago and arrived in time for the complimentary manager's reception that provides snacks as well as beverages including beer, wine and cocktails.  We didn't want to go out after a day on the road, and after getting a list of restaurants that deliver to the hotel, we were soon relaxing by the pool, eating arguably the city's best Chicago-Style Deep Dish Pizza from Lou Malnati's Pizzeria.  This whole unplanned thing was starting to grow on me.
A weekend getaway is not enough time to enjoy the wonderful things that Chicago offers a visitor. But if that's all you have, here are a few recommendations to make the most of a weekend.
Baseball in Chicago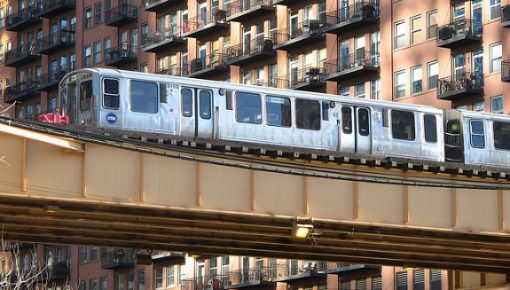 The next day brought a trip to Wrigleyville to attend a Chicago Cubs game. We had purchased the game tickets prior to our trip, but relied on the El, or elevated public rail system, to get there. From Downtown Chicago, fans use the Red Line for the L system, exiting at the Addison stop. The ballpark is a few blocks away. A bit of advice to avoid being separated in the mass of rowdy fans pouring in and out of the train, have cell phone numbers for everyone in your party and/or  a designated meeting spot outside the ballpark.
Arriving well ahead of the first pitch allowed us time to visit several of the souvenir shops that line the street.  Fans without minors en tow could also stop at several of the iconic Chicago bars like The Cubby Bear, Sluggers or Murphy's Bleachers.  Another option is to enter the stadium and head to the rooftop for counter service food and beverages. Grabbing a spot along the rail to watch the  crowd below is always entertaining.  Another tip:  purchase a bottle or two of water from a street vendor.  Unopened waters are allowed through security and the $1 purchase price outside is a huge savings from stadium prices.
Shopping in Chicago
Walking up and down Michigan Avenue could take an entire day, and we had to limit ourselves to window shopping only on the Magnificent Mile. It was a difficult challenge, with so much to tempt us, but it gave us additional time to spend watching a radio broadcast from the window of the Tribune Building, gaze at the Chicago River, and take photos in Millennium Park.
Dinner at a Classic Chicago Steakhouse
Dinner at Harry Caray's seemed a natural choice after a day Wrigley Field. The restaurant is named for the late Hall of Fame Cubs announcer, known for his jovial personality, large black rimmed glasses and the part of game every fan eagerly waited for – the seventh inning stretch and the singing of "Take Me Out To The Ballgame".  A t-shirt featuring a likeness of Harry makes a great souvenir for a Cubs fan.
Imagining a meal at a sports bar, I was slightly taken aback when I noticed the white tablecloths and impeccably dressed waiters. Discovering the official name of the award-winning restaurant is Harry Caray's Italian Steakhouse and is known for serving prime age steaks, chops and Italian specialties, I worried that our ballpark attire might be out of place.  Not so. We were warmly greeted and received excellent service on top of a delicious meal surrounded by more than a few tables of Cubs fans.
While reservations are recommended, we didn't have them (remember, I thought it was a sports bar), but our wait was long and it gave us time to peruse the memorabilia in the numerous display cases. Although there are several restaurant locations, the downtown Chicago restaurant displays one of the most extensive collections of baseball memorabilia in the world as well as walls lined with photos of notable guests.
Act Like a Kid at Chicago's Navy Pier
Hopping aboard the complimentary trolley to Navy Pier brought even more traditional Chicago-style adventures.  Home to the Chicago Children's Museum and Shakespeare Theatre,  Navy Pier is also a place to rent bikes, take a Segway tour or catch a scenic cruise.  Among iconic attractions like the 150-ft. Ferris Wheel, musical carousel and swing ride, the historical Pier also provides spots to shop, dine and merely view Lake Michigan from 50 acres of park.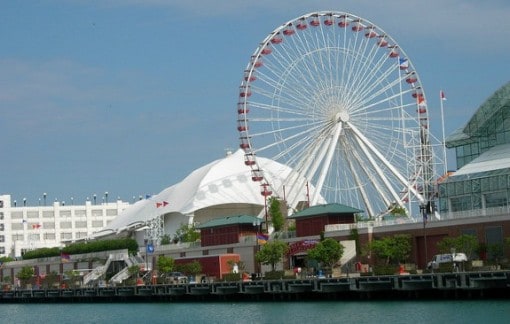 Visiting on a summer Saturday night we were treated to a breath-taking fireworks presentation.  While the lakefront of the Pier itself can become quite congested prior to the show, we were happy to discover the fireworks can be seen from other, less crowded spots along the Lake's shoreline.
Waiting for the fireworks to begin, we made a list of everything we had accomplished throughout the weekend.  Aside from the few pre-arranged details, I think that our spontaneous trip allowed us to  see more of the Windy City than I could have ever planned.
Photo Credits: flickr:  Chicago Skyline, Salil Wadhavkar; L Train, Ryan;  Wrigley Field, Shannon;  Harry Caray's, Discover DuPage;  Navy Pier, rachfog
Having been transplanted numerous times, I have learned to explore the sites around our new found hometown, uncovering hidden gems and attractions. When vacation time rolls around, I enjoy traveling with my family and the occasional weekend escape with my husband, coming home to share our travel experiences with others. You can follow me on Twitter @JAIngersoll. My top three destinations are Walt Disney World Resort, the Midwest and any beach I can walk along.