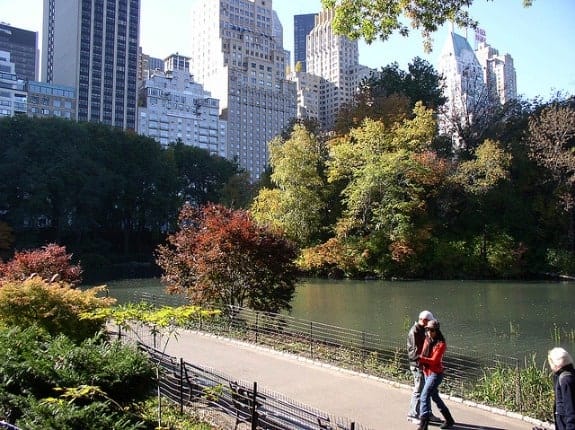 In Manhattan, restaurants and shops can sometimes open and close so rapidly, it is impossible to keep up. While there is always something new to discover in the Big Apple, there are also the classic locations that keep us coming back again and again. There's something about the fall that draws me back to the familiar, places I've been before and love to visit again. As temperatures start to drop, my attention turns back to some of these New York City classics that never go out of style.
Central Park
Every New Yorker has their favorite season in Central Park; mine is fall. While the spring blossoms are gorgeous and picnics are one of the best ways to spend a summer day, the vibrant colors of fall encourage long, lingering walks while holding a steaming cup of apple cider. Many out of town visitors are shocked at the sheer size of Central Park – it clocks in at 843 acres. If you want to cover a lot of ground, one of the best things to do is rent a bicycle.
Within Central Park there are many attractions worth a look. If you're traveling with kids, you are going to want to check out the Central Park Zoo and the Children's Zoo. There are also two skating rinks, a carousel, and tennis courts that will all provide some entertainment to antsy kids. A visit to Central Park can also include seeing Strawberry Fields (a tribute to John Lennon), taking a stroll along the Jacqueline Kennedy Onassis Reservoir for great views of the city skyline, and admiring the many scenic bridges of Central Park that have popped up in film and TV shows for decades.
Details: Subway: 1,2 to 59th Street/Columbus Circle — N,Q,R to 59th Street/5th Ave — A, C to 72nd Street — A,C to 81st Street — A, C to 86th Street — A, C to 96th Street.
The Metropolitan Museum of Art
I once had a senior citizen neighbor tell me that even if she had gone to the Metropolitan Museum of Art every year of her life, she still wouldn't have seen the whole collection. Of all the museums in New York City, the Metropolitan Museum of Art is one that deserves to be explored again and again. Between the permanent collection and the visiting exhibitions, there's always a reason to pop in for a few hours at the Met.
Fall exhibitions at the Met include sculptures by Anthony Caro in the roof garden (open through October 30, weather permitting), an exhibition of paintings and screens featuring summer and autumn in Japanese art, and paintings by Indian artists featuring goddesses. Some visitors never make it past the permanent collection, ranging from ancient art to paintings by modern masters.
Details: Metropolitan Museum of Art, 1000 5th Avenue at 82nd Street. Closed Mondays. Open daily at 9:30 a.m. closes at 5:30 p.m. except Friday and Saturday, closes at 9:00 p.m. Recommended admission is $25. Subway: 4, 5, 6 train to 86th Street.
Lincoln Center
One of the most stunning attractions in New York City is Lincoln Center. This complex is devoted to the performing arts. Film fans will be drawn to the Film Society of Lincoln Center while opera enthusiasts will want to get dressed up and take a seat in the Metropolitan Opera House for a world-class performance. Lincoln Center is also home to the New York City ballet and the New York Philharmonic.
When many travelers think about Lincoln Center, they think about expensive performances. Fortunately, culture in New York City doesn't always come with a hefty price tag. Take the Metropolitan Opera House for example, that offers $20 tickets for the Family Circle tier at select performances. Even if attending an event isn't in your future, Lincoln Center is a beautiful place to walk around, admire the architecture, and maybe even enjoy a picnic by the fountain.
Details: Lincoln Center, 70 Broadway at 62 – 66th Streets. Subway 1,2 to Lincoln Center, 66th Street.
New York Public Library and Bryant Park
Another classic New York City attraction is the New York Public Library. Bryant Park extends off the rear of the library, providing a perfect place for a picnic after checking out the exhibitions inside. Not only is the library at 42nd Street a functioning library, but it also offers exhibitions ranging from photography to rare letters and books. This New York City landmark attracts visitors beyond literature enthusiasts — the building itself is a piece of architectural history.
Details: Fifth Avenue at 42nd Street. Opening hours: 10 a.m. to 5 p.m. with evening hours some days. Subway: 4, 5, 6 to Grand Central.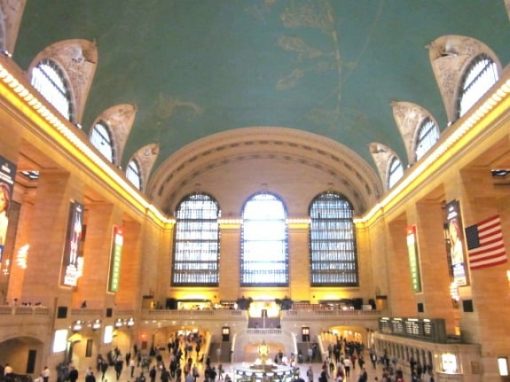 Grand Central Terminal
A short walk away from the New York Public Library is Grand Central Terminal. One of the grandest landmarks in Manhattan has not only been beautifully preserved – but it also has a daily function. Trains still arrive and depart from here, and a major subway hub is located beneath the main terminal. During a trip to New York, be sure to venture into the Main Concourse, home to a spectacular painted ceiling of the stars. This signature ceiling was restored to its early 20th century glory in 1998 and is now an attraction in and of itself – even for visitors that won't be boarding a train.
Details: 87 East 42nd Street. Open daily 5:30 a.m. to 2:30 a.m. Subway: 4, 5, 6, to Grand Central.
All of these New York City classic attractions have maintained their appeal over time. From a stroll through Central Park to an opera at the Metropolitan Opera House in Lincoln Center, the fall is a great time to revisit some old favorite New York haunts.
Photo Credit: Central Park by Mark Heard on Flickr, Opera house by Paul Lowry on Flickr
Jessica Colley is a freelance travel and food writer based in New York City. She proudly called Dublin home from 2008 – 2010 and writes frequently about the city and Ireland. Three of Jessica's favorite travel destinations are Ireland, Italy, and Berlin. Find her online at www.thegreatamericantraveldream.com and on Twitter @jessicacolley.