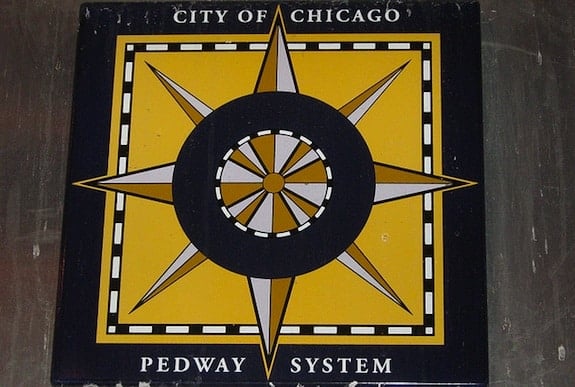 Some visit Chicago for the infamous Ledge on the Skydeck of the new Sears Tower. Some visit to take in the views from the Hancock Observatory. Others fancy some shopping on the Miracle Mile and taking in a show while they're in the windy city. But whatever your reason for visiting, you probably don't have the Chicago pedway on your list of things to do.
So what is the Chicago pedway? And why should you care anyway?
Going underground in Chicago
It started in 1951 with one underground passage built to connect the Blue Line and Red Line underground stations at Washington and Jackson. Little by little, and by a variety of different private enterprises, more sections were added over time. Today this has resulted in a series of passageways covering roughly five miles and connecting more than 50 buildings in the center of Chicago. It's an alternative way of getting around the city away from the traffic and crowds at street level. But there's a catch.
And the catch comes in the way it's been built. Because each section was constructed at different times by different companies, there's no apparent order or system to the passageways. Exits and entrances pop up in the strangest of places. And you may find yourself retracing your steps and looking for another route when you find yourself turning the corner to a dead end.
Which means that if you're new here, finding your way around the Chicago pedway can be an adventure in itself. Which leads on to the next question, is it worth the trouble?
A visitor's take on the pedway
Whether or not you'll choose to include the pedway on your list of things to do will depend partly on your personal travel interests, and partly on the season you choose to visit Chicago. Here's what it's all about: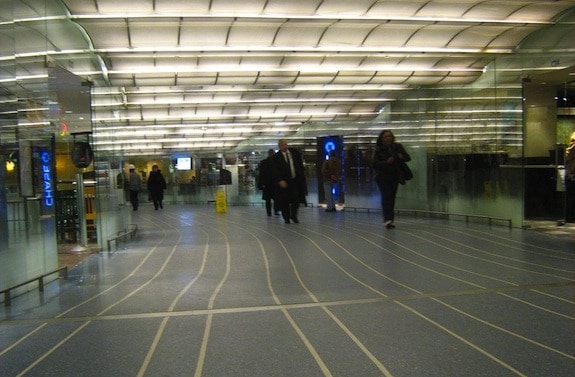 It's great for:
Finding a different take on Chicago. Like many cities with an underground level, the passageways have a character and vibe of their own. And because of the non-uniform nature of this network, the twists and turns feel a little like a patchwork quilt of possible destination. If you have an active sense of adventure and like to do some exploring of your own, the pedway is a good place to start.
You can walk all the way to Macy's using the pedway without ever having to deal with a sidewalk or traffic. If you don't like the crowds, take the underground route.
Let's face it, Chicago is a city of weather. Summer is hot and humid. Winter is cold and windy with some big dollops of snow to add the finishing touch. In-between, spring and autumn are a nice break but they don't last that long. If you're here for either of the extremes, the pedway is a welcome relief from the outdoor highs and lows.
Saving on parking costs. If you choose to drive around the city, not only do you deal with the stop start of city driving, but you also have to pay every time you want to park up and spend some time on foot. The pedway connects you to all the major attractions and lets you get on and off whenever you please.
It's not so great for:
Signage and knowing exactly where you are. And it's where your sense of adventure needs to be alive and kicking if you're going to enjoy getting your head around the pedway. If you're the kind of traveler who needs the support of a good map and directions that clearly mark what's coming next, you're probably better off above ground.
Those who don't like walking. The pedway is all about your legs and not just in the forward and backwards sense. There's plenty of up and down with stairways and escalators so it's important that you don't easily run out of steam.
Nervous dispositions. Because various parts of the pedway have been built by different companies, those same parts are also maintained to different standards. For example, Block 37 has recently been renovated and has some excellent shopping and eating options for visitors. But then in other parts of the pedway it can feel like you're in some dimly lit corridor that's part of an haunted house attraction. Definitely not recommended if you're a solo traveler.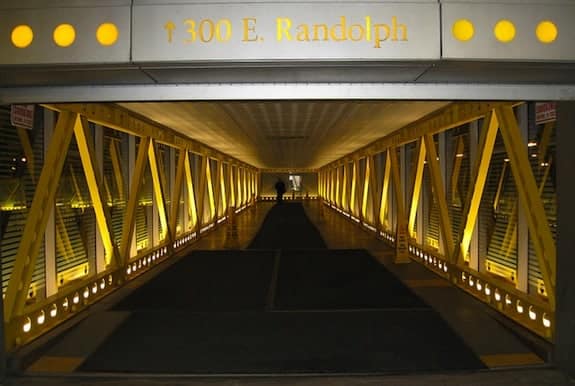 Three tips for using the Chicago pedway
If you've looked at the pros and cons of the Chicago underground, and decided that the pedway is something you'd like to experience, here are three tips to help you on your way:
1. At the time of writing, there is no official map of the pedway available, however, Mark Spiegl has put together an excellent resource over on this Chicago pedway page.
2. If you fancy doing something a little different in the pedway, why not try a pub crawl. Just note that you need be aware of what time the different sections of the pedway close to make sure you can fit everything in. For a guide that takes you from start to finish, see this route published by the Chicago Tribune.
3. And finally, if you want to try the pedway but don't feel so confident going it alone, you can always choose to take a tour and let someone else do the navigating for you. For more information, see this Chicago pedway tour page.
Whatever your reasons for visiting Chicago, the 'Ledge,' the Hancock Observatory, or Macy's, if you do try the pedway, we'd love to hear your comments about your experience.
Photo credits: Zol87 via flickr;  Zol87 via flickr; Zol87 via flickr
Honor has lived in Japan for 10 years and traveled extensively in Asia, South America and Europe, as well as some areas in the USA. Her favorite reasons for travel are to get a peek inside a culture through visits to local events and festivals, and learning more about the history and people of a place. Then there's always food. Of course! And the journey itself is just as important a part of her adventures. Honor's top three travel destinations are Japan, Uruguay, and Jordan.