Mexico's Yucatan peninsula is well known for its thriving tourist destinations of Cancun, Tulum and Playa del Carmen in the state of Quintana Roo.
But the peninsula's Yucatan state also attracts tourists to its famed Maya ruins at Chichen Itza and its capital city of Merida, with its colonial-style architecture and vibrant food scene.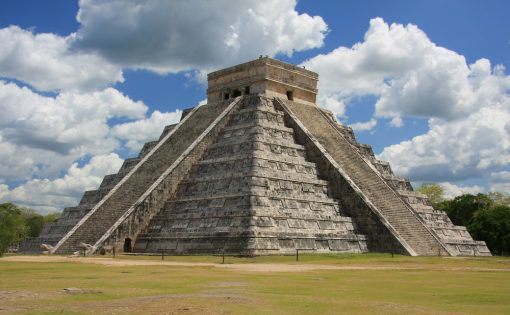 Natural wonders also draw tourists to Yucatan state for the chance to see large numbers of pink flamingos as well as a great diversity of other plants and animals in protected reserves. There's also 200 miles of Gulf of Mexico coastline, the pink-colored and photo-worthy shallow waters of the tiny fishing village of Las Coloradas and more than 3,000 sinkholes, known as cenotes, which define the landscape.
Quintana Roo has terrific beaches and pulsating nightlife. But Yucatan state's less crowded, quieter atmosphere feels so much more authentic and that's precisely why I planned a trip there.
I've visited Mexico many times and Yucatan state on three occasions. The most recent visit to Yucatan state was an 8-day March trip with my husband. While we saw a lot, I wished for at least a few more days. Two weeks would be great.
If you're planning a trip, the first thing to consider is where to start your exploration.
The airport options for accessing Yucatan state are Cancun and Merida. I prefer the Merida airport. It's much less crowded than Cancun, and it also gives you the opportunity to spend time in Merida, a gem of a city.
In either location, your options for visiting multiple destinations are most convenient with a car. The northeast part of the state is a closer drive from the Cancun airport, so take that into consideration.
Bonus Suggestion: If you are flying into Cancun and looking for another option, instead of heading west to Merida, consider heading northwest, from Cancun to Chiquila. This puts you right on the Gulf of Mexico.
Buses are options for some places, but they're not very convenient unless you want to go to a single spot and stay put.
We started our trip with a few days in Merida. It's easy to get around the city with taxis or Uber.
We spent one day in Merida on a food tour with Amigo Yucatan. Many companies offer city food tours and I highly recommend signing up for one. We sampled the amazingly flavorful and fresh tacos from Chef Alex Mendez at Taqueria de la Union and the traditional cochinita pibil, slow-cooked pork, at Chef Miriam Rivero's Manjar Blanco Restaurant. Both venues are in the city center and well worth a visit. Mendez owns several other area restaurants as well and I would heartily recommend any place he supervises the kitchen.
We also took a day tour on a bus from Merida to the Ria Celestun Biosphere Reserve, about 60 miles from the city, where we were awed by the pink flamingos that nest in the area. The reserve's 150,000 acres of swamp, mangrove forests, and estuary provide a stunning backdrop for the animals that call this place home. In addition to the flamingos, there are hundreds more species of birds, turtles, and crocodiles.
After our time in Merida, we picked up a rental car and headed for the Gulf of Mexico and the quiet beach town of El Cuyo. It's remote, with a hippie vibe, mostly dirt roads, and a beach pier where locals and tourists alike congregate to watch the sunset and look for dolphins. Or do yoga in the sand in the mornings. If you go, bring plenty of pesos because ATMs and restaurant credit card machines sometimes don't work due to spotty internet services.
We only had two nights to spend here and we wished for more. It's got a laid-back vibe, a sophisticated food scene, and miles of uncrowded, sandy beaches. It's also a haven for kite surfers from around the world, drawn by its strong winds and relatively shallow coastline waters. You can take lessons or lie in the sand and watch the colorful kite flyers dancing above the waters.
We booked a small rental house on the beach from musician Jorge Vallego. He owns the Casa del Ritmo group which also includes a small hotel and camping sites popular with bicyclists. Vallego, who has been a full-time resident for about 10 years, is an ardent advocate for keeping El Cuyo quiet and peaceful, unlike other Mexican beach hot spots that have become overcrowded.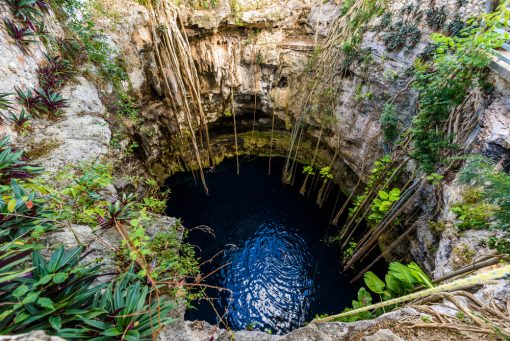 One of our favorite stops of the trip was outside Vallodolid at the Hacienda San Lorenzo de Oxman. We stayed for two nights at this 18th-century hacienda that has two rooms on Air BNB. The rooms come with early access to the on-site cenote, which was worth the price of admission.
There are more than 3,000 cenotes in Yucatan state, though most aren't accessible to the public. There are enough, however, that you could focus a trip solely around visiting multiple cenotes. Cenotes are essentially freshwater sinkholes linked to underground water sources. In ancient days they were central to Maya society, serving both as water sources and religious sites.
Nowadays, tourists swim in the cool waters, marveling at the dramatic geological formations that frame the cenotes. Some are open to the air, others are partially enclosed by limestone walls and some are reached through caves.
At Hacienda Oxman, the cenote is reached by climbing down about 70 concrete steps. Being there alone shortly after dawn, I reveled in the cool water, observing birds darting back and forth overhead. The cenote and the Hacienda's onsite built-in pool are popular with day trippers. So you can visit the cenote even if you don't stay overnight.
Hacienda Oxman is also very near to Yucatan's most famous attraction, Chichen Itza, the site of the well-preserved Maya city-state with its pyramid-shaped Temple of Kukulcan. The UNESCO World Heritage Site is a remarkable representation of the ancient people and their engineering skills. Keep in mind, though, that Chichen Itza is one of the most crowded places in Yucatan state. So arrive as early as possible in the day. It also makes sense to hire a local guide on-site to get the most out of your visit. There's a nearby cenote, too.
We spent our last two nights at another beach area in a modern small hotel that is part of the Kokomo Beach Club in Chicxulub, where we were within easy driving distance of the airport for our flight home.
Down the road along this narrow stretch of coastal land east of Progreso, an ecotourism operator offers night-time boat tours for crocodile sightings. I didn't have time for that but maybe you will.
With so many reasons to visit, I want to get back to Yucatan state before it becomes too popular.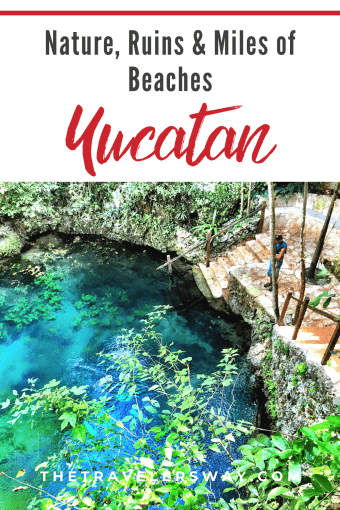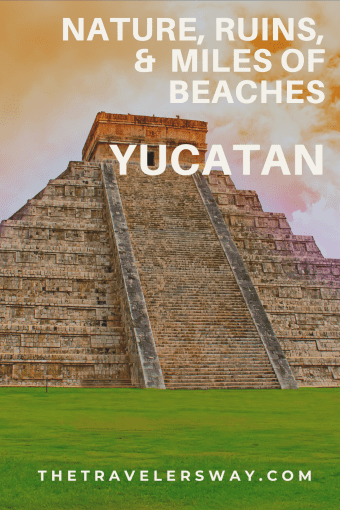 Author Bio: Terri Colby spent decades as a journalist reporting on hard news before she wised up and started roaming the world as a travel writer. Her favorite travel stories always seem to involve natural wonders. But cruises, fine dining, and boutique hotels are definitely on her radar. She's vice president of SATW's Freelance Council. She writes at www.imsleepingaround.com or follow her on Instagram.
The Travelers Way occasionally accepts guest posts from fellow travel bloggers, friends within the travel industry, and as advertorial content.