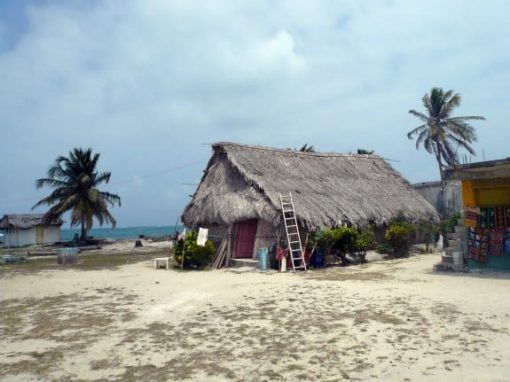 Separating North and South America is the country of Panama, a strip of land  bordered by Costa Rica and Columbia, and a canal, connecting the Caribbean Sea and the Pacific Ocean.  Most people in the country live in either Panama City or Colon, on each side of the canal, with the remainder of the country left largely uninhabited.   A visit to Panama give you a glimpse of ruins and primitive culture, while still in a major financial and commercial city.  There are deserted islands and skyscrapers, ruins and modern amenities, glitzy casinos and hotel and matriarchal society.  In short, with a visit to Panama you get the best, and worst, of both the traditional and the modern.
The Traditional
The curious blend of modern American and colonial Spanish influence can be seen in the architecture and culture of the Panama.  For a look at the traditional, wander around Panama City, a UNESCO World Heritage site, or one other other colonial towns.  You can gawk at the impressive President's Palace, peek into beautiful cathedrals, or wander into a museum for a glimpse at Panama's history and culture.  Done well, that wander about will give you a glimpse at where Panama has been and leave you to mull over what it has become.
One of the interesting looks at Panamanian culture is visiting the Kuna Indians in the San Blas Islands.  This archipelago of 378 islands, most of which are uninhabited, will give you a look at a very, very different culture from the rest of Panama.  Many cruise ships on Panama Canal sailings stop in San Blas, and there is fair criticism levied at the impact the cruise industry is having on this indigenous tribe.  But set politics and ecology aside for a bit to discover more about this largely matriarchal society.
In Kuna society, the more prominent a woman's standing in her community, the more gold she will be wearing.  You'll see bands of gold on arms and necks, beautiful gold necklaces, and on some, a full breast plate of gold.  Craftsmanship ranges from crudely hammered bangles to intricately carved and shaped decorative pieces.
The Kunas are also known for the art form known as Mola.  Molas are a reverse appliqué technique, hand stitched, using several layers of vibrantly colored cloth.  These layers are sewn together, and then the design is created by snipping away at the layers and stitching down the frayed edges that result.  Generally speaking, more layers are seen as being of a higher quality, as the design will be more elaborate and difficult.  When finished, the mola can be used as a piece of art – I purchased two and when I got home had them both stretch and framed – or sewn with additional pieces of cloth to create a garment, handbag, or headdress.
I visited one of the San Blas islands on market day, a time when the Kunas come to what looks to be an otherwise deserted island and set up a market for visitors.  I don't know how often this happens, it definitely does when the cruise ships stop, and the Kunas arrive at the island in dugout canoes.  For those of you of a "certain age" this sight harkens back to the television show, Gilligan's Island, with the island sporting primitive structures and clothes line hanging about.  The clothes lines held wares for sale, most molas and other clothing, but it also served it's original purpose, drying clothes.
The island was fascinating!  I loved watching the men and women working on the molas, a bit amazed at the way then they snipped and stitched away to create intricately designed patterns.  The prices quoted for pieces were VERY reasonable.  My two pieces, both approximately 16×20 (and it looks about nine layers of fabric) were around $10 each.  Some bargaining goes on and I think the price swings mightily based on what the market will bear.  These handmade, one-of-a-kind pieces can take anywhere from a couple of weeks to several months to make, and I didn't choose to haggle over what I feel is a rather insignificant amount of money.
After a look at old world Panama, re-entry to the modern will be jarring.
The Modern
The flip side of Panama is its modern, urban life that attracts travelers from around the world.  Panama City is a commercial and financial hub, with everything that you'd expect in any business corridor.
Panama hotels rival the best found in any major city, and you'll find choices in nearly every price point, and there are plenty of hotel and spa options in the luxury range.  Prices are still seen as affordable, and many visitors enjoy a luxury not affordable or available in other Central American countries.  Panamanian nightlife includes nightclubs, music, and casinos.
The country is also full of great outdoor beauty, a tropical climate, lovely beaches, and an abundance of water.  As a result, outdoor recreation is extremely popular and much of it – no surprise – is centered around the water and beaches.  You can go boating on one of the country's lakes or go through the canal, an experience that takes the better part of a day to navigate the series of locks.  Diving, snorkeling, surfing, horseback riding, hiking, or a tree canopy experience will also provide you with a different view of the natural environment of the country.  And when you just want to kick back and relax, you hotel pool or nearby beach will provide a welcomed respite from the busyness of the city.
Eco-tourism is popular in Panama, and eco-tours are available through most hotels.  Check out your operator to make sure you're getting the experience you're looking for.
If you don't head off to San Blas, you can find lots of native handiwork in the city, but most shoppers are looking for the bargains that come with duty-free shopping.  If you're looking for the duty-free experience, make sure you price check before leaving home as not everything is a good bargain.  While the official unit of currency in Panama is the balboa, it's no longer printed, and US dollars have become the de facto unit of currency.  No need to worry about calculating exchange rates when you're making a purchase.
If you're visiting Panama as part of a shore excursion from your cruise, you'll likely have the choice to visit Panama City or San Blas, but likely not have time for both.  Whether you choose the modern or the traditional will largely be decided by your personal interests.  But if you fly in for a visit, I hope you'll take the time to visit and enjoy both sides of Panama – then you can decide for yourself if it's the best of both worlds, or the crumbling of an indigenous way of life.
Photo credits:  Immersia via wikimedia (Kuna dwelling); Joachim Pietsch via flickr (molas); dsasso via flickr (Panama City)
Mary Jo Manzanares is a founder and the editor-in-chief of The Traveler's Way, an online travel magazine proving informational and inspirational travel recommendations for curious Baby Boomer travelers. She has been a speaker at various industry events and has a personal travel blog at Traveling with MJ. When she's not traveling, Mary Jo likes lingering over a cup of coffee, wandering in a museum, sipping wine at a cafe, and sharing it all with friends and readers. Mary Jo's top travel destinations are Italy, Portugal, and the Caribbean.