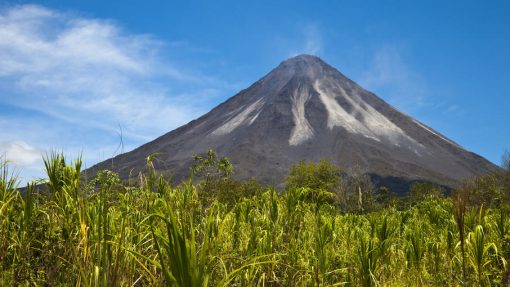 Costa Rica has been an extremely popular tourist destination for a long time. It's full of stunning forests, beautiful coastlines, all kinds of amazing creatures and has a peaceful and lovely culture. Traveling around Costa Rica is a fun and easy adventure and if you haven't been yet, it's certainly worth a visit.
Here are some of the best things to do in northern Costa Rica:
Monteverde
Getting to Monteverde is an easy drive from San Jose and takes a very similar route as the drive to Arenal. They are perfect places to visit one after another, and there are lots of things to do in Monteverde.
Monteverde is famous for its cloud forests. Cloud forests are a unique ecosystem found in tropical highlands and need to be constantly covered in clouds to create their environment. There are three cloud forests in the area and the best way to explore them is by going on a hike inside. While you walk through the clouds you'll be taken through a jungle maze of endemic birdlife, orchids, mosses, and a beautiful thick canopy. It's worth taking a guide with you as their trained eyes and great knowledge will show you things you'd miss otherwise.
While inside the cloud forests you can go ziplining, bungee jumping, and traversing a series of suspension bridges. Suspension bridges are an amazing way to see the forest from above and the best trail is found in Selvatura where there is a connected network of 8 bridges on a walking trail. You may get a glimpse of monkeys, sloths and more.
It's also worth stopping in at the Butterfly Garden, the Orchid Garden and going on the Don Juan tour to learn about coffee and chocolate production.
Arenal
Arenal is about a 3-hour drive from San Jose, the roads are in good condition and the drive takes you through some beautiful environments from river estuaries and jungles to the seaside. It's home to Arenal Volcano and Lake Arenal, the biggest in Costa Rica.
A trek through the Arenal Volcano National Park is a lovely way to spend a morning. Stroll through the rainforest with a nature guide who will help you to spot birds, wild animals, and old lava flows. As you climb in altitude, you'll see unique micro-climates and ecosystems with diverse and exotic species.
You can soak in hot springs, go ziplining across the canopy, see La Fortuna waterfall and go fishing, kayaking or paddle-boarding on the Lake. There are beautiful places to stay and so much to do, it's a great place to spend some of your time while in Costa Rica.
Nosara
Nosara is a chilled coastal town known for its surfing and yoga. It's easy to drive to, or you can get an internal flight from San Jose. Most of the fun happens around Playa Guiones where there is a lovely relaxed community of local Tico's and expats.
Playa Guiones is a great place for wandering around the forested streets, eating great food, taking long beach walks, going to yoga classes, deep-sea fishing, snorkeling and more.
There are some great activities to be had outside of chilling on the beach and morning yoga, though. A kayak up the Nosara river is a lot of fun and is best in the afternoon before sunset. You'll Kayak up the river listening to the sounds of the jungle, pass through forests, and have a chance to see Cayman crocodiles, great blue herons, anhingas and roseate spoonbills. Your guide will point these out to you so you don't miss them.
If you're into surfing, there are some great waves to be had around Nosara, at both Playa Guiones and Ostional. If you haven't surfed before, give it a try. Lessons and board rentals are easily found and an excellent surf school to go to is Juan Surfo's in Guiones. The water is warm and full of life and the feeling of riding a wave is something you won't forget.
Montezuma
Montezuma sits on the southern tip of the Nicoya peninsula and it is still a place waiting to be discovered. It's much quieter than most places and that's thanks to it's hard-to-reach reach location. It's well worth the effort, though, and once you're there, you'll find a chilled coastal town with quiet beaches and a relaxing atmosphere.
There are some beautiful areas to discover and one of the most famous is the Montezuma Waterfalls. This is a series of three waterfalls that cascade down the river and you get there by walking up the river bed or via a fun hanging bridge.
The largest waterfall is almost 80 feet high and is a great place to hang out for a picnic. The two smaller waterfalls are a lovely place to swim and hang out on the rocks and, for the more adventurous, to jump off and into the
deep pools.
Snorkeling at Tortuga Island is a great way to spend time with the sea life of the area. It's about an hour boat ride offshore and you'll be on a volcanic island with white sand beaches. You can snorkel with huge shoals of fish and if you're lucky, turtles and dolphins too.
Cabo Blanco National Reserve is just down the coast from Montezuma. It was Costa Rica's first national reserve and helped to shapes the country's excellent conservation efforts.
It's a stunning place to hike around with the chance to see beautiful birds, monkeys, and other wildlife. During the hike, you can also find remote and stunning beaches where the jungle meets the sea and you can take a refreshing dip to cool off.
Tortuguero
Tortuguero is on the northeast coast of Costa Rica on the Caribbean sea and is around a 3-hour drive from San Jose. It's a charming rustic town with winding dirt roads and a relaxed atmosphere.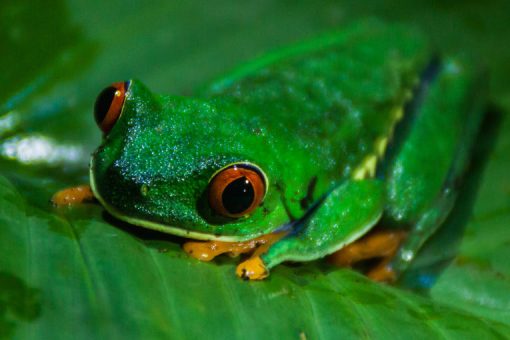 It's most famous for the turtles that nest on the surrounding beaches. Between July and October, female turtles return to nest and the beaches come alive. Green turtles, Giant Leatherback Turtles, Hawksbill Turtles, and Loggerhead Turtles all use the beaches of Tortuguero as a place to lay their eggs and depending on when you're there, you'll either see females laying or little hatchlings breaking free from their eggs and heading to sea.
The tours start at around 8 pm and last a few hours. You must book a tour and go with a guide as the area is strictly monitored and trespassers are prosecuted.
It's not all about turtles in Tortuguero though. There are empty beaches and national parks to explore, jungle canopy tours, fishing, butterfly and frog gardens, great restaurants, and more.
Summing Up
Northern Costa Rica has something for everyone and is filled with ecosystems waiting to be discovered and explored. It's easy to get around and the country is safe and very welcoming. If you're after a relaxing warm vacation full of adventure and diversity, northern Costa Rica is the place for you.
Save to your favorite Pinterest boards.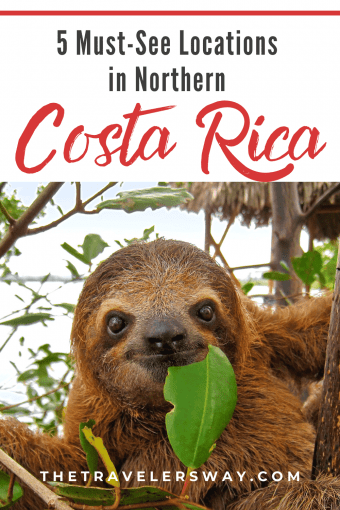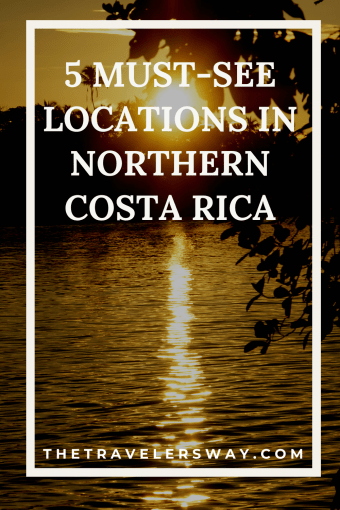 Guest author bio: Mike Jensen is addicted to both adventure and travel, so he decided to combine the two to form TheAdventourist. There he shares his journey from one adrenaline rush to another, always exploring new places as he goes. You can also find him sharing his travels on Facebook.
The Travelers Way occasionally accepts guest posts from fellow travel bloggers, friends within the travel industry, and as advertorial content.