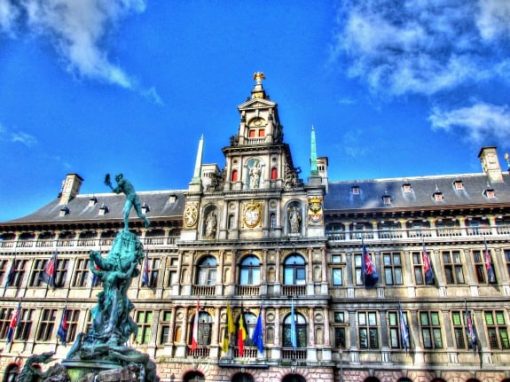 Built in the mid 1500s, Antwerp's Renaissance-styled City Hall rings the Great Market Square.
The façade of the building has been influence by classic Renaissance styling, with overpowering mullioned windows and Doric and Ionic columns. The ornamental center section holds female statuary representing Justice, Prudence, and the Virgin Mary, the latter mirroring the cultural heritage of the Belgian society heaving influenced by Catholicism. In front of the city hall is a fountain representative of Antwerp's history as told through various legends.
Originally, the ground floor housed small shops, but today it is an open walkway. The upper area of Antwerp City Hall houses the Mayor and Aldermen of the cit, including office space and receptions rooms used to host meetings, press conferences, weddings and receptions.
The City Hall is open to the public and guided group tours are offered.
Photo credit:  Courtesy of Mary Jo Manzanares