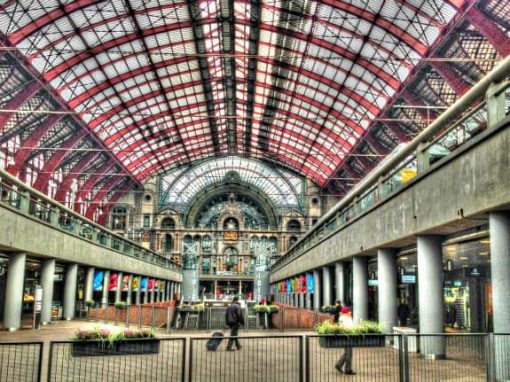 Most visitors to Antwerp will arrive by train at the ornate Central Station, an impressive structure of stone, iron, and glass. Stand at look up at the dome, look around at the turrets, and marvel and the glass, gold, and marble. The Central Station was completed in 1905, and although it has been refurbished and expanded a couple different time, the station's opulence has not been diminished. Today the station has four levels and 14 tracks that connect Antwerp with the rest of the country and the rest of Europe.
The station houses over 30 diamond and gold shops, and if you still don't have enough to choose from, the diamond district is right next to the station. These are luscious looking pieces, but they're not easy on the budget. Most diamond businesses are closed on Saturday and Jewish holiday. Roughly 85% of the world's rough diamond business passes through here.
If you're looking for something more budget friendly at Antwerp Central Station, the 170 year old Antwerp Zoo is right next door. It's the oldest zoo in the world.
The Antwerp Central Station is considered one of the most impressive train stations in the world, rivaling Victoria Terminus Station in India and New York's Grand Central Station. What do you think? Is it the most beautiful station you've seen?
Photo credit:  courtesy of Mary Jo Manzanares
What I love about traveling is that you can learn about new cultures, explore new places, taste their food and get the chance to meet exciting and interesting people. I love going to the beach. I want to go to places that have snow since we have a tropical weather here. I always wonder what it feels like!