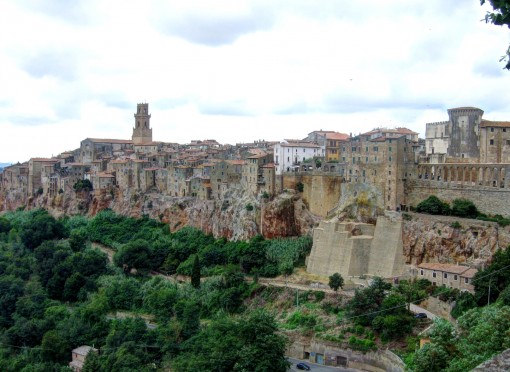 During the middle ages, Pitigliano, Italy, situated between Florence and Siena, was a refuge to Jewish settlers.  As Jews were being expelled in other areas of Italy (and the rest of Europe), many settled peacefully among the hills of Pitgliano. For awhile, it was considered the little Jerusalem, and while the population has dwindled, many of the remarkable heritage remains.
In addition to the many Jewish sites, other places to visit in Pitigliano include:
The Palazzo Orsini – Housing some of the magnificent collections from the affluent Orsini family, the Orsinis, the palace shows of collections of medieval artwork and early Etruscan artifacts.
A 16th century aqueduct – Still functioning, and delivering water to the residents of the area, this is a remarkable bit of engineering and architecture.
Medieval churches – The Italian countryside is full of medieval churches and despite being small, Pitigliano still delivers. The Baroque-styled Cathedral of Saints Peter and Paul is probably the best known, but also consider the Church of St. Anthony, the Church of San Rocca, along with others.
Oratory Rock – The walled city features long stretches of Etruscan walls and caves, including tombs that were turned into wineries. One of the caves, Oratory Rock, is a worship area that dates back to the 4th centure.
Pitigliano is located in the province of Grosseto in Tuscany. While it's a bit farther afield than most travelers to Tuscany will go, it's worth the time to visit this walled city on a cliff.
Photo credit:  Mary Jo Manzanares
What I love about traveling is that you can learn about new cultures, explore new places, taste their food and get the chance to meet exciting and interesting people. I love going to the beach. I want to go to places that have snow since we have a tropical weather here. I always wonder what it feels like!