Step aside ladies, the best kept secret to looking and feeling ten years younger is about to be leaked to the other side. Gone are the days where a spa is just a place for men to collect their girlfriends or read a newspaper. Today, men want to look good and feel great just as much as women. We've written about spas for men before, so this is nothing new for our readers.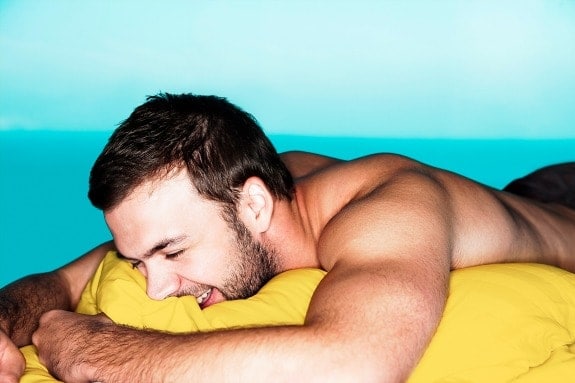 Breeze has established itself as the Asian spa brand offering treatments that are positive, friendly, caring and fun and it has now added an additional component to the menu for the male population. From stress releasing deep tissue massages to a quick grooming of the hands and feet, to choices of facials, Breeze has created a special range of treatments to cater specifically to what men want (and need).
The ranges of new treatments are designed to complement a variety of male lifestyles, from the business traveller to the sports enthusiast. The selection of treatments target a variety of symptoms that could materialize as a result of excessive stress, travel and exercise. Recognizing that women also face the same stresses in 2013, the men's treatment menu can also be adapted for women using a variety of oils and techniques.
Workaholics Reprieve
For men spending too much time sitting at a desk, looking at a computer, this is the one stop solution. Focusing on the back, neck, shoulders and head, this massage uses high-pressure techniques to work out all the tension build ups that come with working nine-to-five.
As Good As New
Using a combination of powerful techniques from Thailand and China, this massage specializes in relieving every last bit of tension that has been stored throughout the body. From head-to-toe this massage is sure to leave even an old man feeling like a new man.
Work It Out
Perfect for those who have taken their exercise regime a little too far. Focusing on the back, neck and shoulders, smooth volcanic hot stones alleviate even the deepest muscle tension. And in case that's not enough, muscles are then kneaded and stretched to remove any leftover lactic acids, with a calming scalp massage to finish.
About Breeze
Taken from the premise that happiness is a key foundation for wellness, Breeze is the spa that puts a bounce in your step and a smile on your face. Determined to be positive, friendly, caring and fun, Breeze always provides guests with a comfortable and approachable experience with an energy boost that will prepare them to take on the world when they leave. Breeze is currently available in Bangkok, Hua Hin, Phuket, Koh Chang, Pattaya, Krabi, Koh Samui and Doha in Qatar.
Photo credit:  Breeze Spa via TravMedia